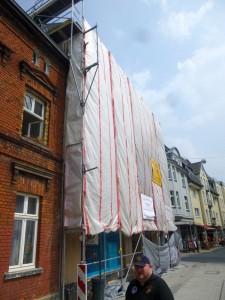 G-RAF  T-Shirt Day
With a Late Night Curry, even The Hector felt like a change of Diet-Heute. However, this did not prevent a Reconnaissance Walk to establish the veracity of the location of a found address. Tomorrow's, Brunch.
With Dr. Stan and Jonathan leading the way, we took the Tram from Heinrich Heine Alle to the end of the line, Ratingen. Neil was back on form, Kenny's first day out in this Company.
We trooped up the hill from the Terminus in search of the The Ratinger Faßen. We found the rear. The front was covered in polythene, closed. Permanently? Who knows.
Walking on to the Marktplatz, Dr. Stan we were now looking for Three Queens, Three Kings had to do, Bier at last.
Bräuerei Ausschank Schlüssel am Markt, aka Drei Königen, sells Schlüssel Alt on Gravity, unlike every other outlet Hector has experienced to date.  The Düsseldorf Altstadt outlet used to be the final port of call back in the day when Uerige shut early, no more. It is years since Hector last experienced this Alt, Excellent presented in this manner.  Big Altbier.
More Pasta
Just how much Pasta Hector has consumed this summer could be calculated, there are Photos of every intake. Pasta with Salmon, always a Favourite. This should keep Hector going until a midnight Kebab.
Further up the hill lies the Ratinger Bräuhaus, a New Alt for Hector and a Hausbrauerei too. Again Altbier worthy of the visit. We were made particularly welcome, Already there was a feeling that Trips ot Ratingen would become a Ritual Part of any future Düsseldorf Trip.
There was a classic afternoon convectional rainstorm, where did that umbrella come from, Hector?
Neil and Hector led the sprint downhill to Gaststätte Suitbertusstuben whose building we had admired on the way up. Uerige poured Direkt, what more could we ask for? Hector's Favourite Altbier and Shelter. Ratingen impressed, Hector will be back.
Back to Düsseldorf and a New Arrival
Only one Alt could follow Uerige, more of the same – At Source! The Five, sitting in the Big Room were soon Six with the arrival of Steve. This was Kenny's First Experience of this Company too.
With ticketing not matching our current numbers, Dr. Stan walked back to Schumacher, Jonathan called it a night, Steve, Neil and Hector alighted at Ostrasse, Kenny was never seen again.
Standing in The Pit, we were recognised by our Waiter from last evening. We were now Locals.
What Kebab?
 The Ausschank and Bierhaus visited today:
Schlüssel am Markt – Düsseldorfer Str. 1 – 40878, Ratingen
Ratinger Bräuhaus – Bahnstraße 15, 40878, Ratingen
Gaststätte Suitbertusstuben – Oberstraße 23, 40878, Ratingen
Uerige – Berger Strasse 1, 40213, Düsseldorf
Schumacher – Oststraße 123, 40210, Düsseldorf