Fahren de Polen aka – The Cycling Trip was conceived in the latter part of 2014. Knowing enough of Krakow, one has to be able to hike at a moments notice, especially when Mr. Holden decrees, or the clock.
After an interesting two nights in Katowice, something to do with Prog Rock last October, Hector dared to add a overnight stop in this trip between Warszawa and the five days in Krakow, it'll never work.
Mr. O'Leary took seven of eight to Warszawa Modlin. Various people had described the complexities of getting to the City from the Airport. One source mentioned the Metro, but only if one lands at Chopin. Dr. Stan was on the ball, taxi. Indeed we found a taxi for seven with no difficulty. The advertised price was 159Zl, though there were no complaints when the meter ran on. A Fiver a head to cover some 40km.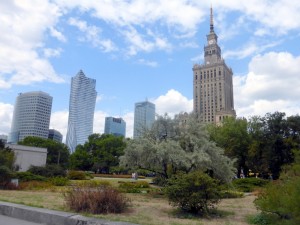 The Ibis Centrum was found to be further from the Centrum than anticipated. Maps show the grid layout of Warszawa, they mask the fact that it is the main boulevards that stand out, not the intermediary sub-blocks. Dr. Stan had a list of Recommended Pubs from Mr. Holden, Hector has resigned himself to actually looking at BeerPubs.pl as a source. The nearest Pub to the Ibis sold the sort of Bier we drink when in Maroc, Eurofizz. This Trip was about finding the Perfect Pint from the ever increasing array of Polish Craft Breweries. One sticks in the word – Craft – and the Bier Price doubles from £1.00 a pint to £2.00. Better than Bermondsey.  In Poland, Craft Beer only costs £2.00 a pint, or less.
Chmielarnia – The Land of The Hop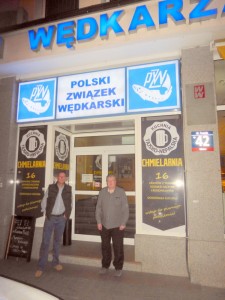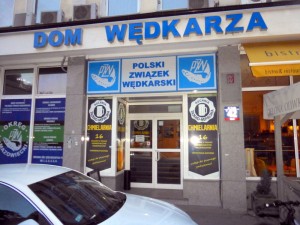 The Trusty Samsung aided the navigation along unknown streets, we were in fact walking along the western periphery of the Warsaw Ghetto as would be discovered in daylight. Arriving at Chmielarnia the ground floor bistro was empty, just gone 22.00, it was closed. Try the less than obvious entrance through what looks like a Community Hall entrance, as sign. Bon Aroma, Curry! Downstairs, a Bar!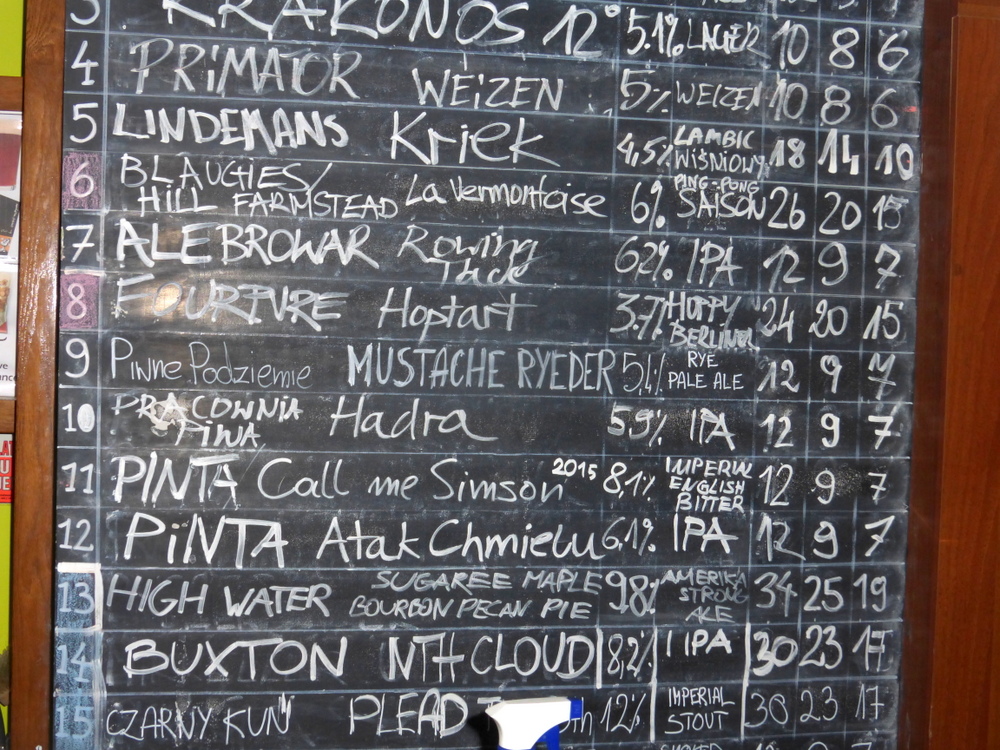 The chalkboard listed the Draught Biers, a bout a Dozen or so. It was Dr. Stan who first spotted Rowing Jack (6.2%, Ale Browar, Polska), success. The Bier Hector has raved about for the last two years was available. (It was nowhere to be seen last October.). Five and a Half Pints of Rowing Jack please, Dr. Stan had something else.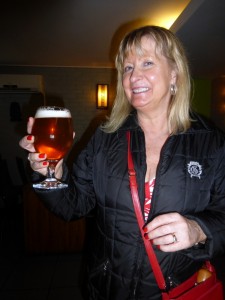 Hector watched the Poland Virgins sat silently and take in The Hops. Not a word. One by one they realised that this Bier is something very special. By the end of the visit, Craig stated that this was all he wanted to drink tomorrow. The Green Devil Effect.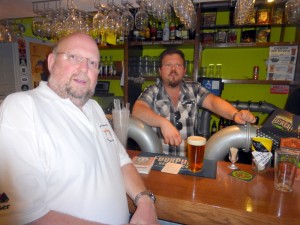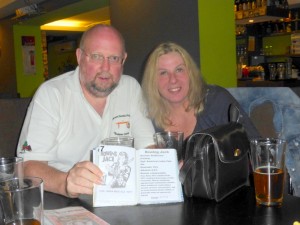 Where was Bernard?
Hector had been given strict instructions. Bernard will fit in and out of this trip as it suits him, I should not him. Craig required technology, Yvonne texted Bernard. Eventually Bernard turned up at Chmielarnia, not a Happy Chap. More Rowing Jack.
The Aroma was getting to Hector, I enquired. Too late, kitchen closed. (22.00)  Tomorrow is another day.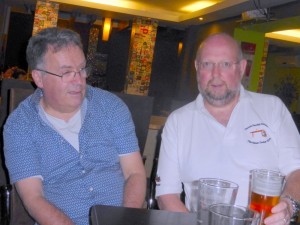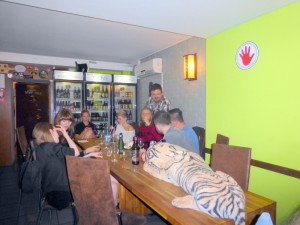 The Locals were aware of an Invasion of Scots. Mein Host, Kuba, was warming to us. That we had known of Chmielarnia impressed. The Musik became very familiar – 500 Miles, By Yon Bonny Banks...   A Bottle of – Something Special – was brought. A Doppelbock Dunkel. This was passed to Howard, very much his style.
Kuba gave me an introduction to a Landlord in Wroclaw, for when I get there. Easter 2016?
Closing Time
The Bottle of Doppelbock was opened and split around the table in small quantities, just as well.
Still, a great welcome to Warszawa.
The Warszawa Concerto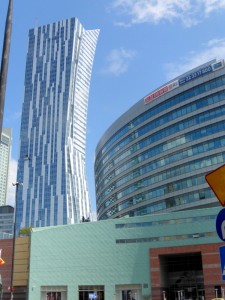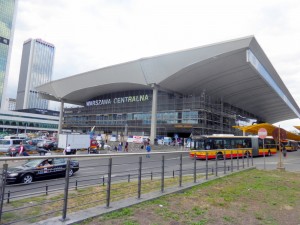 Kenny decided to join Dr. Stan on the first duty of the day, to buy the train tickets, for eight, for tomorrow. Bernard is coming to Katowice, the man who previously spent less than two hours there some undeclared number of years ago. Hector was navigating his way to Warszawa Glowny, Dr. Stan to Centralna. Kenny decided that his stomach was sending signals, he retreated. What did The Doctor know that Hector did not? Given that on my last visit to Warsaw, when I spent less than two hours here, I emerged from the station beside the Horrendous Palace of Culture I gave in. The shell of Centralna remains, the interior has been gutted. Like the experience of Krakow and Katowice, the Poles appear to have a preference for building Shopping Malls above the train tracks. Integrated Transport? Whatever next?
Eight tickets on the 10.45 to Katowice please, tomorrow. Doris first quoted 150Zl each then brought this down to 49Zl, a bargain. One cannot turn up at a UK train station and buy tickets so close to travel time as cheaply as this.
Dr. Stan went on his way, he had breakfast already. Hector was off in search of his first Warszawa Curry.  Namaste was closest. No sooner had I sat down when Howard walked in, total chance. No Curry, or venue had been discussed. Hector and Howard would spend the rest of the day together.
The Metro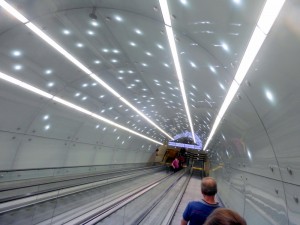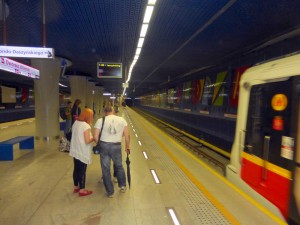 One can expect to use the Metro in any city by consulting the Topological Map. In Warszawa this is a secret. I had my 24 Hour Ticket, where are we going? Had I taken the time to consult a street map I could have worked out the various stations, but not the lines. There are two – M1 and M2, with one station where they cross. We boarded a Metro and alighted after two stops at the Arsenal. Good guess, we were moments from the Old Town – Stare Miasto.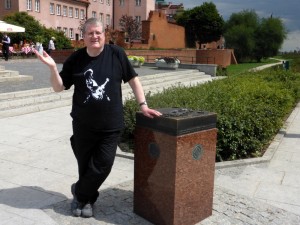 In 1992, I walked round this in no time at all. Art and Crafts is all there was, today there are the expected Cafes and Restaurants, none of which purvey what we seek. Howard had been here already.
BeerPubs.pl showed Pub Pod Barylka as our nearest plausible venue. Google Maps are not good in 3D. The Voice-Doris kept giving us conflicting directions. The stairs, this must be what she is trying to get us to use. Across the main road and finally, a Mainstream Pub, damn. A disappointing Kastel, despite the pump-clip suggesting – Intense Hops. We were the only customers. At least the Musik kept us amused: The Who for Howard, Ritchie Blackmore for Hector.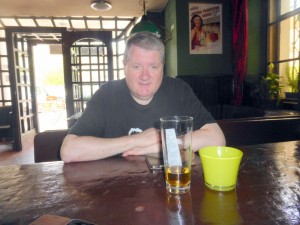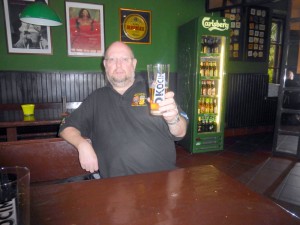 Yvonne wondered if we were at a Pub. Yes. Dr, Stan was making his way to  Po Drugiej Stronie Lustra across the river. Google Maps said it was – Closed Permanently. Dr. Stan insisted otherwise. Howard and Hector walked across the Vistula and found the street. Mags wanted precise directions. These were sent, a choice of four trams, first stop across the river.
Po Drugiej Stronie Lustra was closed Permanently? No Dr. Stan either. Why do people have answering machines active on Mobile Phones? Why do people never answer their Mobile Phones. BeerPubs.pl assured us that another Bar was a few hundred metres – Absurdu…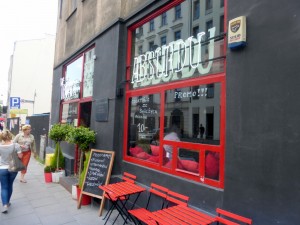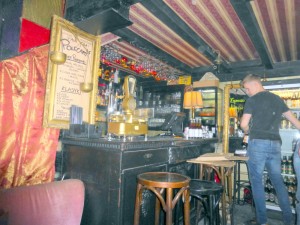 Eventually The Barman served us having taken care of paperwork. Two Draught Biers only. One was – aff. The other? His description did not sell it, another Lager of no consequence. By now I had spotted Bottles with American Hops from the rather poor array of Bottles on display. Ale – said The Barman.
This guy could not sell ice in a desert – was my observation.
Eventually Dr. Stan rematerialised. From Po Drugiej Stronie Lustra he had walked to our locus.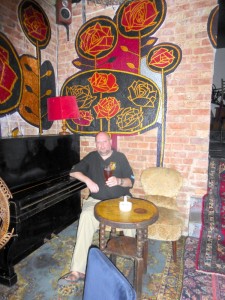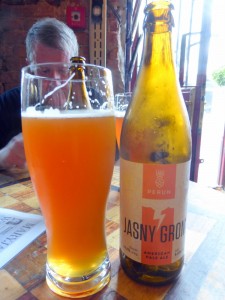 The decor in Absurdu was outstanding, carpets adorned the walls, there was a Mezzanine too. Quirky. We like quirky.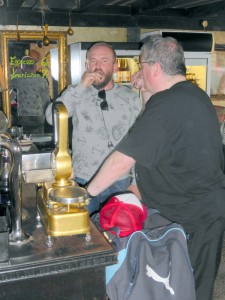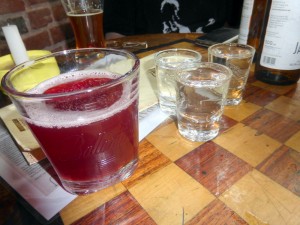 Three glasses of Wodka and a glass of Cranberry Juice were brought by Mein Host. Alex, the Barman,  we now liked. Polish Hospitality – he declared. The Menu had said that every third Bier would be on the house. Was this? No a Chap sitting at the Bar had stood us these. Glorious.
The Bier drinking slowed right down. Another round of Wodka came. Howard arranged a reciprocal drink for our Benefactor. His third? We left, escaped, with smiles on our faces.
The next nearest venue was a few blocks away, Sens Nonsensu. Gone. A few hundred metres further on Lucyfer, Gone. BeerPubs.pl is not so reliable then. The Local Foot-soldiers need to provide better information.

Dr. Stan wanted to take a Tram, Hector insisted we try the Metro. Where were we? Where was the line going? We got on, we got off, we got on in the same direction again. There appeared to be contradictory information. Rondo – said Dr. Stan would be our objective, this meant changing lines. A map! Just the one. We were back outside the Palace of Culture, our next objective was on the same street as where Howard and Hector had Curry. How improbable?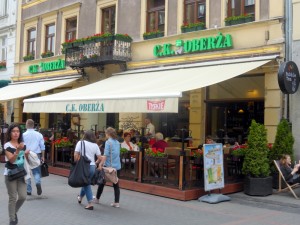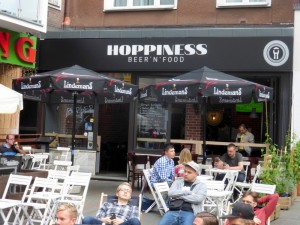 Lemoniadowy– said Dr. Stan. We found the address, across the street was Hoppiness – a much more attractive alternative, Lemoniadowy only sells The Mainstream it should not be listed. Hoppiness must be new. They had suitably Hoppy Bier. It was after 18.00, the third Bier of the day.
Moments away was Bla Bla whose address did not describe the location. Perseverance can pay. More Hops, the day was getting better.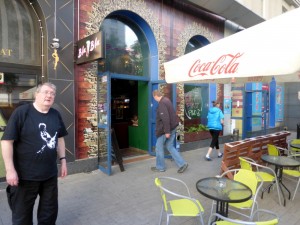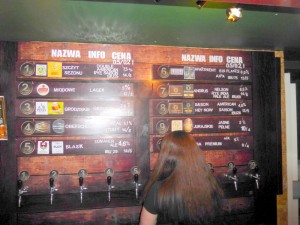 Chmielarnia was walk-able, but back we went to the Metro for a stop or two, such confidence. The Four were there, Rowing Jack was still on. We joined in. There was Curry on offer, we had to. The Fish Balti was Outstanding.  No Kenny.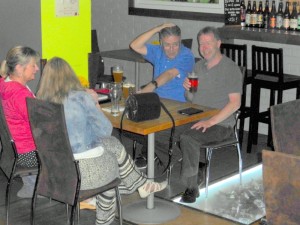 Hector had walked over 20km today. The Cycling Trip – QED.
The Bars visited in Warszawa
Chmielarnia – Twarda 42 02-026 Warszawa
Pub Pod Barylka – Garbarska 7 00-306 Warszawa
W Oparach Absurdu – Z?bkowska 6 03-735 Warszawa
Hoppiness – Chmielna 27/31 Warszawa
Bla Bla – Nowogrodzka 22 00-511 Warszawa
Pubs we went to, but…
Po Drugiej Stronie Lustra – Jagiellonska 22 03-719 Warszawa (Not open until 18.00?)
Lemoniadowy Joe Chmielna 28A (w bramie) Warszawa (sells only mainstream Eurofizz)
Sens Nonsensu – Wilenska 23 Warszawa    (Gone)
Lucyfer – Wilenska 43 Warszawa                 (Gone)