The Ryanair flight to Wroclaw is a perfect time, no early rise in Glasgow, one arrives in Wroclaw in time of the Pubs opening. Not a lot happens in Wroclaw before 16.00 unless one knows exactly where to go. On arrival at the Nicholas Copernicus Airport @15.00 Hector had little clue, by the end of today I was well briefed.
The service bus seemed to take an hour to leave the Airport Complex, it was way cheaper than a taxi, first Piwa paid for in effect. Google Maps managed to locate my Ibis Hotel booking at the wrong locus. Even though I knew where my hotel is, I still went to the Ibis Styles, just in case. It was a ten minute walk westwards to the Ibis Centrum, the former Orbis by all accounts.
Opened just the week before, the entrance was not where one would expect, the elevators were set up strangely, at least the room was as expected.
There was a short period of hibernation, no point going out in that rain, time to put in perspective the locations of Pubs and Curry Houses. First things first, a walk back to the train station to purchase a train ticket to Poznan on Sunday. Steven Wilson (Porcupine Tree), is why Hector is in Polska days before the rest of The Due Company, roll on Sunday evening. On Sunday afternoon there is a Minor Sporting Event taking place at Hampden Park. Depending on the result, it could become a Major Event.
Had I gone straight from the Ibis to Pub Stacja it would have been under ten minutes, a Kebab Shop spotted for later perhaps. Oh, some Late Night Establishments, shall we call them, in the railway arches.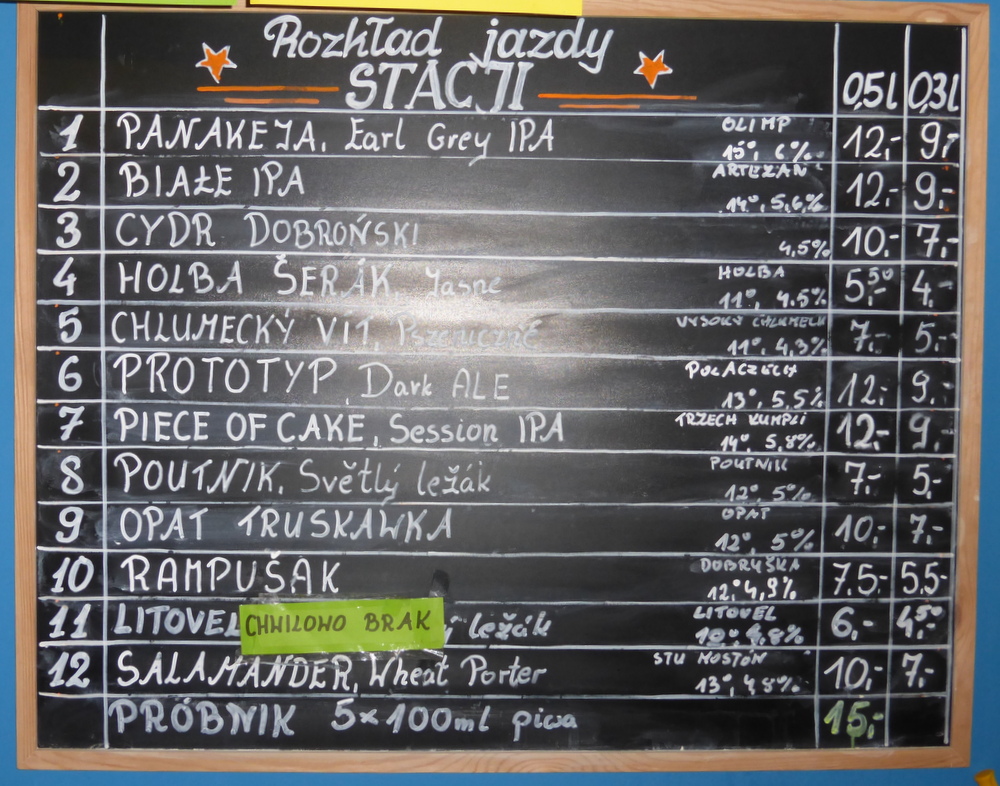 There was a choice of 12 Biers on Tap, Biale IPA (Browar Artezan, Polska) at 5.6% was the first Bier of The Trip. I first had this at the excellent Piwna Stopa in Poznan and found it served uncharacteristically Flat. Biale, I know is White, so presumably a Wheat content. The Hops were there, that is why The Hector is here, in Polska they put Hops in their Piwa, and then some more.
Hector Naypals was not in the least concerned about Supping Alone, the Samsung Netbook is making its Final Trip, I am still busy writing up The India Trip. A Big Event at the end of this month will see the Netbook superseded. This is how I perceive – Retirement.
I could now see that it was a straight walk from the Ibis Centrum to the Stare Miasto as I headed into town. The Outer Ring Road and Canal means that Wroclaw is set up almost identically to Koblenz and Düsseldorf. It would be difficult toget lost, it's just a matter of coming to terms with the distances. Approaching the Rynek, I passed the type of Bars that sell nothing but Eurofizz. Even Tank Piwa has lost its charm. A Bierhalle was located in the heart of Rynek, one for tomorrow. The Zloty Pies – Golden Dog was reportedly closed, the signage was there, nothing else to report.
There had to be Curry-Heute, what does one expect when The Hector is left to his own devices? The Masala Grill & Bar served me two Main Courses, one was memorable for the right reasons.
Back across Rynek and retracing my steps I came to the street named after the most dreaded of Polish Settlements, here lies Kontynuacja, the venue which stands out currently most in Beerpubs.pl. It took three attempts to find the right door, Polish addresses are difficult, I was in Prohibicja first, and another Bland Bar. Prohibicija had potential, was mobbed and was not for The Lone Supper.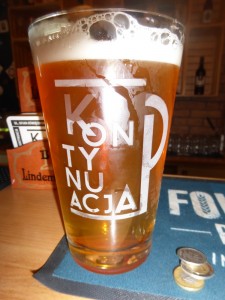 There was one bar stool free in Kontynuacja, I climbed on, the Netbook still being worn. Whatever happens this stays on. The Bier from Browar Artezan was first encountered in Bydgoszcz last October, the IPA served there was Magnificent. I had to try the Pacific Pale Ale at 5.0%. For a Piwa, this is not particularly high in abv. It was not the Hoppiest, but was certainly in – The Style – which is sought after.
Goodnight
The Chap on my right was busy in conversation, English was being spoken, his mate left. This was Robin from Liverpool, an Everton fan. There's two of them. Robin has been living in Wroclaw for years, he knows the score. He confirmed the venues I had worked out doing my own research, and most importantly, supplied one which opens before the rest. Lunch tomorrow is sorted.
The venue was too stowed to get decent photos, anyway, the Bier and the Conversation is why we were here.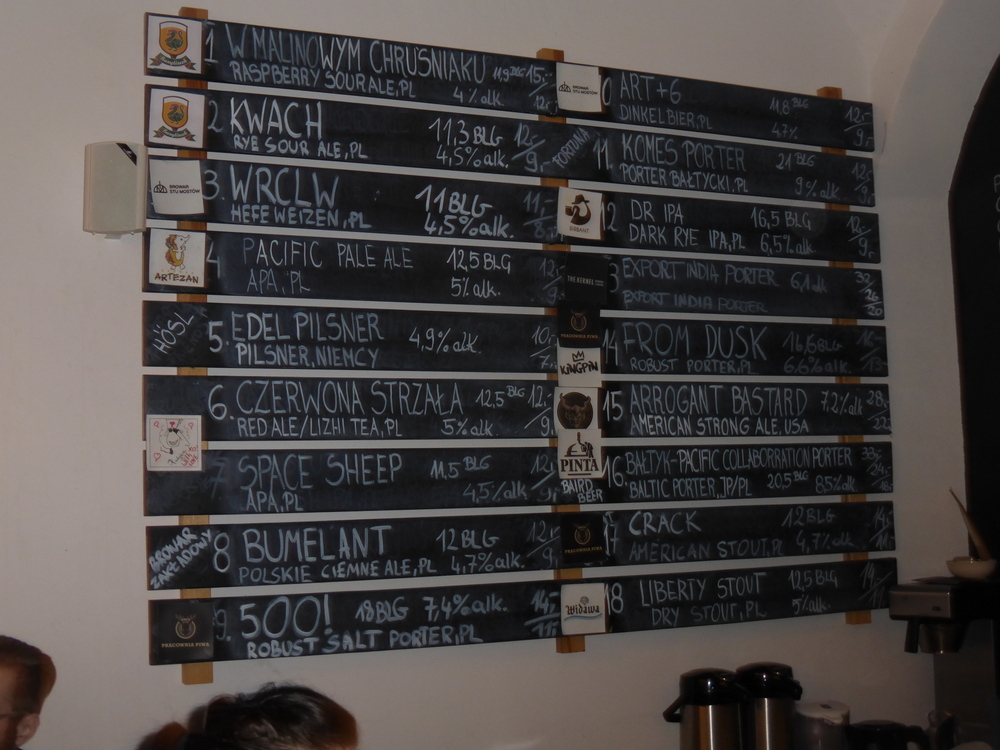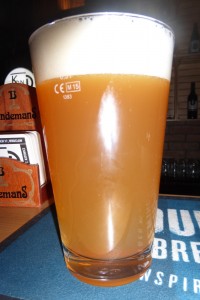 Robin recommended the Oatmeal IPA (Marwari, Polska) at 6.0%. As I recall it had just gone on, and Doris behind the Bar had supplied a sample. She was looking after us very well. It was so good, I had another as Robin was summoned by his other half. The Cloudy appearance should not be off-putting, this had the required Hop Hit. A Piwa to remember.
There was a brief flirtation with the thought of Arrogant Bastard American – Strong Ale, I had to move on.
ZUP
Last summer, Kuba, Mein Host at Chmielarnia, Warszava, gave me a Bier-mat with a written message to his counterpart here at ZUP in Wroclaw. Robin had confirmed this was definitely worth the visit and explained that – ZUP – is an acronym. Google Maps took me across another part of Rynek I had not seen in daylight, there is more to this Square than I first thought, impressive. Locating the address, there was only a Eurofizz Pub. A Chap was determined that I would pay to go and look at bare naked ladies, Hector was on a different mission. Back to Beerpubs.pl. The address for Zaklad Uslug Piwnych was recomputed, a ten minute walk.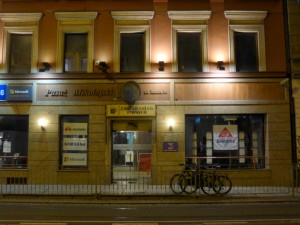 Arriving at Ruska 34 I found the Boogie Hostel, no ZUP. Most of the block was in scaffolding, I asked Chaps standing outside. They spoke neither English or Polish, Bloody Tourists! Useless. I headed back to town, through the scaffolding, then remembered Chmielarnia, we were standing outside but couldn't see it. I went back to the address, walked though the Throng and found a staircase to the Basement – ZUP!
Greetings!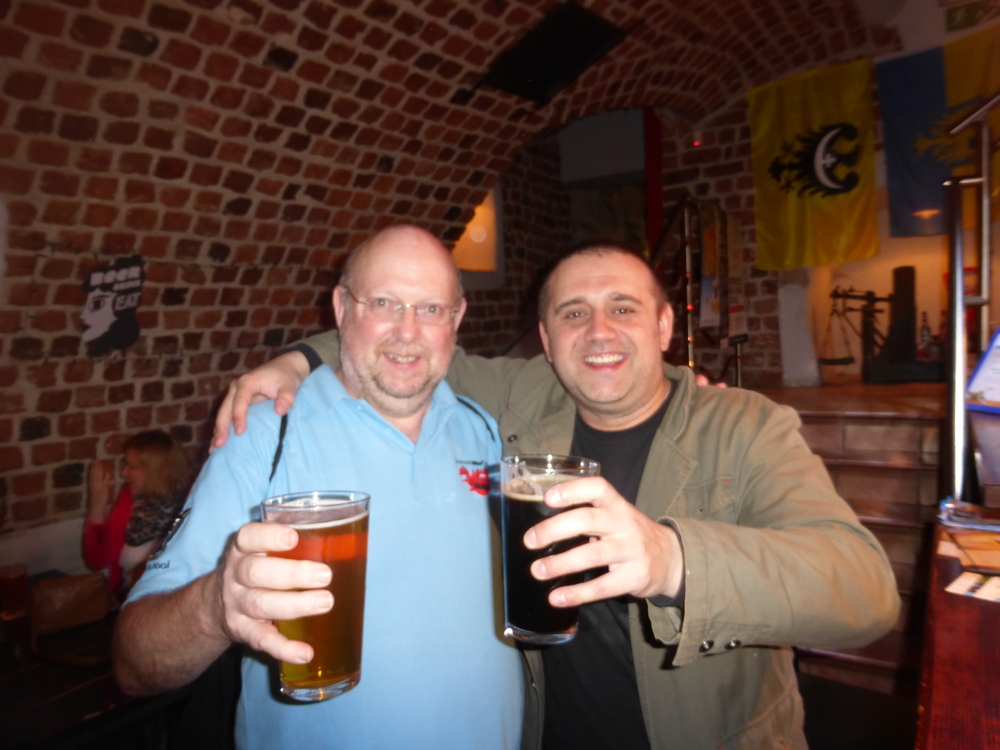 I hadn't even reached the Bar when I was welcomed with open arms by The Chaps occupying the Bar Corner. The Saltire on the Polo-shirt did it all, I was here to discover Ale, the task was suddenly made more simple, Translator in situ. Fajrant IPA (Browar Zakladowy, Polska) at 4.5% was deemed to be the Session IPA. This was Bland for a Polska Piwa, but had some Hops, Session indeed. Bring it on!  My Sister, the real one, was in touch, – what does Fajrant mean?  The end of a physical job.
Football, Whisky, the usual, The Chaps kept me entertained and introduced me to the Bar Staff. The Kuba Connection from Warszawa was completed, everyone knows Kuba. A bit of Politics, The Chaps here consider themselves to be as German as they do Polish, they are young, they have not been though what their parents and grandparents experienced. More Piwa!
Next up was another White IPA, Topaz American Weizen (Browar Inne Beczki, Polska) at 6.0%. This was more like it, American Hops and a suitable Tang. It was well after midnight, the session continued. Cieszynkskie (Browar Zamkowy, Polska) at 8.5% should provide a good end to the evening. A Saison Bier? This Amber Ale was full of the Polish Piwa Flavour, how they combine the Hops. There was a slight sweetness, at this abv, not a surprise.
All Good Things…
Hang on, this is Day 1, six more nights of this? I bought a Kebap…. and a Taxi.
The hotel, pubs and restaurant visited today:
Ibis Wroclaw Centrum  –  Powstancow Slaskich 7b 53332 – Wroclaw, Polska
Pub Stacja – Wojciecha Bogusawskiego 11, 50-023 Wroclaw, Poland
Kontynuacja – Ofiar Oswiecimskich 17, 50-069 Wroc?aw, Poland
Zaklad Uslug Piwnych – ZUP – Ruska 34, 50-079 Wroclaw, Poland
Masala Grill & Bar  –  Kunicza 3-5, Stare Miasto, Wroclaw, Polska