Mr. O'Leary's timetable meant that Hector was collected by Steve at 05.00 in time for our dawn flight to Praha. We arrived at our hotel – U Medvidku – before Noon, officially 14.00 was the check-in time. The Receptionist could not have been more helpful. Our rooms would be ready shortly, meanwhile we were invited to have a – Welcome Pivo. Well, we were staying in a Brewery! It was good to be in from the cold, Praha in January, -4°C on arival, dropping to -14°C by tonight.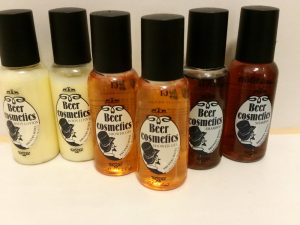 Old Gott – Barique – at 5.2% was the first of what will no doubt be many Biers consumed over the next three days. Sweeter than one is used to, it had the body, no need to rush.
The room keys were forthcoming, up to the second floor it was. Quality accommodation indeed, a huge room with some interestingly named soaps provided.
U Medvidku is located metres from Narodni Metro Station which has been the focal point of many visits, from here I can find my bearings. It was deemed better to walk to my ritual first port of call – Novometsky Pivovar. Pivo and Chicken Wings, it has to be. The choice of Bier was Light or Dark, Novometsky Lezak at 11° has been enjoyed more and more over the years. Despite being just under the 5.0% mark, this Bier is full bodied, tasty and only a slight sweetness.
The Chicken Wings were more numerous but smaller cuts than I have been served over the years; with the Garlic Mayo, still something to savour. The Waiter offered us another Bier, tempting, but The Man from Bradford was nearby. Interestingly, the price of our Bier at Novometsky Pivovar was significantly discounted because we had ordered food, an excellent idea.
Go to Krizokova and turn left – was Mr. Holden's instructions on how to get to Hostinec U Tunelu, which left? Google Maps can be very useful. After a couple of blocks and we could see a tunnel under the hill ahead, U Tunelu, just outside the tunnel, to where?
Ricky and Stewart arrived in Praha yesterday, it was sheer coincidence that our Trip would overlap by two days. Indeed, I was receiving texts yesterday to arrange a rendezvous for a Pub in Mala Strana. You'll have a long wait – was my reply.
Seven Biers were on Tap at U Tunelu, all from Pivovar Konrad. IQ Nefiltr (11° / 4.8%) was recommended. Blond, but relatively clear for an unfiltered Bier, it was too sweet. When Ricky ordered food, there was the Opperchancity to have another Pivo. Spytihnev (14° / 6.0%) was full bodied, less sweet, a very decent Bier. I was warming to the Pivo and the venue. Ricky had also spotted that the Bier was discounted here also when food was ordered. One wonders how widely this is the case in Praha.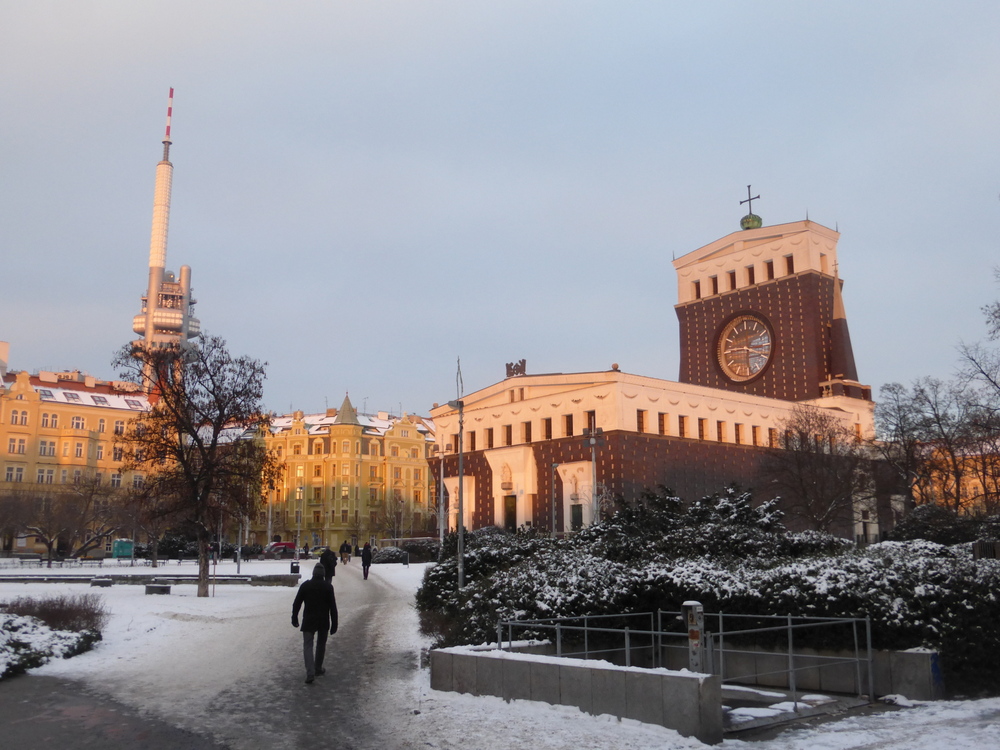 Being out of the City Centre, the pavements were still covered in ice. We took care walking back to the Metro, Jiriho z Podebrad was our destination Metro stop, but to which venue? BeerGeek? Fine with Hector.
Hector was here fourteen months ago as part of my two days spent with Fred Waltman. Being late afternoon BeerGeek was much quieter, I took the same table as I secured last time, from here one can see all.
Permon – Hopper Sorache Ace – (15° /6.3%) with an IBU of 50 was most comforting. There is strong, pale, hoppy Bier in Czechia, one just has to persevere. Sorachi Ace I now know is a Japanese hybrid Hop.
The electronic board featured Falkon – Double Idiot – at 9.3%, but who would order a Bier at this strength, this early in the day? Time to move on.
Trusting Mr. Holden can be dodgy at best. When he announced we were going to Dno Pytle next, all was well. Dno Pytle impressed greatly on my last visit. We took the Tram one stop down Vinohradska, it was slightly warmer in the Tram than the street, the temperature was plummeting. Entering Dno Pytle felt like going home. Mein Host was in situ, I enquired about Bier vom Faß, why was our entire conversation conducted in Deutsch, spontaneous. Mein Host has access to Bier from Franconia, two Barrels were cooling in the fridge. He did not take too much persuasion, one was tapped.
Fred told me that on Fridays, Bier from Löwenbräu-Butteneheim is served. What we were being served today remained a mystery for a few moments longer.
Lauterbachter (Lauterbach, Bayern) Nostradamus Doppelbock at a mere 9.0% had a well rounded flavour, was most certainly full bodied, and not at all sweet. Lauterbach lies between Augsburg and Ingolstadt, this was a new Brauhaus for The Hector.
Having put this on – for us – we had to have more. Dno Pytle filled up, the back rooms were occupied, there were more than enough customers to justify the Barrel. Eventually it was time to come down off the mountain, back to Czech Pivo. Beskydsky pivovarek – Lissa Huera IPA – (14° / 6.3%) had the Hops, Summit, Amarillo, Premiant to be precise. This was a great, hoppy, session ale in comparison to what came before. Seriously dry, grapefruit started to come through, Hector's top lip was dripping. This was a Bier, we had more.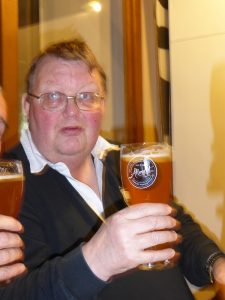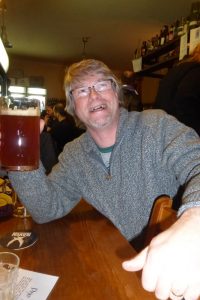 Things were becoming silly, Ricky announced that he and Stewart would have to take their leave having started so early. Steve and Hector had also started early with our – welcome drink – at U Medvidku.
Having been taken around today on – The Holden Tour – it was time for Hector to step up. The Tram stop was directly outside Dno Pytle.
We'll take the first Tram that comes, as long as it doesn't cross the river we'll be ok.
As the Tram crossed the River Vltava, Hector decided we had better alight. The first Tram back took us to the Metro at Staromestka. Changing at Mustek for the second, or third, time today, we came to realise that the walk to take Line A to Narodni was longer than just alighting at Mustek and walking to Narodni.
The Night Bar at U Medvidku was the magnet. I have wanted to visit this for years, Unfiltered Budvar is what I believed I had seen advertised in the past. So, another Old Gott variant it was.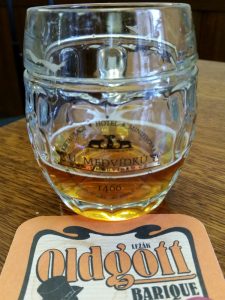 We took a table inside the Copper, crazy. Steve and Hector had lasted the day well, fuelled only by Chicken Wings.
The Breweries and Bars visited today:
U Medvidku – Na Perštýne 7, Praha 1 – Staré Mesto
Novometsky Pivovar – Vodickova 20, Praha 1 – Nové Mesto
Hostinec U Tunelu – Thámova 396/1, 186 00 Praha 8-Karlín
BeerGeek – Vinohradska 988/62, Praha 3 – Zizkov