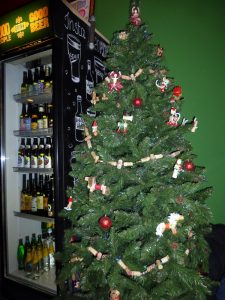 -14°C had taken its toll. Hector woke in the small hours feeling as if there was a rock in his left eye. The bathroom mirror revealed nothing, the streaming eye and the pain continued all night, and all day thereafter. Should I have brought the – long johns – to supplement the thermal trousers which have been de rigeur even in Blighty since last November?
Google revealed I may have burst a blood vessel in the eye, pain I can tolerate as long as I know as it will end. Eyes heal quickly. Another legging layer would not be out of place, where was Howard? He has a pair at home, never worn. Ricky was here without a hat.

Steve managed Breakfast, Hector was keeping the appetite intact, the Curry House was visited twice on my last Trip to Praha, it had to be the place to eat first thing today. The Man from Bradford had another idea. He was due to meet me at the Curry House but found a cheaper deal at Prague's only Sri Lankan Restaurant. Steve had Breakfast, he would amuse himself until summoned.
How the four of us ended up at the Curry House is written. It was now time for The Holden Tour to continue. Tram 10 from Palmovka to Kobylisy (spotting Indian – Happy Tandoor en route) where there was also a Metro Station, also connecting with Bus 200 to the outskirts of Praha. Pivovar Sedivak was the objective.
Alighting at the appropriate stop, it still took Google Maps to pinpoint our intended locus, yes, Pivovar U Sedivaka is located at the bottom of a block of flats and also goes by another name. With two versions of Pivovar Sedivak already in use, why give a third? Why not? Pivnice Grey – the name used by Google Maps until Hector stepped in.
The first thing that hit us on entry was the – Fug – one often discusses how bad – the old days were in Pubs – there were only a dozen or so customers in the L-shaped venue, but each and every one was engaged in – the thoughtless habit. Just what Hector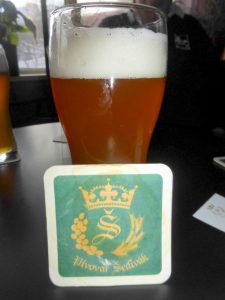 's runny eye needed.
The Waitress came over after a few moments. Hausbier – was asked for by The Rickmeister who was so chuffed with himself for getting us here. He was effusive about – Holden Tours.   On Hector's Horrible Holidays, smoking is not tolerated.
The Pivovar Sedivak (10°) is an Unfiltered, Light Bier. That it was not sweet at all, gave Ricky more to boast about. When the dry after-taste kicked in he was on a roll.
Hector's moment came when the Lovely Braufrau appeared and the photo was captured. She told us she had created the Recipe for the Dark Pivo on offer, we had to try it.
At 14° the Cerne (Dark) had more body than the alternative and was again not Sweet. The reality is: all Dry Pivo can be appreciated, enjoyed even.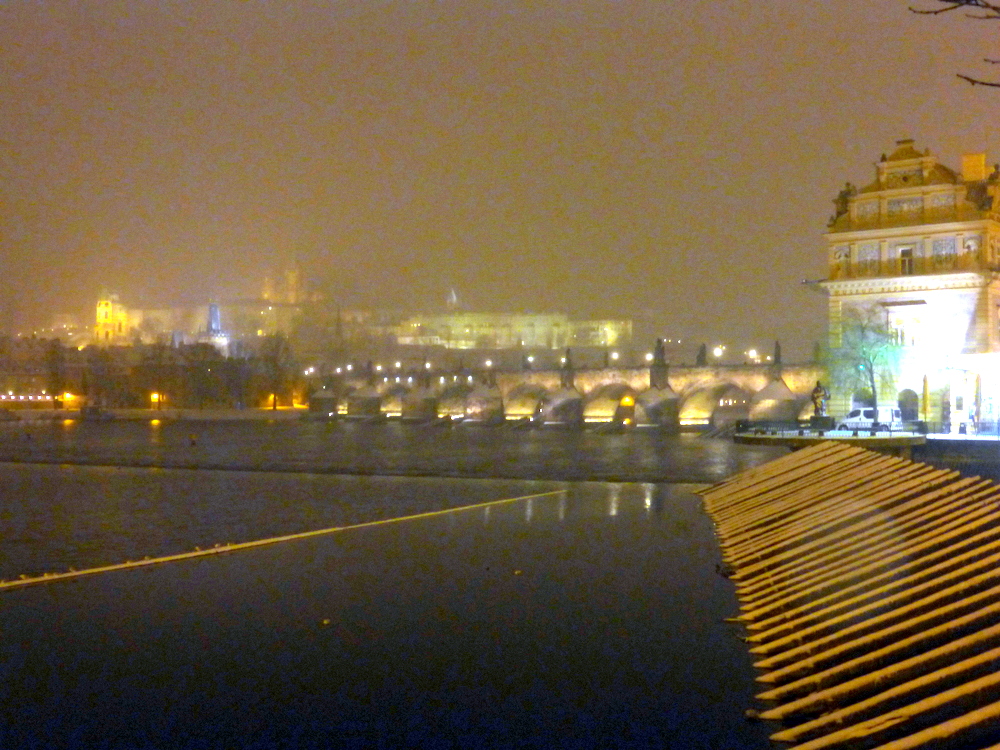 Due to the time getting out here, the sun had long since set when it became time to leave. Was it actually warmer than when we arrived? Hector would have put us all on the Metro at Koblisy, The Rickmeister insisted on a Tram. Alighting at Charles Bridge there was an attempt at recording the moment. The snow was falling thick and fast, confirming it was warmer, enough to bring the UK to a standstill.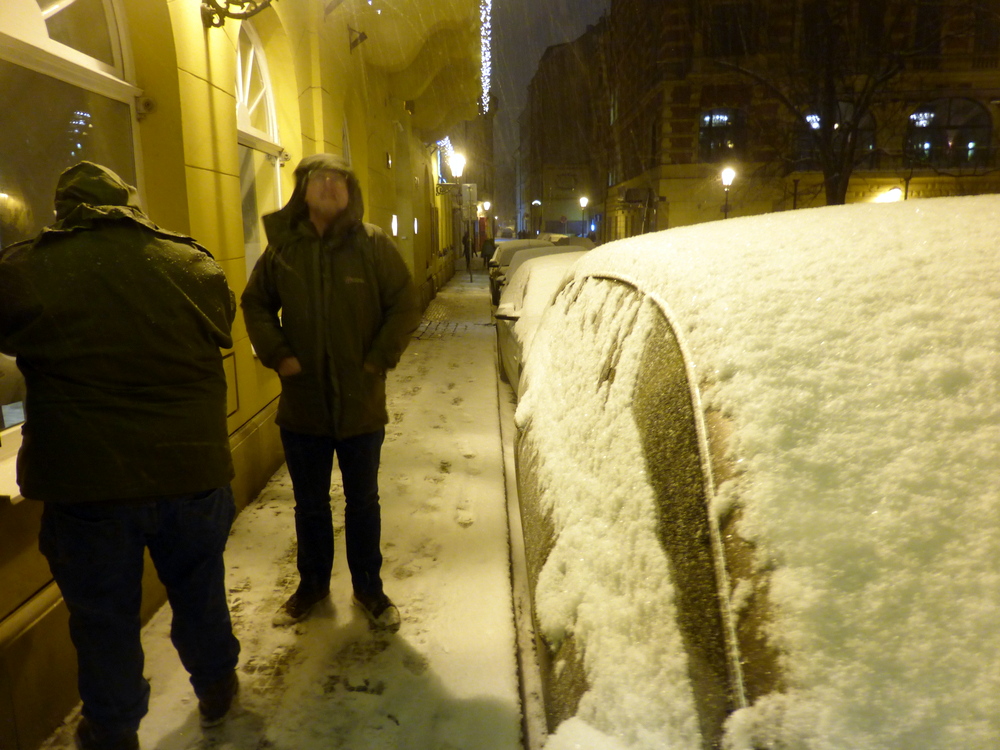 U Dobrenskych was our next venue. Hector was here briefly in October 2015, the Bier was sweet, smoking totally spoiled the visit. I suggested we take a table in the lower room where I believed the air remained clean.

Having studied what was on offer, for Hector it had to be the Salvia Stout, Ricky too. Stewart took the Lemongrass Ale option. Despite telling Steve enough times, he would still go for the Tribulus. Or would he?
Such was the time taken to be served, and the number of times The Chap serving passed us, ignoring us each time, we nearly walked. Even after the Order was given, walking was still considered. He was – Slow!
The Salvia Stout (14° / 6.0%) was so much better than the Tribulus, it wisnae' sweet. A full bodied Stout, this I believe would be the Bier to have here. Stewart passed his Lemongrass Ale around, no thanks. Meanwhile Steve pretty much hated his Bier. It was too sweet. Someone should have told him.
One Bier was enough, it could have taken all night to get another. Back outside the snow had stopped, however, the streets were ankle deep. Next stop should have been Pražský most u Valsu. We found it easily, but not the door. Eliminating the obvious we entered a business entrance well round the corner. A Reception was underway, not for us evidently. A Private Party, next time.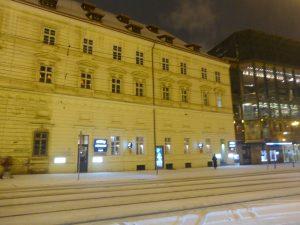 Pivovar Narodni was not far to walk and did not take long despite the underfoot conditions. My visit here in 2015 was all too brief, the Bier not that impressive. It was still early evening, had we travelled more than we had consumed Bier? Upstairs to the one free table which would accommodate us.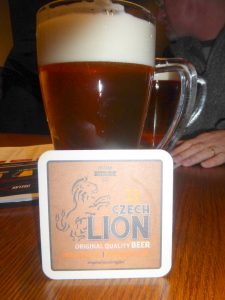 Expectations were not high, the house-branded Czech Lion – Lezak – Nefiltinovany – (11°) had been sampled on my first albeit brief visit. Steve took one sip, the expression on his face said it all. Hector's turn – Diacytl – this was horrific. As a Brewer, Stewart was forgiving, methinks Ricky was not bothered. If we were staying it had to be something different.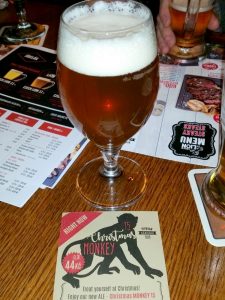 Christmas Monkey (14°) was advertised everywhere as the current Seasonal. With Amarillo Hops and a full body, it tasted way better than the Lezak, but that was not difficult.
It was about time we found a truly worthwhile Pivo this day. Ricky had never been to the Beer Museum at Namesti Miru, he was scathing about the Original due to being – the smokiest place in Praha. The Master of the Tram found a suitable conveyor outside Pivovar Narodni, Namesti Miru here we come.
It's expensive here – was a fair comment. Having to walk through the smoky bar to reach the non-smoking larger room still mystified.
Lucky Bastard Pale – APA – American Pale Ale at 5.2% was the Bier which spoke to The Hector from the Menu. This Unfiltered Pivo was too thin, a higher abv would surely bring out the Hops? In the end, a Hop Blast of sorts, was achieved.
There may have been many Biers to choose from here , but nothing on the List really stood out. There are better prices and better venues.
It was a short walk across the Square to Pivnice Nabidka, better known as 20 PIP Craft Beer Pub. The air was clean, the place was stowed. Stairs beside the Bar led to a Mezzanine, possibly an upstairs proper. We were told there was no space. Tables and stools were cobbled together, the four were seated.
Roddiny pivovar Zichovec – Mosaic Ale – (12° / 5.5%) hit the spot instantly. Full of Hops, a sensible strength, this was for us, a great session ale. There was more.
Noting that some people had come downstairs and not returned, I did the necessary and went upstairs to verify the availability of a table with four chairs. Checking back downstairs with the Barman and Waiter who had served us, I conveyed that we were going upstairs, with our Tab. More Bier, and maybe some more again. This was the Bier we had been looking for all day.
There was an incident when it came time to leave. The Chap serving us upstairs was not bringing us a Bill. We went downstairs to pay. The staff had lost all track of our tally. Ricky informed them that if they could not come up with a sensible number we were off. We wanted to pay, they still didn't want money. In the end a compromise was reached, money changed hands. Staff stupidity aside, this is an excellent venue.
Ricky and Stewart disappeared to their cheap and remote domicile. Hector and Steve were served by the Metro, home in minutes, and back to our Night Bar at U Medvidku. Pivni Bar – is the official name of this venue.
Hector was last out of Pivni Bar, never fear, the Hotel Reception serves Residents.
More Old Gott, more photos. Tomorrow we will be two. Hector will be leading the way. Had I spotted the junction near which Pivovar U Bulovky is located from our Tram up to Koblisy this afternoon?
The Breweries and Bars visited today:
Pivovar U Sedivaka – Lodžská 765/15, 181 00 Praha 8-Bohnice, Czechia
Pivovar Dobrenskych – U Dobrenských 3, Praha 1 – Staré Mesto
Pivovar Narodni -Národní 8, Praha 1 – Nové Mesto
Prague Beer Museum at Namesti Miru – Americká 341/43, Praha 2 – Vinohrady
Pivnice Nabidka 20 PIP Craft Beer Pub – Slezska 1357/1, Prague 120 00