After an Excellent Lamb Handi at Sarina's (Queensbury-Bradford) en route to Halifax, Howard, Dr. Stan and Hector continued on Bus 576 towards Halifax. Sit downstairs if you don't have a head for heights, some of the drops beside the road are a bit hairy.
The Pump Room is located across the road from Halifax Bus Station. Six Cask ales were on offer, the Stillage behind the Bar; five Taps for Keg offerings also featured. A former shop unit judging by the shape of the premises, there was a sufficient variety of seating styles.
Yakima Chief West Coast IPA at 5.2% from Bob's Brewing Co. (Hightown, W. Yorkshire) ticked two boxes: a Local Ale, and in-the-style. Suitably Dry, with some Hops coming through, a painless start to the day.
Being early afternoon, it was apparent to the Barman that we were not here for a session, but to tour the Bars of Halifax. He listed the other Microbars that have opened in Halifax in recent times, and offered directions. Dr. Stan was leading the way, The Man from Bradford had programmed him, what could possibly go wrong?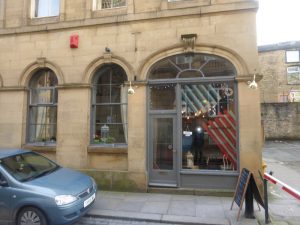 A couple blocks up the hill lies Halifax Town Hall. Behind this landmark building, adjacent to the entry barrier, lies The Grayston Unity – aka – The Grayson Perry. The most attractive ale on offer was from The Hop Studio, a Pale Winter Ale at 5.0% called Fire & Ice. This would be my third Ale from The Hope Studio (Elvington, York), add another to the list of Excellent Ales!
Fire & Ice had the distinctive Flavour of American Cream Soda, quite strange.
We sat in the room off the Bar, a Living Room by any other description, complete with watchdog. This was as relaxing a setting as one has ever encountered. The settee was 1960s – hideous – however, getting out of it took determination, comfort of sorts. We could have sat here all day, clicked our fingers and have Ale brought, in our dreams. Man you've got to move on, Man you've got to move…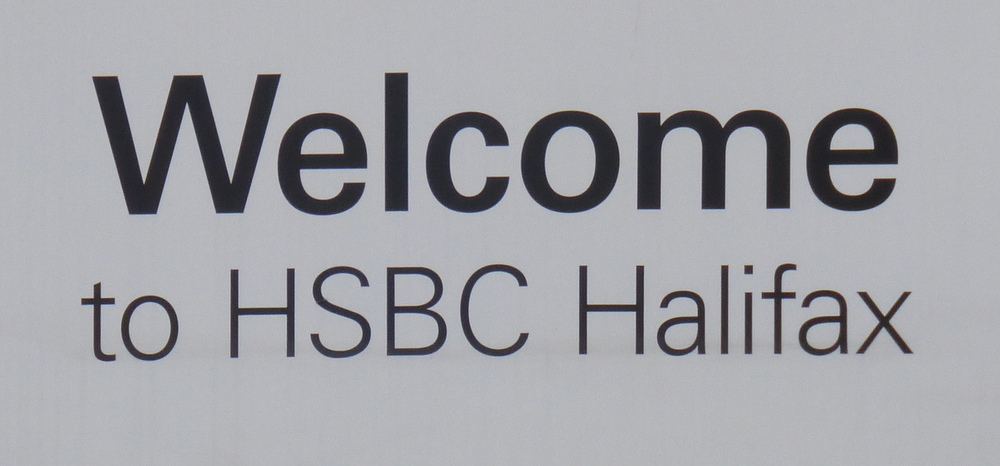 The Alexandra Beer House was the next port of call, a ten minute walk along one of the main shopping streets of Halifax and passed the Halifax HSBC, very confusing. Google Maps showed it near the Theatre, it still took a bit of lining up to find the correct side street.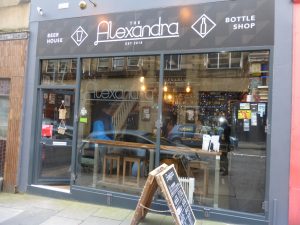 The downstairs is indeed very much a Bottle Shop with Bottles of Bier from everywhere on shelves from floor to ceiling. With only two Taps the choice of Cask was limited. Squawk (Ardwick, Greater Manchester) Pale Ale at 3.9% was the better of the two. With El Dorado, Chinook and Simcoe Hops, what more could one desire, the same at 5.5%?
We sat upstairs in what was a strange room. The homely Singer sewing machine aside, the seating was limited. If this place ever got busy, would people stand up here? I may never know. By the time we had finished our Pint, the odd charm of The Alexandra Beer House kicking in. They didn't have Hanssens Kriek else I would have been dragged out.
With this area of the Map now within our grasp, we used a side lane to walk the few metres uphill to the Victorian Craft Beer Cafe. This was the most Traditional looking Bar we had visited today, yet much smaller than the typical Bar. We had arrived in the middle of a Black Ale Festival. The Victorian Craft Beer Cafe is a Multi Tap Bar with as many Keg Beers as Cask, something here for everyone.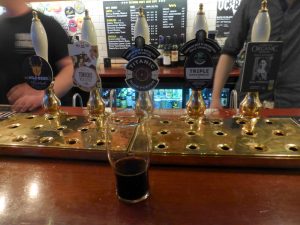 Titanic (Stoke-on-Trent, Staffordshire) Plum Porter was on offer, an offer not to be refused. At a very modest 4.9% this does not pack the punch of say Sarah Hughes Dark Ruby Mild, however, it has all the Flavour one could hope for and more, Plum indeed.
For the first time today we were in busy premises, thus the photographic record was restricted. Already there was the feeling that this would not be our last visit to Halifax. Four Micropubs, each with their own merits, it was time to try to the well-established.
Heading back towards the Town Hall, The Gundog was located with ease. This was stepping back in time, a Multi Room Bar with five Cask Ales.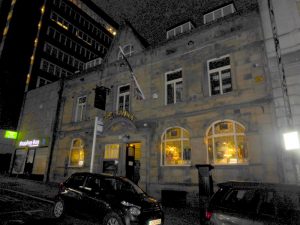 Thunderbridge Stout from Small World Beers (Huddersfield, Yorkshire) at 5.2% had full on Chocolate and Coffee, truly Excellent. Two things were confirmed at this moment: Hector is starting to enjoy Stouts/Porters as much as IPAs these days, Huddersfield is becoming a Bier Mecca.
We took seats in a small room at the front of the Pub where – other Chaps – were also congregated. We were engaged by – The Chaps. Our Purpose of Venture was related. Dr. Stan asked how long it would take us to reach The Cross Keys at Siddal on the southern edge of Halifax. It sounded as if it was within relatively easy reach,but a hike nevertheless. We were advised that if we were going to The Cross Keys we should also visit Shears Inn.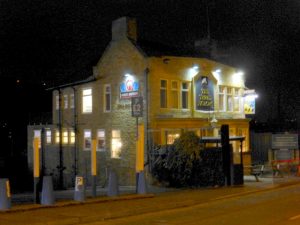 We headed south, down Calderdale and reached the The Three Pigeons. This was probably only a few minute walk form the Train Station, but we had not passed this today, bearings were being acquired. The Three Pigeons is an Ossett Pub, a feature which ten years ago would have had us in raptures, no more. With nine Cask Ales on Tap, a reasonable array was on offer.
Abbeydale's Deception (Sheffield, Yorkshire) at 4.1% would have been the choice once upon a time, time to try something I hadn't had. Chinook from Fernandes (Wakefield, Yorkshire) at 4.0% was Blond, Soft-tasting, not demanding. If one is having Hops, one needs a helluva lot more. The Breweries which established themselves around the start of the twenty First Century may have got themselves in a rut having to maintain the production of what was – New – when these Hops arrived from the USA. Still, The Company has fond memories of visits to the Fernandes Brewery Tap in Wakefield.
The Three Pigeons is again a fine example of a Traditional English Pub with rooms off the main Bar area. Why this style of purpose built Pub never caught on in Scotland may be explained in the depths of history.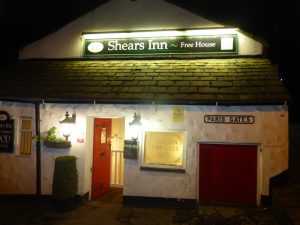 The walk south continued, we reached Holdsworth Mill. Google Maps wanted us to walk into an abyss of darkness, no way. We took the lit option an behold here was Shears Inn – Halifax Best Kept Secret – is their claim. You would not find this place by chance, em, we just did.
With three Taps, all selling Timothy Taylor (Keighley, Yorkshire) it had to be Landlord at 4.3%. How sensible we have been today, nothing silly, yet.
With this tried and tested Ale, we took a seat in the very comfortable surroundings. This place has clearly been here a long time. The list of Tapas/Starters caught my eye, and then the Mains, Marg would love this, I thought. Shears Inn has accommodation, I resolved to bring Marg here to stay, this very year.
We were still unsure how to get out of the Mill complex and find The Cross Keys. A Chap came out of Shears Inn, we asked, he pointed across the River Calder and up the slope. Somehow the three of us were in the back of his vehicle and were being driven up to Siddal. Wonderful. It would have been no more than a five minute walk, the drive was two. We also saw the route which was equally important.
The Cross Keys dates back to 1913, another Traditional English Pub. Salopian (Shrewsbury, Shropshire) Flashback at 6.0% was the standout Ale on offer. With Simcoe and Equinox Hops, an absolute winner. We had more, Dr. Stan announced this would be his last. Hector and Howard had other ideas. The Young Lady behind the Bar sorted a taxi for Dr. Stan, it was a bit far to walk. We stayed on. We were informed that the Landlord is also a lover of Strong, Pale, Hoppy Ales. Alas, he was elsewhere this evening. We had a Bier, we had a Pub, both worthy of note, we would return.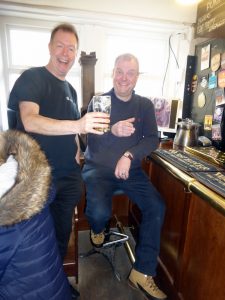 Yvonne had been texted, – We suggest a stop-off at Halifax for an hour en route to Huddersfield.
It took a while for the implications of this to take hold. It came to pass that Hector, Howard, Craig, Yvonne, Mags and Neil descended upon The Cross Keys, Flashback was still on. The Company were unanimous, – This is The Pub!
The Bars visited today:
The Pump Room – 33 Northgate, Halifax HX1 1UR
The Grayston Unity  –   1-3 Wesley Ct, Halifax HX1 1UH
The Alexandra Beer House   –  17 Alexandra Street, Halifax HX1 1BS
Victorian Craft Beer Cafe   –  18-22 Powell St, Halifax HX1 1LN
The Cross Keys   –  3 Whitegate, Siddal, Halifax, HX3 9AE
Shears Inn  –   1 Paris Gates, Halifax, HX3 9EZ
The Gundog  –   48-50 Crown St, Halifax HX1 1JB