Direct trains are possible from Kraków to Katowice, in the evening. Steve and Hector needed to pass two hours between checkout in Kraków and check-in at the Katowice Hotel. This necessitated an hour's travel north on an Inter City train, a change at Wloszczowa Polnoc, then another south west to Katowice. Two hours with complimentary tea, coffee, water, in the most comfortable of trains. Who needs a direct Bus?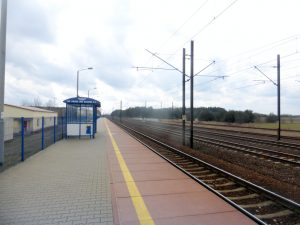 As a Geographer, I despise those who refer to places as being – in the middle of nowhere. Wloszczowa Polnoc was certainly somewhere and its station quite peripheral. Had our connection been cancelled we would have been well stuffed, no other train for hours.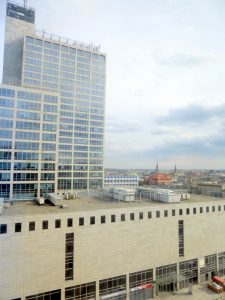 Hector's third visit to Katowice, the short walk from the Glowny to Katowice Hotel has become well trodden. Rynek is almost complete, the Main Square now boasting a large sign saying – Katowice -, just in case one was not sure. The Katowice Hotel in all its former Communist Era Glory, remains a must for Hector. The price is right, the wi-fi works, the Breakfast Buffet has all one would expect in a hotel with more stars. The view from the ninth floor was, well, Katowice. Some traditional flats, too many 1960s era monstrosities still dominate the skyline. However, modern buildings may block these in time. Katowice has a charm, one needs a sense of humour too.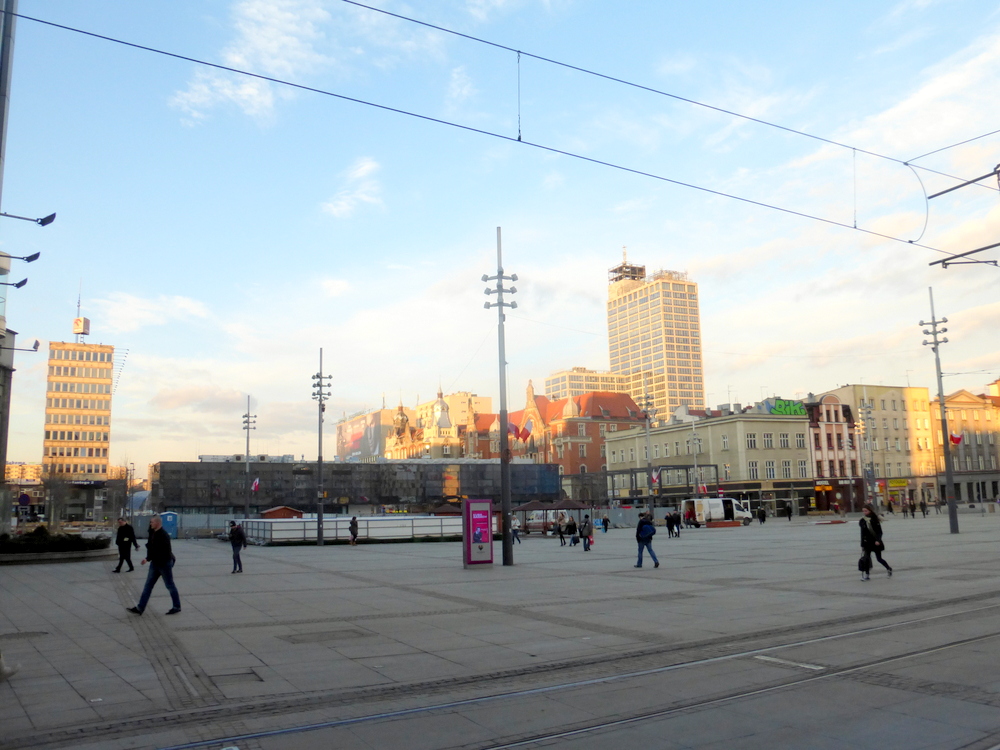 Pizza was eaten in the shopping mall at the Train Station, the worst service I have ever experienced in a Pizza Hut. Today, Curry was not on the Menu, Polish Cuisine planned for later at the excellent – Krystalowa. The afternoon Bier Session would get underway as ever at Biala Malpa. Last time they had virtually no Tap Bier, it arrived as we consumed the little on offer. Today had to be better.
The once open yard is now covered, a Conservatory for those who desire foul air. Hopefully this means the Upstairs is now smoke-free.  As the only visitors, we would not find out.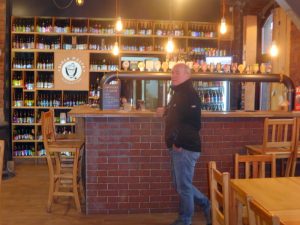 The number of Taps and the arrangement had visibly changed since 2015. Fourteen Taps have become twenty one, including a hand-pull, one Cask Piwa. We asked the Chap for our desired style – Pale and Hoppy, not a silly abv. The choice was not great. Loco Loco (Browar Beer Bros., Polska) at 5.0% was an APA, hopefully up to scratch. It was indeed, Pale, Gold and Hoppy, but the Hops did not taste American. This was a distinctly German tasting Piwa, and not why were in Polska.
I asked for some of my Favourite Piwa in Bottles, no joy. Apparently they have sold a lot of IPA, APA, PIPA in recent days, the stock has run low. Is this a feature now of Biala Malpa, lots of Piwa, but not the best? A Bottle of Szotowe (Browar Spoldzielczy) at 5.2% was the best our Chap could come up with. A Dark Gold APA, it was thin and had a slight astringency.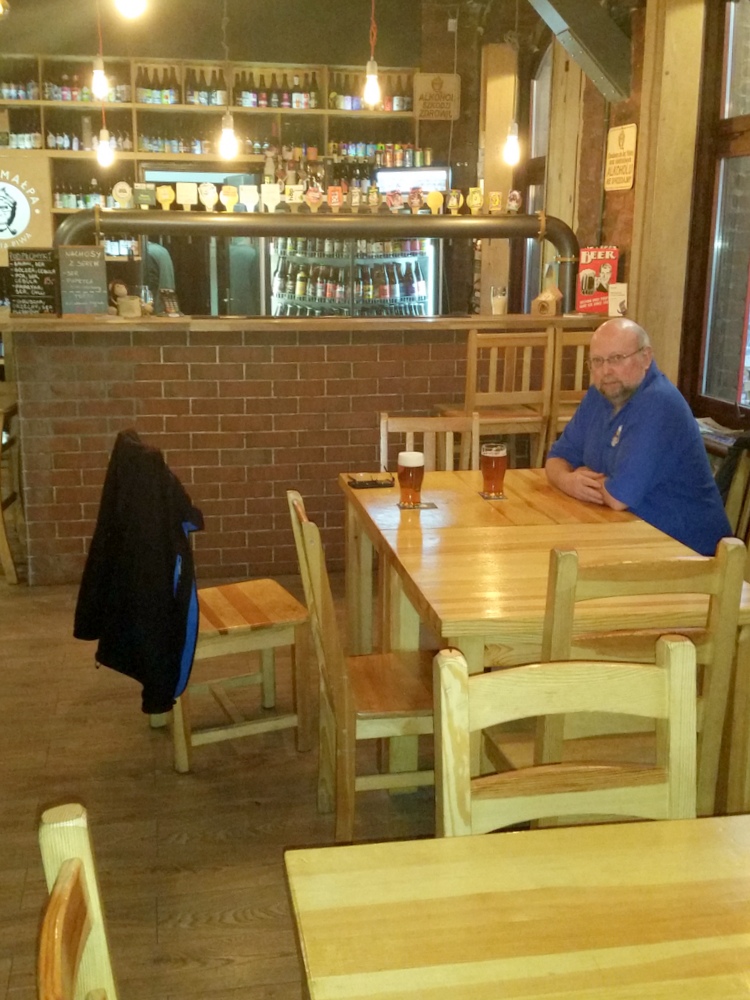 We both supped Ale, Hector hoping his would go away. Once Steve had finished his Bier I left what remained. This was poor. Biala Malpa should be so much better.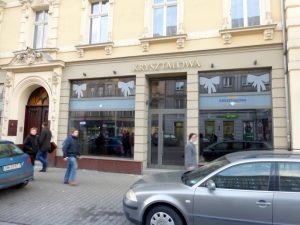 Thanks to Ontap.pl, Hector had a new Katowice Bar to inspect, Kontynuacja, a Favourite from Wroclaw, now here. Siostra Bozenka which went down so well yesterday, was reportedly available. We would pass our chosen Restaurant en route. Krystalowa has gone, what a loss for Katowice. Like Hotel Katowice, it was a venue stuck in time, and so were the prices.
Two Siostra Bozenka were ordered, it went off as soon as the Charming Waitress started pouring. Steve and Hector spent the next ten minutes sampling many Piwa to find one that was – in the style – and would enable us still to walk out, unaided. We had a long night ahead of us.
Gruby Joe (Browar Jana) at 6.0% was definitely not – in the style. An American Stout, this Piwa was suitably Dry in Flavour and was not OTT in alcohol. The hoped for Chocolate or Coffee never emerged, still, perhaps what we had was needed after that which came before at Biala Malpa.
A Chap started his shift behind the Bar. Podgorz – Siostra Bozenka at 6.0% was restored, all was well with the World. Steve and Hector were headed to a Happy Place, we had – The Hops.
March 1st, there was a semblance of the days becoming longer, being so far east in this time zone helped. When it was declared a sensible time to go and eat, we headed back from whence we had come to Restauracja Indyjska Masala House. Curry was not planned for today, but Hector had to take the Opperchancity to try the remaining Curry House in Katowice. Only afterwards did we discover the same Restaurant has a new Branch metres from Kontynuacja. We also passed a branch of Ministerstwo which is known from Poznan. And so the expansion of successful Bier Outlets is taking on a predictable pattern.
Browariat – An Analogue Pub for Digital Times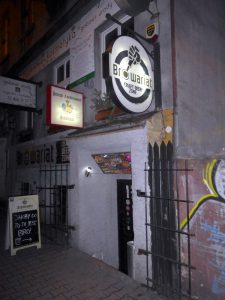 Previous visits to Browariat have been well documented. Robert Klos made Marg and Hector so welcome back in 2014 that when Fahren de Polen was conducted in 2015, The Company came here en masse. Two Legendary Nights, a third surely awaited.
Hi, Hector! – was the greeting as soon as I walked down the few steps from the doorway. To be fair, our visit had been announced months ago when the flights were booked, and updates given via a certain Social Medium. It was not even Robert's shift this evening. He took over from the Chap who had been serving the handful of Locals. Soon it was just Robert, Steve and Hector. A Pole and two Scots, with a Pub to themselves, what could possibly go wrong?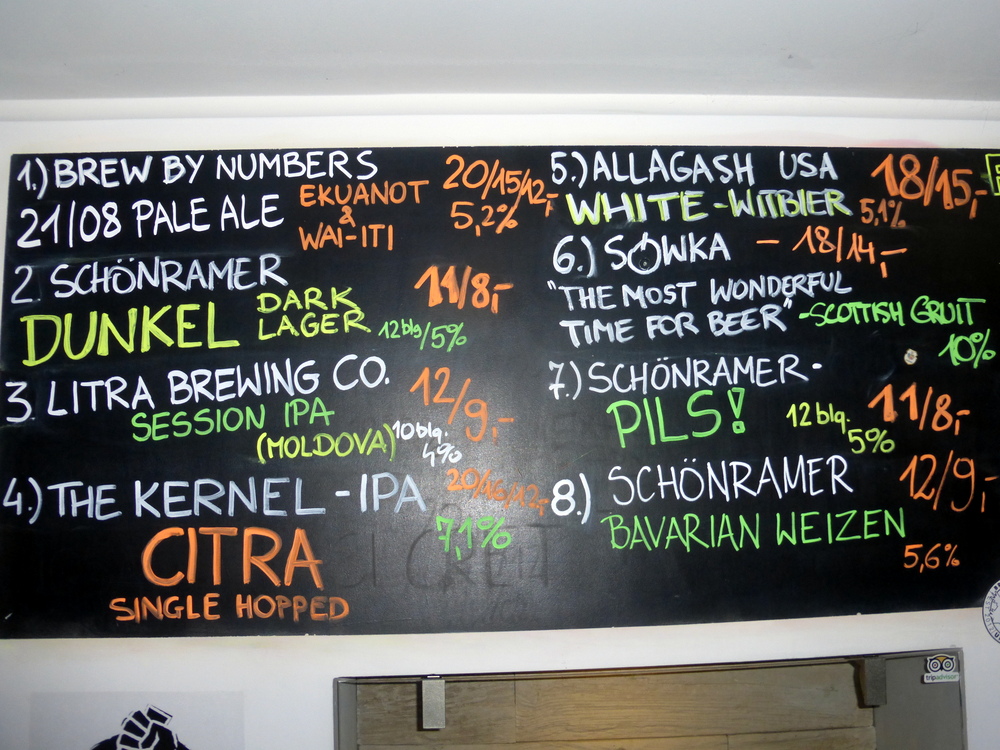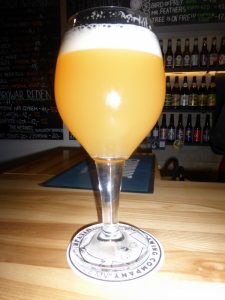 No. 1 on the Board of eight Tap Piwa was Brew by Numbers' (Bermondsey, England) 21/08. This 5.2%, Hoppy Pale Ale was so much – in the style – that Steve would stick to this for much of the visit. In passing, Robert showed us a Bottle of Partizan's (Bermondsey, England) IPA. The label is clever. It was Bier from this Brewery which kicked off my first sampling of Bermondsey Bier on my first visit to Browariat.

*
*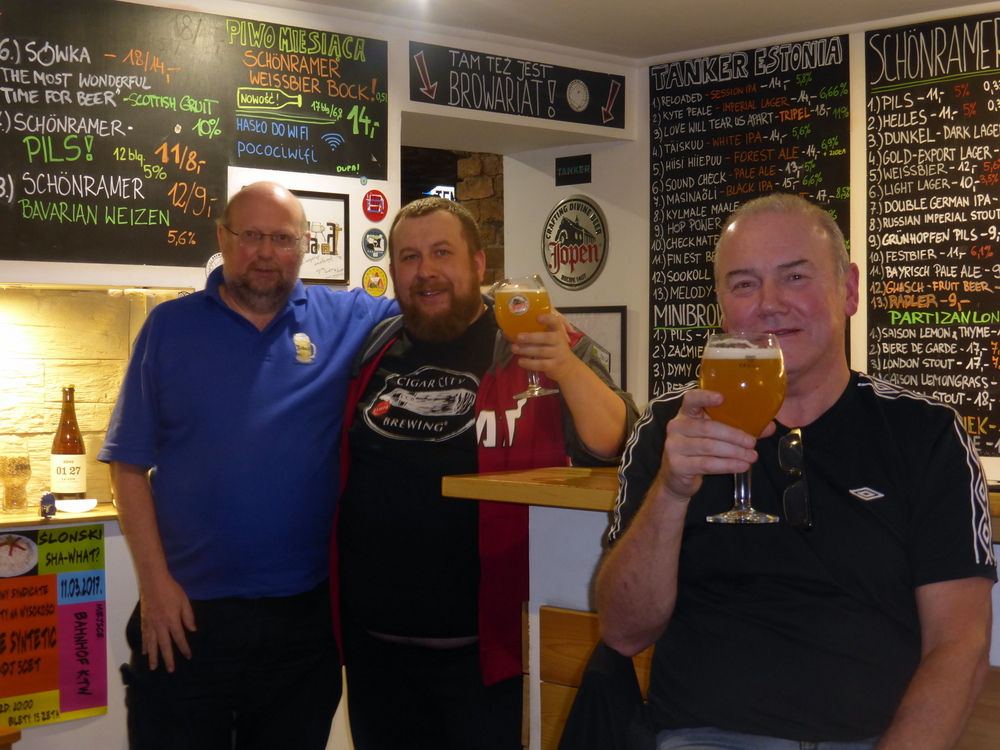 One of life's great mysteries is the Kernel Brewery (Bermondsey, England) who stopped selling Bier to drink on their premises, despite being stowed every weekend. Perhaps their accountants may have something to say in the long term. The Opperchancity to drink their IPA – Citra Ekanuot at 7.3% on Tap, and at Polish prices, had to be taken. Again, another winner. One could easily have stuck with this, however, as we were at a Bier Emporium, Diversity would be the theme of the evening.
The Bottled Piwa at Browariat is not just there to make up the numbers, each one is there for a reason.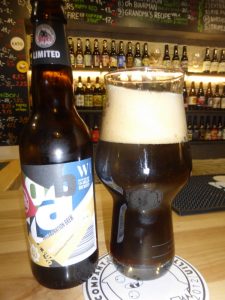 Robert presented a Bottle of a Collaboration Ale brewed at Jopen (Haarlem, Nederland). Get In The Sea! at 6.5% featured the Logos of Hopcraft and Waen, both Wales. Hector knows Hopcraft Gazza and Sue from Waen, this had to be sampled, but hang on, what's happening?
A very familiar rumble was grinding out from the Browariat Turntable, Hector recognised the singer instantly. Malcolm Mooney, original Vocalist from Hector's Favourite Band of all time! Can from Köln! My Connection – from Limited Edition, 60p worth of Vinyl back in the mid 1970s. Excellent. Hector has tickets to see Malcolm Mooney perform with what is left of Can in London next month. The passing of their Drummer – Jaki Liebezeit – has been mentioned in my humble web pages earlier this year.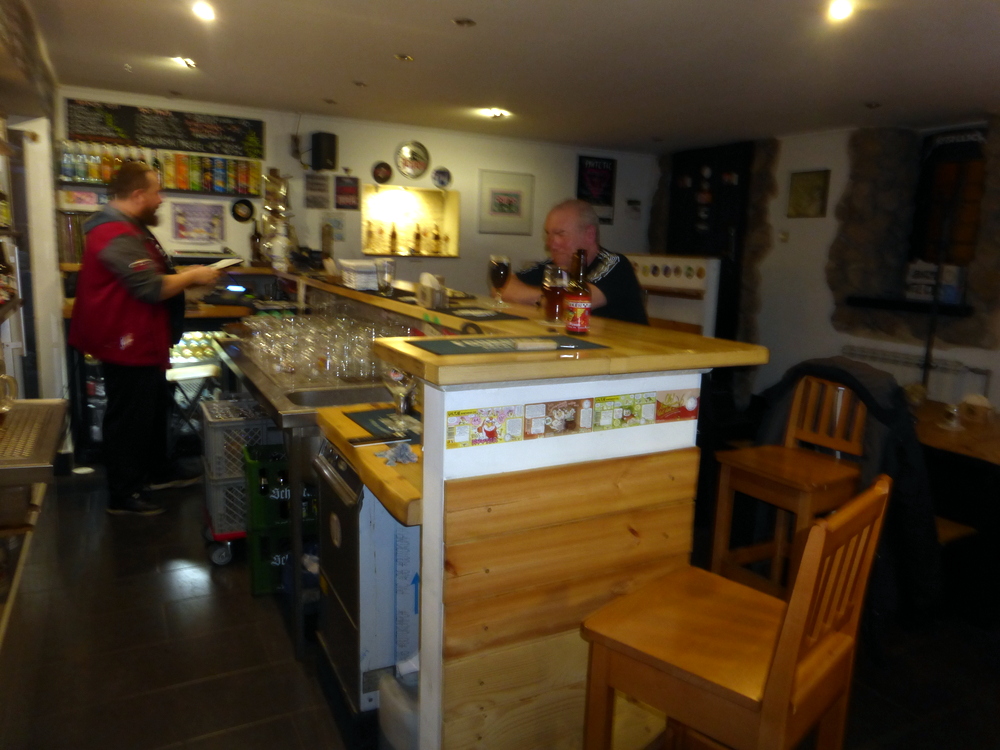 The Jopen, Laverbread Porter, was Seriously Hoppy, a strange Bier, with a slight Chocolate Flavour. The abv belied belief, a potentially dangerous Bier to sup.
Next up, an Imperial IPA at a mere 10.00% from Tanker, Estonia. One would never have thought that Hop Power had this abv, full bodied of course, with just a hint of sweetness, this was a brand new taste experience. A worthy recommendation by Robert.
The Vinyl was varied and interesting. Hector was taken aback once more when Irmin Schmidt's – Endstation Freiheit from Filmmusik Vol. 2 filled the room. Irmin Schmidt, from Can! To hear – Can – in a Bar is quite unusual. The State Bar (Glasgow) would oft feature – Ege Bamyasi – courtesy of Jason. Bir & Fud (Roma) treated Hector to extracts from the entire catalogue in 2016. Good Bier, Good Musik, Good Company. It was becoming a question of how much more time would Robert allocate us? He had a home to go to.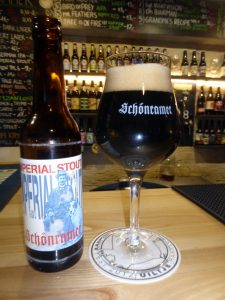 Schrönramer's (Bayern, Deutschland) Russian Imperial Stout at a modest 9.5% followed. With a bit of Sweetness, no Coffee or Chocolate, this was another brand new Taste Experience. This was a Bier! This was the time of night to be drinking it.
Robert was by now enjoying his role as DJ. Country Mike's Greatest Hits was as bizarre a collection of songs as one could encounter. Steve should adopt some of these arrangements for his beat combo. Who are the Beastie Boys anyway?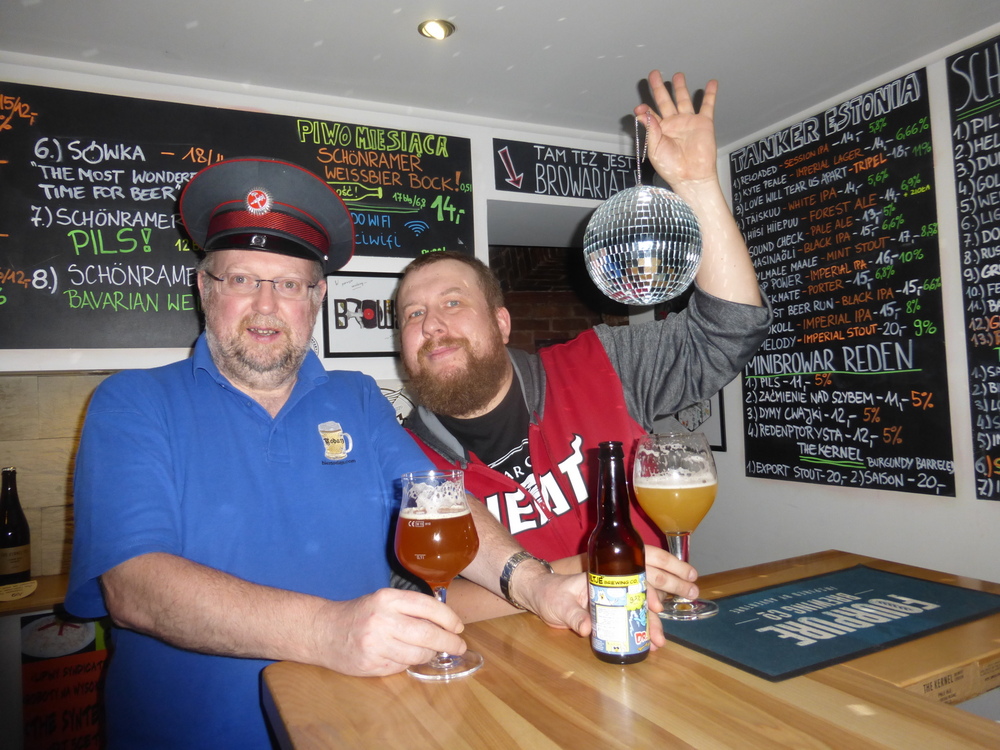 The Last Piwa
Uiltje's (Haarlem, Nederland) Dr. Raptor at 9.2% was a wonderful Bier to finish. An Amber Cloudy Bier, with so many Hops, but not to its detriment, one has to question why this could not have been drunk earlier. However, this was far from being a Session Bier, definitely an – End of Session Bier.
Farewell
No visit to Katowice would be complete without a night with Robert at Browariat. He has suggested that we spend longer next time and make some Daytime Trips together. Robert, you're on!
Until next time.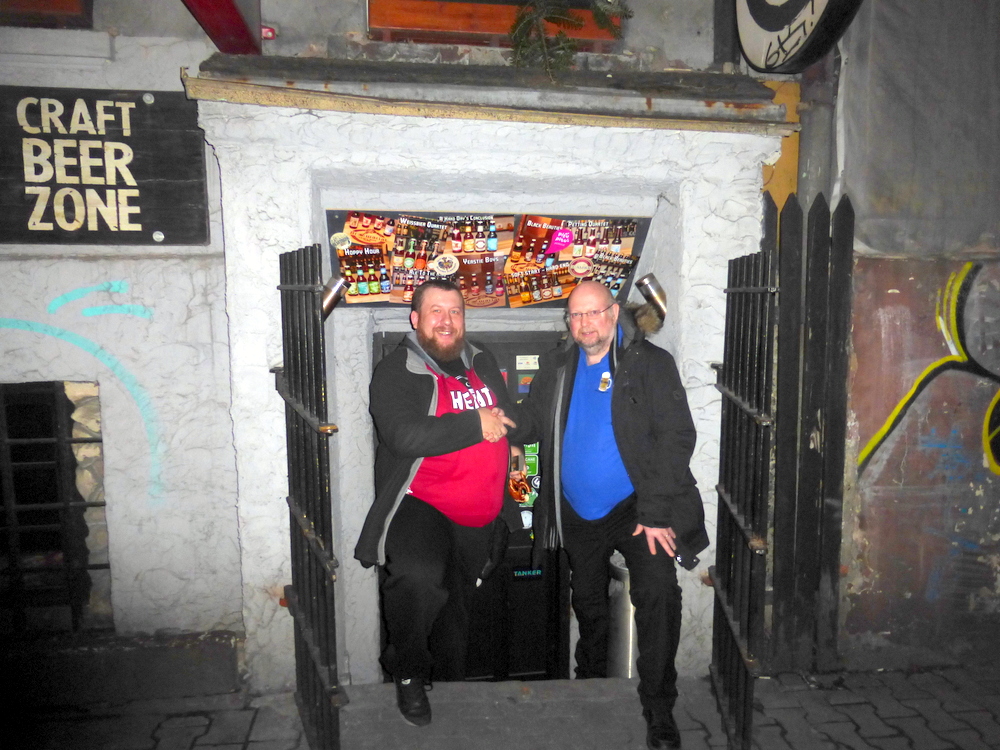 The Bars and Restaurant visited today:
Biala Malpa – 3 Maja 38 40-097 Katowice
Kontynuacja – Staromiejska 8, 40-013 Katowice
Browariat  –  Francuska 11 40-015 Katowice

Restauracja Indyjska Masala House – Mickiewicza 32, 40-085 Katowice