Fallen Brewing Company – Station House, Kippen, Stirlingshire, Scotland FK8 3JA
Martyn offered Hector the last two seats on the bus to Fallen Brewing at the start of the week, Dr. Stan would be my – Plus one. This would be Hector's first – State Bar – outing, Martyn was determined to continue the excursions that Jason had started in bygone years. A £2.00 pint of Soda Water was my aperitif before the 13.00 departure.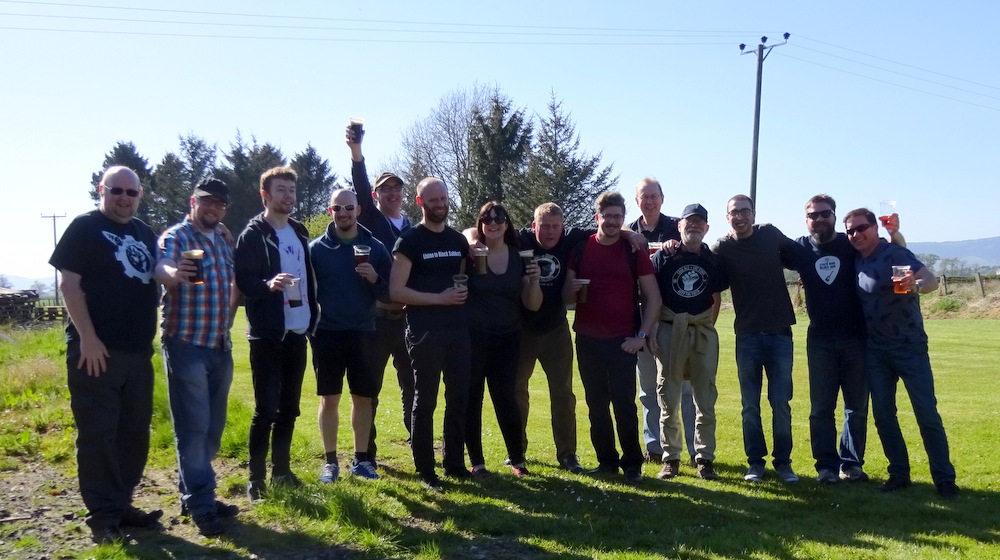 For reasons nefarious, we headed north west via Stockiemuir and a View fit for a Queen, driving round two sides of the Campsies. It hasn't rained in the West of Scotland for ages, we were in for another fine day.
Arriving at the Brewery just after 14.00 we were greeted by Paul Fallen the owner, unfortunately he had to leave us. I had a mental picture of an abandoned train station, and a brewing plant on a platform. A short embankment with a sandstone brick outcrop was the only evidence of what might have been here once upon a time. Imagine a railway line connecting Balloch and Stirling, that there was one, and it was callously closed, belies logic. Thank you, Dr. Beeching.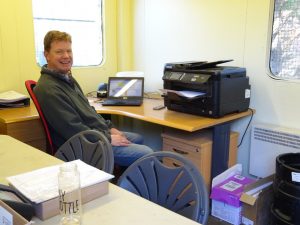 Jamie, the sales and marketing manager, took us around the plant and explained the brewing processes. Fortunately we had nobody to ask twenty minutes worth of questions requiring forty minutes worth of answers as we had on a CAMRA Trip to Caledonian some years back.
Au Biere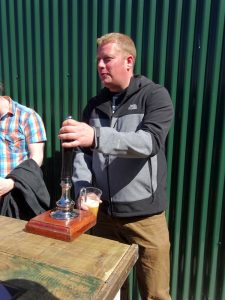 Two taps had been set up outside. Having sampled nine Fallen Ales prior to this visit, it was hoped that Chew Chew would be on, it was. Chew Chew and Platform C are two of my favourite Cask Ales, the latter being IMHO the best Ale on offer at the recent Paisley Beer Festival. At 6.3%, Platform C was deemed to be too much for a session, it was waiting for us back at the State Bar. Grapevine at 5.4% does not have the same – Hop Hit – as Platform C.  This is where most of us started, Martyn doing the honours initially. Thereafter it was help yourself; the Chew Chew at a modest 6.0% took a huge hit. This Salted Caramel Milk Stout may be the antithesis of the IPAs that I generally seek, however, it has brought me back to my roots, for my most of my life I have drunk Stouts and Porters.
Some went to see the canning machine in action, an opperchancity to take up a spot at the Bar with Dr. Stan and Alan. A bottle of Big Raspberry Dog Chew at 10.0% appeared along with cans of The Big 1 at 8.5%. The Dog Chew has – in your face – Fruit. The Big 1 is an intensely hopped IPA, very dangerous. A blank can also appeared, talk about – blind tasting.
The merits of – cans – were discussed, the way ahead it appears now that they are given a lining so that the Bier does not end up tasting metallic. Dr. Stan admitted to buying party tins of Watney's in his youth, this of course will go no further.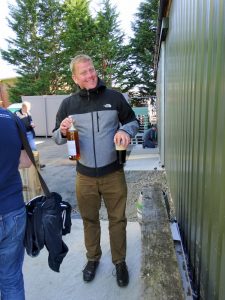 The Chew Chew was finished, we would never finish the Grapevine in the allocated time. One lemonade bottle was the only receptacle for a Takeaway, Martyn commandeered this. We were back at the State Bar just after 18.30, Platform C please.
Thanks to Martyn for arranging this great day out, where next?