The first Inter-Rail in 1976 included a day in Heidelberg. As I recall, this was day Archie's Degree Exams were due out. He phoned home and received the good news. Bier notes were not thought of in those days and so it was the return in 2004, in the company of Marg when my acquaintance of this city evolved. There has been a stop-off between Stuttgart and Hahn on a Bon Accord Trip. In fact, this was the last Bon Accord Trip.
Heidelberg is for Lovers
So Kenneth has always recited. From where he gets this I know not.
Heidelberg, on the banks of the Neckar is dominated by the Castle high on an imposing hill dominating the city centre. One must visit the Castle. Having seen the small Fass, one wonders how big the BIG Barrel could be? Gosh!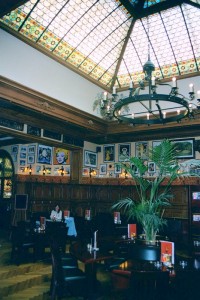 Perkeo's Cafe in the main drag is a stunning piece of décor. The glass ceiling outdoes Peter's Brauhaus in Koln.
 Steve reckoned there was an Andechs house just outside the station. No more. There are a few Hausbrauerei and these certainly make a trip to Heidelberg all the more pleasurable.
The Breweries  :
Kulturbrauerei Heidelberg Aktiengesellschaft