The Year, and The Other Year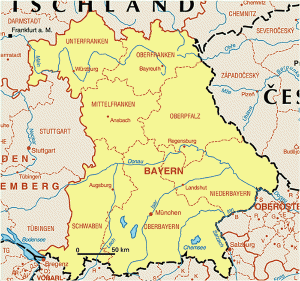 Between 1976 and 1997 for Hector, Bayern meant München. Munich was paradise, the two large Bierhalle the Mathäser  Bierstadt and the Hofbräuhaus was all a man needed.  The occasional trip out of the city –  Füssen to see the castles at Neuschwanstein and Hohenschwangau amongst others, and the ascent of the Zugspitze from Garmisch, were about the only diversifications.  One could only afford to travel once every two years or so; trips were short and intense.
Two Dramatic Changes
The Closure of the Mathäser Bierstadt meant that new places had to be visited.  The arrival of the budget airlines increased the number of visits from a biennial basis to frequent.  Franconia in the north of Bayern is accessible from Hahn with Ryanair, whilst easyJet fly straight to München.
As is evident from the list below, Hector and company  have  travelled extensively throughout Bayern, even spending a summer vacation in the Altmühltal Naturpark.
Altmühltal
Bayreuth
Berching
Beilngries
Berchtesgaden
Dietfurt bei Treuchtlingen
Dinkelsbuhl
Dollnstein
Dörfleins
Drosendorf
Ebbenmanstadt
Eichstatt
Erlangen
Herrsching
Hilpoltstein
Hirschaid
Freising
Memmelsdorf
Neuhaus (Pegnitz)
Riedenburg
Rothenburg od Tauber
Nennslingen
Nordlingen
Nürnberg
Passau
Pyras
Regensburg
Spielberg
Staffelstein
Tegernsee
Titting
Treuchtlingen
Weissenburg