House  –   Gaststätte – The Source
Address   –  Wunderburg 5,  96050, Bamberg
Date of first visit  –   July 28th, 1997
Most recent visit  – November 9th,  2015

Ruhetag – Sunday

URL  –  http://www.keesmann-braeu.de/
In summer most people sit through the back in the garden.  When it rains the larger crowd can be accommodate din a new room also at the rear.  The main tap room is the favoured locus.
Bier Notes
Weizenbier 0.5 VF/Fl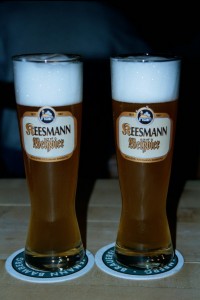 Keesman Weizen like Mahrs had become a firm favourite from the Taverna. It was a rarity. I had only ever tasted it in bottle so was probably a bit disappointed not finding it in a barrel. However, to say I enjoyed this would be an understatement. By 2004 it was found on draught, even better. By this time the rang eof Keesman Biers was known.
*
Sternla 0.5 VF
This brown Lagerbier has become a firm favourite. It occasionally turns up in the Allison Arms (Glasgow) when Olaf brings us something special.
*
*
Bock 0.5 VF
October 14th 2003, there we were sitting at the first big table on the right as one enters the Gastätte. Once again it was Marg looking around whilst I concentrated on the enjoyment of the Sternla. 'The Bock is advertised here too.' she remarked. I verified the Bock was on, the rest is history. The Bock is possibly Sternla's big brother. It has the similar light brown hue but much more body. This has ranked in my book as the best Bier on the planet. We have had a barrel in Clydebank, the day Craig and Dr Stan decided our bathroom fittings needed re-arranging. In 2009 going down to breakfast at The Alte Post we met Mr Strang and Eileen, over for the same reason. What a night. This was the best ever because in 2010 it was frankly disappointing, far too sweet. We did have another barrel in Glasgow of the 2010 and it had improved markedly.
In 2014 it was still on the sweet side…better in 2015