House  –   Gaststätte  –  The Source

Address  –   Obere Mühlbrücke 1
Date of first visit  –   July 29th, 1997
Most recent visit  –   July 26th, 2013

Ruhetag
URL  – http://www.klosterbraeu.de/Bamberg/index_micro.htm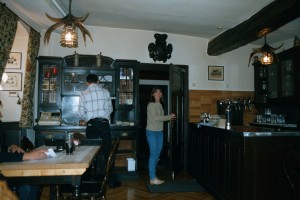 In the summer the seating along the outside wall is sued most.  Indoors is kept for the cooler days.

Schwarzla 0.5 VF
One really has to be in the mood for this Bier from Klosterbräu. The Bier is now all dark so at least there is no Pils. My first taste of the Shwarzla was recorded as enjoyable. As the first Bier of the day after a major intake the day before this is all the more remarkable. Perhaps I was ready for a change.
Bamberger Gold
As recently as 2004 there was a Gold Pilsner style Bier available but this has not been seen for years.  No longer brewed ap
parently.  Well who drinks Pils?
Braun's Weisse  0.5  Fl