Brewery  –  Mahrs-Bräu
House   –   Gasttäte – The Source
Address  –  Wunderburg 10,  96050
Date of first visit  –  July 28th, 1997
Most recent visit –   September 22nd, 2015
Ruhetag
URL  http://www.mahrs-braeu.de
Bier Notes

Weizenbier, 0.5 VF/Fl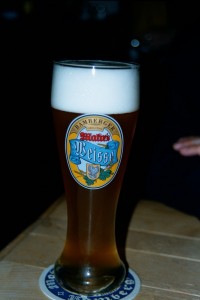 Back in 1997, the Mahrs house only appeared to serve Weizenbier from a bottle. This did not deter Hector who got tore in. This had become a firm favourite from the Taverna days. The first recorded draught Weizen was not until 2004.
This has become the staple Bier consumed. Served in its stone pot it goes down remarkable easily
Ungespundet, 0.5 Direkt
The only recorded consumption of this Bier was in October 2003 when Marg was brought to Bamberg for the first time. I had been in heaven across the street at Keesman with my first taste of their Bock, but had promised we would do all the Breweries in Bamberg (not that she really cared one way or the other.) The Ungespundet was like coming off the mountain, slightly cloudy and not in any way as good as what had been before.
Bockbier, 0.5 Direkt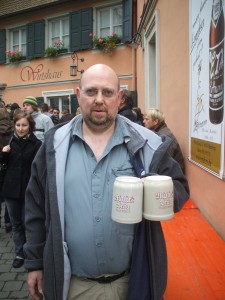 Dr Stan, Jonathan, Howard and Hector were all standing around in the crowd waiting for the tapping of the Bock in October 2010. We had a notional idea it would happen at 17.00, just as well we arrived early, the queue was around the block by 17.00 as Lord Clive and Maggie will testify having waited to get in. We bought it two halfs at a time to avoid having to queue again. Dr Stan prefers this to the Keesman Bock from across the street, well he would. In 2010 he had a point.