Brewery  –   St Georgen
House Gastätte – The Source
Address
Date of first visit July 28th, 1997
Most recent visit 2007?
Bier Notes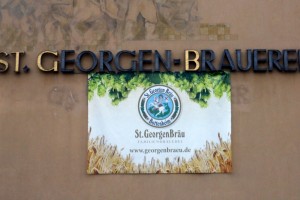 Weizen 0.5 Fl
Our first day in Buttenheim was quite frustrating, both breweries were closed and we were directed to the Keller about ten minutes away. Fortunately they were adjacent. At the Keller, possibly my first experience of such an environment, the Weissbier obsession meant that I probably declined a much better offer. I remarked at the time that I had never seen a bottle of Weissbier with such a long shelf life. On the way back we stopped in at the brewery again and managed to purchase the first t-shirt of the day.
Kellerbier 0.5 Direkt
I have probably consumed more of this Bier in my own house, Direkt vom Fass than I have at The Source. The adjacent Lowenbrau has a special place in my heart and so one tends to go straight there. This is certainly one of the great Kellerbiers.