Brewery  –   Augustiner
House  –   Gross Gastätten
Address  –  Neuhauserstr. 27,  80331
Date of first visit  –   July 1976
Most recent visit  –  17th June,  2016
Ruhetag  –  Nil
URL  –  http://www.augustiner-restaurant.com/index.html
Bier Notes
Helles, 1.0 VF
Hector toured the Big Six on the first visit to München in 1976. Augustiner Helles did not impress enough to stop me drinking Löwenbräu. This outlet was regarded as The Source for many years.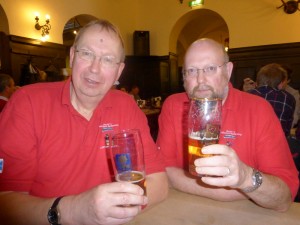 Edelstoff, 0.5 VF
By 1997 Hector had discovered Edelstoff, but had never tasted it on draught. The Bier notes from 1997 celebrate that the Bier was served faster and cooler than in the Athena Greek Taverna (Glasgow), so no Kerr Sisters then. The 1997 was a significant visit because Hector has not ordered a Helles in these premises since. Edelstoff remains one of the favourite Helles-style Biers, with appreciably more body at 5.9 stronger than the Helles, this Bier is it.
Weizen, 0.5 VF
'An explosion on the taste buds.' was recorded on August 1st, 1997. Hector had tried Weissbier since the first visit to Munchen in 1976. This was the drink the old men drank. The cloudiness made the Bier distinctive in appearance, that it was consumed only by the few made it intriguing. The Guinness Syndrome: it took months of trying in 1975 -76 to start 'enjoying' this beverage. Hector knew from an early age that domestic beer was not for him. The night the UK's National lottery began, November 19th, 1994, was the night when 'Crazy' Robin ordered a bottle of Schofferhoffer in the Aragon Bar (Byres Rd, Glasgow). Like Guinness I had reached the stage of wondering how anything that looked that wonderful could possible be unpleasant. Thus began a preference for Weissbier that was to last for years.
Of the Big Six, Hector still regards Augustiner Weissbier as the stand out option.