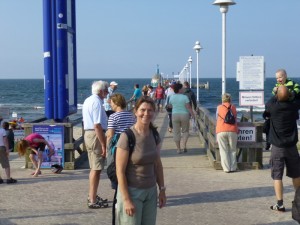 Located right at the start of the Pier, one feels that one is with the In-Crowd, whilst those on the other side of their designated area are the Outsiders. The air is the same. With the Twin Beach Chairs around the edge, those lucky enough to acquire one are sheltered from the Baltic Breeze.
The Bier vom Fass is Rostock's finest – Pils and Dunkels. The Weizen is Bottled Schöfferhofer.
Hector had the Dunkel, it tasted like a watered down Pedigree.
Düne  –  Strandpromenade, Zinnowitz