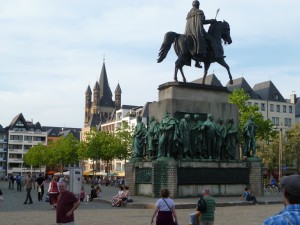 Köln, what does one say?  In July 1976, Hector set foot on German soil for the first time.  Arriving by overnight train from the French coast around 06.00 and not due to leave until the overnight train to München around 22.00, it was a long day. This was the first day of my first Inter-Rail, a month touring Western Europe with no bed allowed.  Kenneth had advised Archie and I that Milk, Bread and Bananas would keep us going through the day.  We found a market north of the Hauptbahnhof and sat beside the Rhein.  The Milk was Vollmilch, disgusting. The Bread was heavily flavoured, more than we had ever encountered,  and the smell followed us as far as Greece a week later.  The Bananas were long, fresh and saved the day, just.
Determined not be ripped off or spend our limited month's cash in one day, we walked in the heat for hours before it was decided that a Bier was justified.  The choice of Bier venue took an hour.  Einbahnstrasse looked a good bet, then it dawned on us…
 Kölsch #1
We found a small bar with a friendly looking Doris.  She served us two glasses of Kuppers Kölsch.  Is that it?  The 0.2l portion seemed insulting.  We drank as slowly as we could and left.  That was our Bier intake for Day 1.  I have never drank this Bier again. In München the next day things were very different.
I vividly recall the smell of yeast that hung over Köln, or was it our Loaf?  We departed, a bottle of apple Juice in tow.  The Juice was warm, undrinkable.  Köln had not impressed one bit.
Four years Later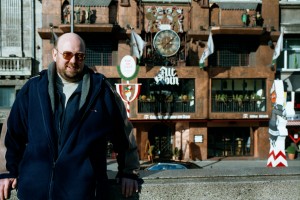 My third Inter-Rail was an add-on to five months spent at Ashdot Ya'akov (Me'uhad) in Israel.  I had been told that Guinness VF was available in Köln Hauptbahnhof.  I made a stop off between Amsterdam and München, the Bier was there.  I returned in 1982, this time with a salary, I still drank Guinness.  The lasting memory of this visit is therefore not the Bier.  In a record shop I heard Musik that sounded familiar but wrong.  It was Peter Gabriel singing in Deutsch.  Spiel ohne grenzen…  I do not know the songs from his second album in anything but Deutsch to this day.
The Birth of the Bier Traveller
In 1997 I mentioned to our former Depute that I was rendezvousing with a friend in Köln to do yet another Inter-Rail.  He assured I would enjoy the Altstadt.  Altstadt ?  I asked.
I had never gone south from the station and so had missed the heart of the city.  This changed everything.  Früh, Gaffel, Sion, Peters were all discovered.  How had I missed all this?
By the turn of the century, the outlying Weiss Brau at Barbarossa Platz no longer seemed far out of town.  The real Päffgen had been found, not the toy one in town.  The towers in Sünner were a good game if we were a crowd.  Mühlen at the Malzmühle has become a must visit.  There was always the mysterious Reissdorf.
One takes the Internet for granted these days.  I  contacted the Professor of Geography at Köln University to find out where this hallowed Brauhaus was located.  Reissdorf was my favourite Kölsch from the first time I had it, and that was bottled.  To finally reach The Source was totally fulfilling.  I used to be recognised by name on entering these premises.  Sadly, the smoking ban was not fully embraced and so our attention has been moved to their new outlet  Zum Alten Brauhaus in Köln Sud.
 A bed at last
The first night spent in a bed in this fine city was therfore in 1997 at Hotel Ball.  Here the door between the dining room and the kitchen must remain shut, no matter what.  I have never returned there.  Hotel Berg (Andreas tells us we are welcome) and the Ibis at Barbarossa Platz have been the main residences in subsequent years.  Hotel Colonia is the current Hotel of choice.
Weinachts Markt
The Köln Xmas Markets have been a fixture on the calendar for some years.  We stayed at home a few years ago when the Pound v Euro was hurting, somehow St Enoch Square (Glasgow) did not compete. We now go every year, it is written.
The Brewery Taps
Dom
Haxenhaus
Mühlen
Päffgen
Peters
Sion
Sünner
Zum Pfaffen