The Twin Towns
Discovered back in 2002, the twelve minute journey from Flughafen Hahn is all down hill entering Trarbach at the Markt junction.  Looping under the Mosel Bridge I saw both banks of the river then crossed the bridge itself.  Before I had reached Traben I had resolved to return.
Easter 2002 saw Hector and Marg spend their first of countless nights on the right bank of the Mosel.  By October, a significant number of colleagues had been transported to T-T, they have all returned, regularly.  Two New Years (Silvester) have been brought in at Traben-Trarbach.
Within the town lies many quality eating places and numerous bars.  Thermal Baths are located at the northern extremity in Bad Wildstein.  Gravenburg, the ruined castle, overlooks the Mosel from high above Trabach.   At night the illuminations make it appear to hang in the sky.  The Buddha Museum and the Mittel Mosel Museum are housed in Trarbach.
The Altstadt Cafe, or Frank and Rosi's, became our base.  On occasion we spilled into  Zur Goldenen Traube, especially during the Wolf Weekend which became a fixture on Hector's  Calendar.  Richard Allmacher, Mein Host there, entertained the assembled mass on violin. Over they years things have changed.  The Golden Traube closed, the Allmacher Family took over the Stadt-Mühle which remains one of Traben-Trarbach's great Restaurants.  Frank gave up the Altstadt Cafe which is now Chez Mathieu and remains the finest Bar in the town.
The Trips
From April until October, regular boats take passengers up and down the Mosel river.  Bernkastel-Kues is the normal upstream destination, here lies a micro-brewery in Cues Bahnhof.  A stop at the micro-brewery, Kloster Machern is also possible on the return journey.  The second last weekend in September is the Wolf Strassenfest, with Traben-Trabach's own Wine Festival the following weekend.  Walk, Cycle, Boat or Bus are the transport options to Wolf, as of 2015, the Tractor is no more.
The sail from Traben-Trarbach to Bernkastel-Kues is about two hours.  If one walks towards Bad Wildstein behind Trabach up into the vineyards, the footpath to Bernkastel is well signed.  As one comes over the hill there is a welcomed hostlery offering the full range of food and refreshments.  This takes around one hour and is not arduous.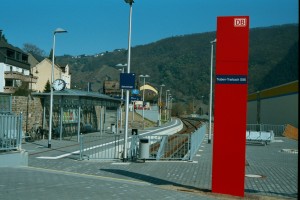 Traben is the terminus of a train  branch line from Bullay.  At Bullay one can head towards Luxemburg with a stop at Trier; or in the opposite direction to Cochem, Burg Eltz, Koblenz or even on to Köln.
*
*
The Restaurants and Bars
Traben
Alte Zunftscheune
Turmschen
Trarbach
Hami's Pils Stube
Karl Caspari Winery
Storcke Stütz
Brücken Schanke (closed)