The Golden Traube (Am Markt 8, 56841 Traben-Trarbach)
is not necessarily a place for Bier, but bottled Franziskaner is always available plus the inevitable (branded) draught Pils. (silent 's')
We started staying here when Frank (Altstadt Cafe) had his annual vacation, usually at the end of January.  Arriving of the midnight plane at Hahn, Richard always greeted us with a glass of wine.  But Richard, we are here for the Bier…
For the Wolf weekend in 2010 he collected me himself from the airport.  His lady, Marilies had phoned to tell me that Richard was not in his customary white shirt and so I might not recognize him, no problem.  Marilies also suggested that as I was arriving in time for breakfast I may as well dine.  B&2B!
The following is now written in the past tense
The accommodation was adequate and well priced.  With single rooms this hotel was perfect for a Chaps trip.  The Buffet breakfast was wonderful.
Marg and I dropped in for lunch one day, by the time we had eaten the complementary starters we could hardly eat anything else.  Generosity was the name of the game here.  Great food was also on offer.  The Moslemenu would always make me a Happy Hector.
Through the passage of time and greater familiarity, we tended to book the large table in the left room and with Steve on guitar and Richard on violin the night went on, and on…
On Sunday, March 19, 2012, Richard telephoned to tell me he has sold the Goldene Traube.  Marg and I visited in  April and bade farewell.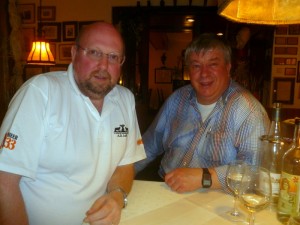 The Hotel is currently closed and operates only as a restaurant.
The story does not end here…
On October 8, 2012 the first evening of a Chaps Trip, we had just eaten at Caspari's when , Steve suggested we visit the Stadt-Mühle. This restaurant just along the road had been closed for some years.  Steve thought he had spied Richard there at the end of the summer. On entering, there was Richard, Marilies and Felix (Son) operating their new business.  They were clearly doing well, and this was a Tuesday night.
The Stadt-Mühle may well become our new Home-from-Home.