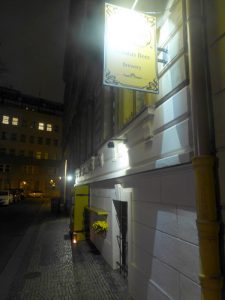 House  –    The Source
Address  –  U Dobrenských 3, Praha 1 – Staré Mesto

Date of first visit  –   29 October, 2015

Most recent visit  –   January 12th, 2017

Rest day –  Nil
URL –  http://www.pivovarudobrenskych.cz/eng/index.html

Smoking – in main room on entry, not in lower room

Opened in June 2015 at the site of Breweries dating back to the Fifteenth Century, this is certainly a – Small- Microbrewery. Located below ground level, the Coppers are the first thing one glimpses descending the steep stairs.
It is safer to sit in the lower of the two seating areas to avoid those who have to pollute the atmosphere. This is the Restaurant specialising in Central European Cuisine.
The Piwo is served in 0.25l and 0.4l glasses and is more expensive than seems justifiable.

A Gold Bier, has the body to match the given strength, but simply too Sweet.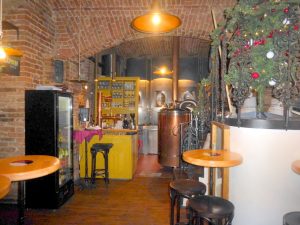 Salvia Stout 14°
Certainly not as Sweet as the Tribulus, this Stout has a good body, the better of the two, by far.