U Sadu – Skroupovo namesti 6, Zizkov, Praha 3
The Birthplace of – Hector
On a Sunday morning in July 2007, a few Chaps stood at a Tram Stop in Praha intent on going to – The Town that was Erased from The Map. The next Tram was in two hours, sod that then. Where were Les Autres? And so U Sadu was visited for the first time.
After a Pivo or two in very relaxed surroundings a story was told of how I came to be – President – for a time of our First Year class' Hector's House Fan Club. Thus a moniker was born, a name that has stuck, and became a useful device to stop – The Weans – knowing my every move in my years of teaching.
In 2012 we returned en mass, Birthday Cake provided, a Party. A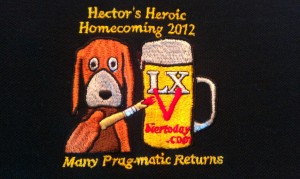 pity the staff were going out of their way to be awkward.
2017, another visit, same staff indifference. Smoking throughout, intolerable in this epoch.
Still, they serve good Bier, the décor of the Bar is quirky, the place has great potential.
Perhaps one day someone else will run it, train the satff, and make the air breathable?