Brewery  –    The Kernel Brewery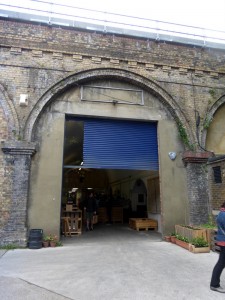 House   – The Brewery

Address  –  Arch 11, Dockley Road Industrial Estate, Dockley Road, London SE16 3SF

Date of first visit  –  March 9th, 2015

Most recent visit  –

Ruhetag  –  Bar is Closed

URL http://www.partizanbrewing.co.uk/

In 2015 : Open Saturdays Only 09.00 until 14.00 "We close at 2pm because we get too busy." 
Now they don't bother serving the public at source.  Surely an accountant will advise them to change this policy, soonest?

Work that one out.  Kernel is the only one of the Bermondsey Beer Mile's Breweries to have a separate room dedicated  to serving their Beer, the adjacent Railway Arch.  As one enters the retail business is encountered first with a Board quite different to the one to the rear where the Bar is located. Bar
Don't be surprised if the queue greets you at the door near closing time.
Kernel is at the Midpoint of The Mile, the 14.00 closing time means that the throng will collect here.
With up to Eight Taps on simultaneously, there is a broad selection, however, for those chasing The Hop, this is Paradise.  Having come here from Fourpure, the prices for 2/3 of a pint were much more amenable.
The Draught Beer sampled to date:
Pale Ale Nelson Sauvin 5.4%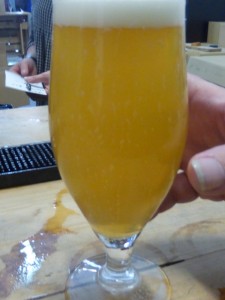 This unfiltered Ale served from keg has the sharp grapefruit flavour which worshipers of New Zealand Hops will appreciate.
Pale Ale Citra Chinook 5.3%
The wonder that is US Hops.  If the above is not available this will do just as well.
India Pale Ale Black 6.8%
A classic case of do not drink with your eyes.  This Black again is as Dry and Hoppy as their Blond counterparts.