Brewery  –   Partizan Brewing Company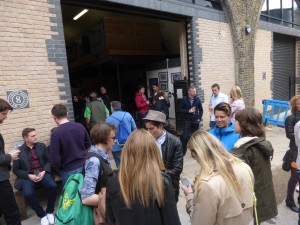 House   – The Brewery

Address  –  8 Almond Road, South Bermondsey, London, SE16 3LR

Date of first visit  –  March 9th, 2015

Most recent visit  –

Ruhetag  –  Sunday – Friday

URL http://www.partizanbrewing.co.uk/

As of 2016, Drinks can no longer be consumed on the premises

We visited, we looked at what was available, we walked on.  To much Fruit.
Hector's first encounter of Partizan Ale was in Katowice at Browariat where Mein Host insisted I try the IPA.  At 6.8%, just what Hector needed to celebrate an evening with Pendragon.  FYI – The Blackboard Photo was taken in Katowice.
With Four Hops from the USA, how could it be anything less than wonderful?