Brewery  –    Southwark Brewing Company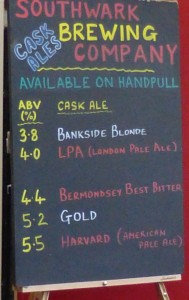 House   – The Brewery

Address  –  46 Druid Street, London SE1 2EZ

Date of first visit  –  March 9th, 2015

Most recent visit  –

Ruhetag  –  Sunday – Friday

URL http://www.southwarkbrewing.co.uk/

Open  Saturdays 11.00 until 17.00

With the warmest of welcomes from the staff, this was by far the most com
fortable and spacious of the Bermondsey Mile Breweries, there was also a feeling that they stayed open later than the published 17.00.  Be prepared to queue for the single toilet.
The only Bermondsey Brewery (known to date) selling Cask Ale.  After a day on Keg the palate did not do their Ale justice.
Harvard American Pale Ale  5.5%
With Citra Hops this would normally be enough to impress, however, other Ales experienced on the Bermondsey Mile have a multitude of American Hops, this felt lightweight in comparison.