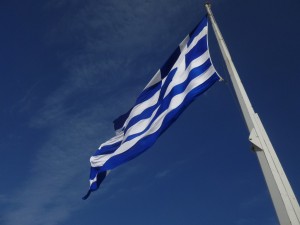 1976, Inter Rail #1, The First Trip. Athens was the objective, for one day only. The style was to spend the night on the train thus avoiding accommodation charges. This meant a day in Thessaloniki on the way and on the return leg. Three days in Greece. It was cheap. The Acropolis was visited. The rest was best forgotten.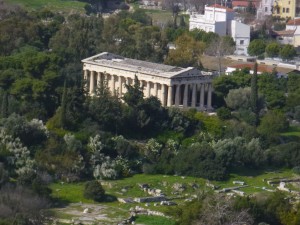 Twelve years later and the first of many Greek Summer Holidays. Two weeks on Kos, thereafter if I wasn't in Israel or Turkey it would be a Greek Holiday. How many Islands are there? They are listed below in temporal order. The Food, the Cold Bier, the Sun, Relaxation. However, it came to be realised that the Historic Attractions were plentiful. Hector loves Archaeological Sites. Nearly Forty Years later, The Acropolis is hard to beat. One day, they'll stop fixing it and The Elgin Marbles will be restored to their correct locus.
Santorini captured Hector's Imagination a long time ago. The possibility of Santorini being the site of Atlantis is one I have tended to dismiss in favour of a location beyond The Pillars of Hercules (Gibraltar). What is known, when Thera/Santorini, the Volcano, erupted, it took out the North Coast of Crete and destroyed the Minoan Civilisation. Both Santorini and Crete have been visited thrice.

When will The Greeks enforce their own Smoking Ban of 2010? Some Venues are Uncivilised.
The Mainland
Thessaloniki
Corinth
Meteora
Glyfadda
Halkidiki
The Islands
Thira – Santorini
Ios
Naxos
Paros
Anti Paros
Delos
Mykonos
Siros
Aegina
Kos
Nissyros
Samos
Rhodos
Zakynthos / Zante
Cephalonia