Adrian has become The Bier Hero of these pages, if there was a Sensible Place to buy Drink, he found it. The Hotels we have stayed in simply rip us off, one has to get out.
A few blocks from the Shahpura House Hotel in Bani Park lies the Shakuntalam Bar & Restaurant  (D157, Kabir Marg, Bani Park, Jaipur, India).
We were there to take advantage of the Drink Prices. 650ml bottles of Bier at Rs 150. By my reckoning that's £1.40 a Pint. One should not be paying £10.00 for a Pint of Bier as in the aforementioned Hotel.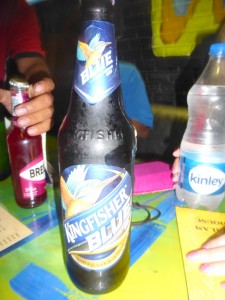 All four known versions of Kingfisher are available. The Super Strong may be 8%, however, Hector believes the 6% Blue can potentially do more damage. Served, suitably Cold, this was the Bier of The Trip.
Shakuntalam is a Basement Bar on two levels. The sight of ashtrays was a major disappointment, the only time we would witness this in the entire Trip. Still, the fans and air conditioning worked well, and only a handful of Locals were being antisocial.
I shall try and put this Venue on Social Media, others must find it. Bani Park is within 1km from Jaipur Main Train Station, if one is resident in this part of the City, else take a Tuk-Tuk.