House  –  The Source
Address  –  Via Adelchi, 5  20131 Milan
Date of first visit  –   April, 2004
Most recent visit – October 15th, 2017

Rest Day  –

URL –  http://birrificiolambrate.com/

Montestella  0.5 VF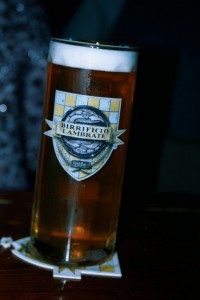 This was their Kolsch style Bier.  There was initially a fresh hoppy flavour which worryingly gave way to yeast.  It such a disappointment when micro-breweries let the yeast dominate all they brew.  Fortunately this soon dissipated to permit the pleasure of the Ale to persist.
 Lambrate  0.5  VF 
The Dunkles, This was not as sharp and had a lighter flavour, somehow.
 My research had suggested that I should be expecting a Rauchbier.  Initially this did not come across.  'It was a start.' I noted at the time, ' and not a bad one, dry but without the dreaded dusty after-taste.'
 Porpora  0.5  VF
This was a Red Ale and was by far the best Bier consumed so far.  This was more full bodied than the 'Dunkles'.
St. Ambroeus  0.5  Vf
Apparently this is named after the patron saint of Milano, and in keeping with the monastic association was the strongest Bier consumed this evening.  I had noted that this is what people were drinking as we arrived at the end of the Happy Hour.  My records show that this was the Ungespundet version of the Montestella/Kolsch.
 A wonderful night out
On our arrival the place was stowed.  As I arranged the drinks, Marg found a small table not far off the bar.  The music was well chosen, the sax player had to be Wayne Shorter.  There was heavily tattooed biker-type serving behind the bar.  This was a classic case of never judge a book by its cover.  When I went up for my second order he served me and asked what I was doing in Milano.
When I told him the truth, I was here to drink his Bier he knew that this was not bullshit.  Perhaps the note-taking does reveal the Ale-ticking mentality.  Before I had finished my second Bier he appeared at our table with not one, but four t-shirts.  This was hospitality beyond ones expectations and makes the night so memorable as I write these words years later.
Hector is long overdue a return to Birrificio Lambrate.