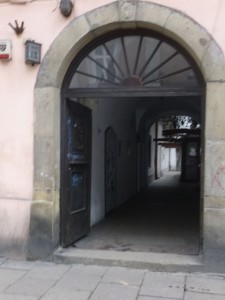 Hostel, Pub, but for Hector a Restaurant of note in Kazimierz. The Hostel is presumably upstairs. The entrance to Pub Stanjia (Józefa 12, 31-056, Kraków) has been seen by millions, the Archway featured in Schindler's List. Behind this lies a Courtyard which leads to a very large Bar and Restaurant. Having only ever visited Kraków out of the High Season, one can only imagine how busy this outdoor area will be in the Summer when those who have to light up may well take advantage. Musik may also be a feature of weekends and Summer Evenings, so if one fancies a Quiet Meal… go early.
The Décor is Blood-red, various items adorn the walls. Stanjia translates as – Barn. One Iconic Feature dominates.
The Range of Beers is fairly Mainstream, Imported Bier is featured. Any Pub which sells Grimbergen Blonde is fine with Hector, though after the demands of the Locale this can seem Comparatively Bland.
The Food
The Food is Excellent. The Menu must have something for everyone. Local Dishes feature as well as Salads, Pasta Dishes and Ribs. It was in this Venue where Hector first shared a Greek Salad and actually wolfed down the Feta Cheese. Polish Feta?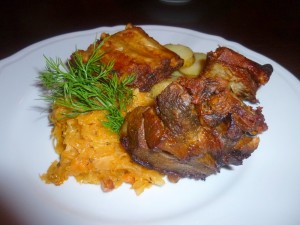 The Service is Fine and the Prices are well within acceptable parameters.
After Dining, take a few steps to the right on leaving, behold Strefa Piwa, home of Rowing Jack, the Best Craft Bier discovered in Kraków  to date.