Hector has only managed One Visit to this excellent Bar-Restaurant, and not for the lack of trying. On Visit #2 in April 2013 we were too late To Dine. In April 2014 the premises were closed
for some weeks holiday, and so the only visit was when Ricky, The Man from Bradford, took us there in April 2013 as part of his Introduction to the Pubs of Kraków.
Szynk (Podbrzezie 2 31-054, Kraków) is located at the North East Corner of Kazimierz, another reason for spending evenings in this part of the city. With Multi-Taps there is a decent choice of Cask Bier, however the Food and Friendly Service are what stand out most. Home-cooking, Polish Classic Dishes, this is the First Venue where Hector encountered Polish Dumplings. The Black-pudding Dumplings are wonderful, I am told. Sadly on the Visit #1, Hector was full of other Food, what could that have been?
The Bier tasted at this Venue was the Amber, brewed for these premises by Piwo Szynk Burstynowe. Inexplicably, no Tasting Notes.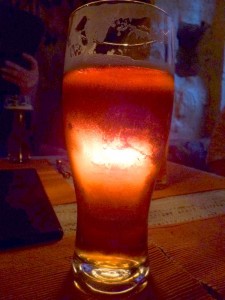 In October 2014, Szynk appeared to have changed hands. The staff were younger, still the same straightforward Bier selection, and no Blackpudding Dumplings.