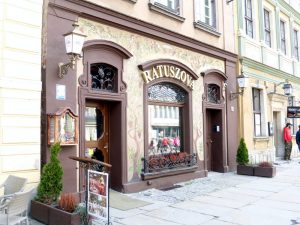 Some venues on Stary Rynek such as Pijalnia Wódki i Piwa  may attract the young out for a wild time, or late night Wodka.  Brovaria may cater for the middle market, Restauracja Ratuszova  (Stary Rynek 55, 61-772 Poznan, Polska) has a certain air which should attract a more sober clientele. This should be particularly so at Lunchtime, though as the night progresses…
Serving Traditional Polish Fayre in addition to a Broader Menu, one can have Nouvelle Cuisine followed by Perogi, as illustrated.
The seating area at the entrance gives way to stairs and another dining area up to the right.  The colour scheme is Wimbledon-esqe, most charming.