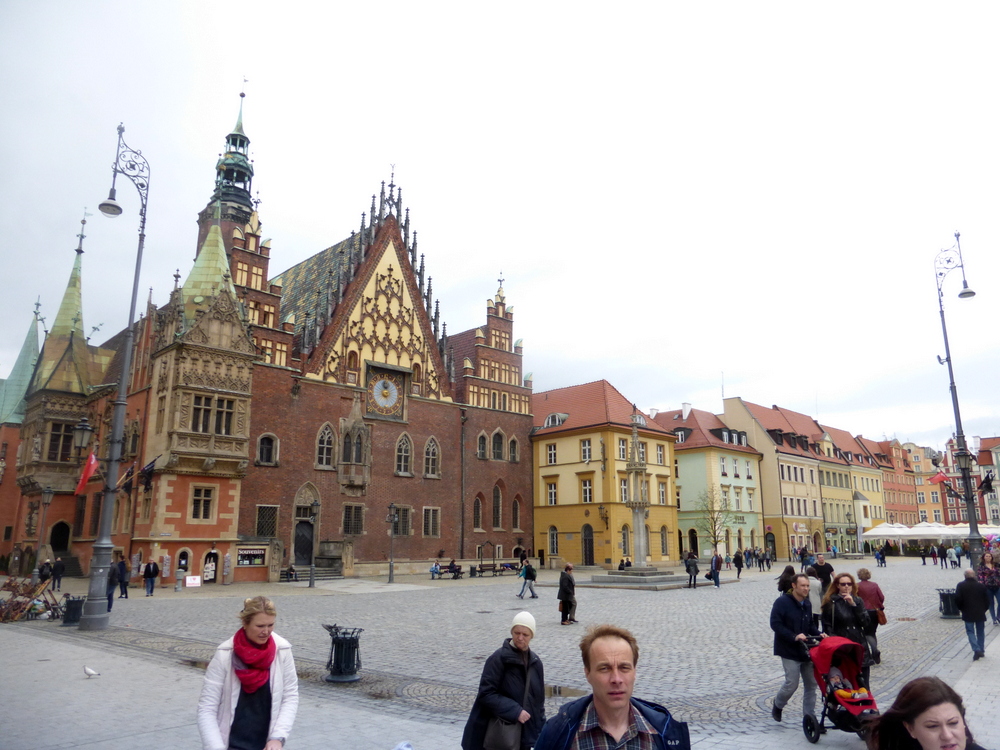 Wroclaw in Lower Silesia is Poland's fourth largest city, on the banks of the River Oder/Odra. With a population of two thirds of a million, it is the largest city in Western Poland. The city was known as Breslau until after 1945 when the German majority was replaced with Poles.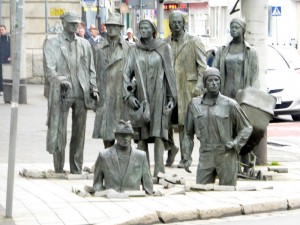 The – l – is pronounced – w – in Polish, so Wroclaw is pronounced – Vrots-wav, simples.
The Stare Miasto lies within an area bounded by canal on three sides and the River Oder on the other.
The Main Square, Rynek, is perhaps only second to Krakow in architecure and atmopshere.  The Dwarves stated to appear in 2001 and have become a tourist attraction n their own right.
The Market Hall – Targowa – is next to the River Oder.  Here lies the only Craft Beer House open at Lunchtime, to date.
The following hotel, bars and restaurants have been visited:
AleBrowar – Pawla Wlodkowica 27/1a, 1-400 Wroclaw, Polska
4Hops – Ofiar Oswiecimskich 46, Wroclaw, Polska
Kontynuacja – Ofiar Oswiecimskich 17, 50-069 Wroclaw, Polska
Prohibicja  –  Ofiar Oswiecimskich 17, 50-069 Wroclaw, Polska
Pub Stacja – Wojciecha Bogusawskiego 11, 50-023 Wroclaw, Polska
Targowa – Craft Beer and Food – ul. Piaskowa 17, Wroclaw, Polska
Bierhalle – Rynek 24, 50-101 Wroclaw, Polska
Browar Zloty Pies (Golden Dog) –  Wita Stwosza 1-2, 11-400 Wroclaw, Polska
Academus Pub & Apartments – Kiebanicza 23, 50-001 Wroclaw, Polska
Masala Grill & Bar – Kunicza 3-5, Stare Miasto, Wroclaw, Polska
Najadacze.pl – Nozownicza 40, 50-147 Wroclaw, Polska
Ibis Wroclaw Centrum – Powstancow Slaskich 7b 53332 – Wroclaw, Polska
Zaklad Uslug Piwnych (ZUP) – Ruska 34, 50-079 Wroclaw, Polska (Closed)
Venues still to visit:
Spiz  –  Ratusz 2, 50-106, Wroclaw, Polska
Szynkarnia – Swietego Antoniego 15, 50-073 Wroclaw, Polska
Pod Latraniami  –  4, Ruska 3/4, Wroclaw, Polska

Doctor's Bar  –  Swietego Mikolaja 8, 50-125 Wroclaw
Pogromcy Meatow  –  Rynek 22, 11-400 Wroclaw, Polska
Marynka Beer Aperitivo  –  Kazimierza Wielkiego 39, 11-400 Wroclaw, Polska