Still known by The Locals as the Orbi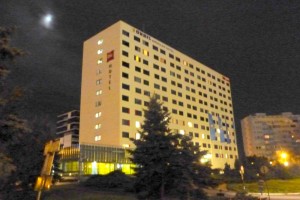 s, the Ibis Wroclaw Centrum (Powstancow Slaskich 7b 53332 – Wroclaw) has been opened since April 2016 when I first stayed here. On the second visit in October 2016, it was difficult to  breath in the rooms, the windows do not open, the fresh smell of paint on every floor made for two uncomfortable nights.  (There was a refund.)
The hotel is a ten minute walk from the train station, and similarly to the Stare Miasto (Old Town).
With the refurbishment, everything is new. If taking a taxi back, ask for the Ibis-Orbis, else one may end up at the Ibis Styles which is directly outside of the train station.
Unfortunately the Bar only features Zywiec on Tap, which is all the more reason to find a good Polish Craft Beer Pub. Pub Stacja is nearest, the other side of the railway.