Date of visit:  April 3, 2013
Red MacGregor, the worst Ale that Hector has ever been served by a hotel on Deeside.  I don't think the Brewery was to blame but I have never touched it since.  Orkney Dark Island, an Ale I will choose on occasion when I fancy something different.  Orkney Skull Splitter, beware.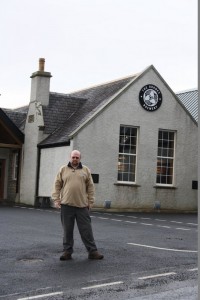 Located to the north of the Orkney Mainland, this Brewery is the more famous of the two on Orkney, yet a former Brewer, Rob Hills, has now set himself up in the successful Highland Brewery a few kilometres further north at Swannay.  The politics of Takeovers has seen the Atlas Ale range now brewed in this plant also.
The Ales are available in many Pubs on Orkney, but in Bottles.  The Ale from the rival Brewery is much more prominent on Draught.
The Visitor Centre is housed in an old School Building at Quoyloo which features tales from former pupils.
The Atlas Blonde at 5% was the chosen Ale to sample on the visit.  It did not have the strength of flavour of Citrus and Hops their blurb suggested, disappointing, so much so I refrained from buying the t-shirt.
Four Days and Nights on Orkney