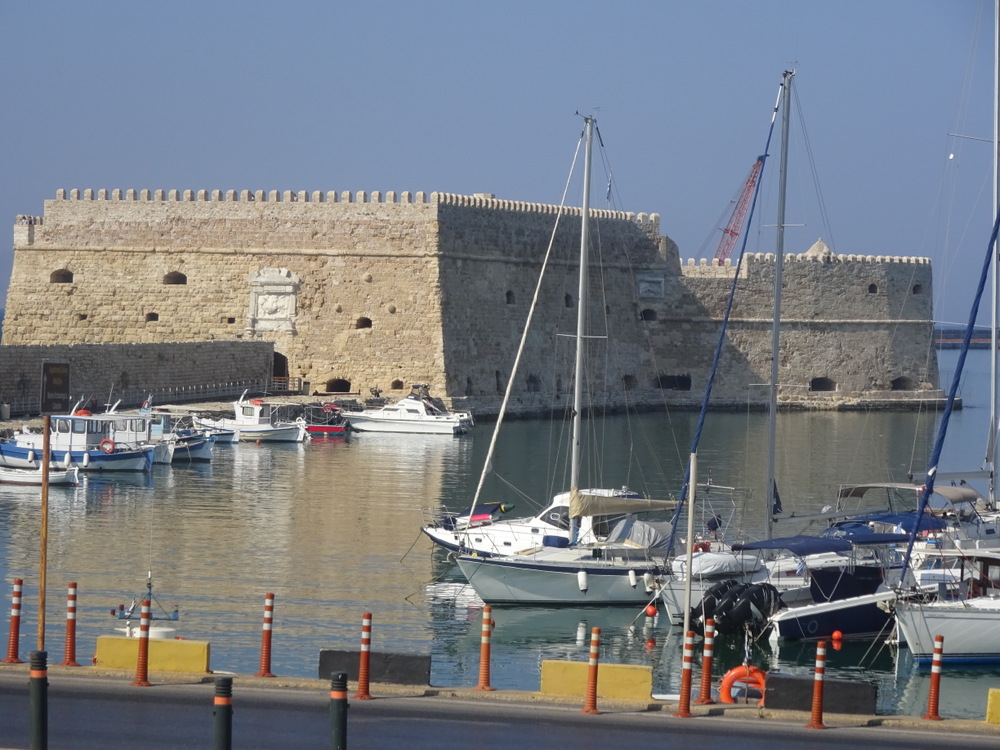 The Bus Ticket from Chania to Iraklio was purchased yesterday, just in case. In theory I had an allocated seat, if there was a throng this should at least guarantee I get on the Bus. This is the disadvantage of travelling alone, one cannot deal with the luggage whilst the other secures the seats.
Four hours, approximately one hundred kilometres, slow. There was a brief stop in Rethymno where I stayed in 1998, we were making good time. I could see Iraklio in the distance when Marg phoned, we were over a half hour ahead of schedule. How can people board at intermediate stops if this is how they run things?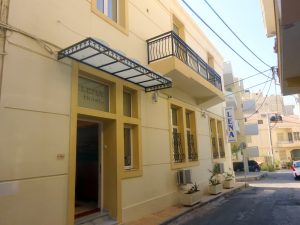 Hotel Lena was chosen because of its proximity to the Port, the Bus Station is across the street from the Port. I believe Marg and I stayed at this hotel in 2004 when our flight arrived too late to make it worthwhile to progress to Malia. That was a good night, Greece had just become European Champions, there was a buzz about the place. We watched a replay of the match at a Taverna in a Square. Who knows where? This was the beginnings of the digital age, 35mm film was still in use, so few photos in comparison to the present.
Doris gave me the key to room 103, one number less than Akali Hotel, still only one power socket. Bert, on reception, could tell for some reason that I am Scottish, a pleasant chat, but Hector was on a schedule.
Curry Park was a few blocks away, the alternative was in Hersonisis on the far side of Iraklio, next time. The Hector was fed, but not amused. To quote a Benny Hill character – Why you not rissen?
I had three venues mapped out worthy of a visit from The Bier Traveller. The intention was to go to the furthest away first then work my way back. To my surprise, walking up the narrow pedestrianised street from Curry Park, I found myself outside Utopia Cafe/Beer. What appeared to be a Bottle Shop was at the end of a line of windows, presumably – the indoors. I entered the Shop to find a decent array of Biers, nothing to set the heather on fire. The fridge had a selection, it would have to be Deutsche Bier – Schlenkerla Marzen (Brauerei Heller, Bamberg, Bayern), at 5.1% one of Bamberg's finest. I made my selection known then looked for a way in. Doris gestured to the seats across the way, all outdoor, some in the shade.
You can sit anywhere.
Not there.
The best shade was at a larger table, so can people not sit together? I was moved nearer a group of females, all smoking.
Do you want to pay €4.50 or €7.50 for the full service? I was asked.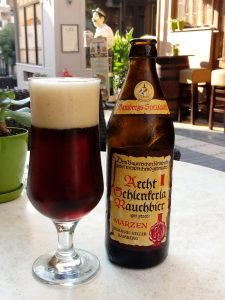 I looked at the Doris, what could – Full Service – possibly include?
Nibbles, apparently. I don't need Nibbles, I have just eaten.
The Schlenkerla was an assault on the taste-buds after the Blandness of Eurofizz, or the Excellence that is Septem. How I would have preferred to drink my Smoked Bier in smoke-free surroundings.
One Bier here was enough, Hector had a Micro-Brewery to visit. I hit the highest part of the town and recognised nothing. Google Maps took me down a small side street to Crop Roastery-Brewery. There was quite a crowd outside, the majority in a small park area opposite, neat. There was a Bar on my left as I entered, and coffee house to the right.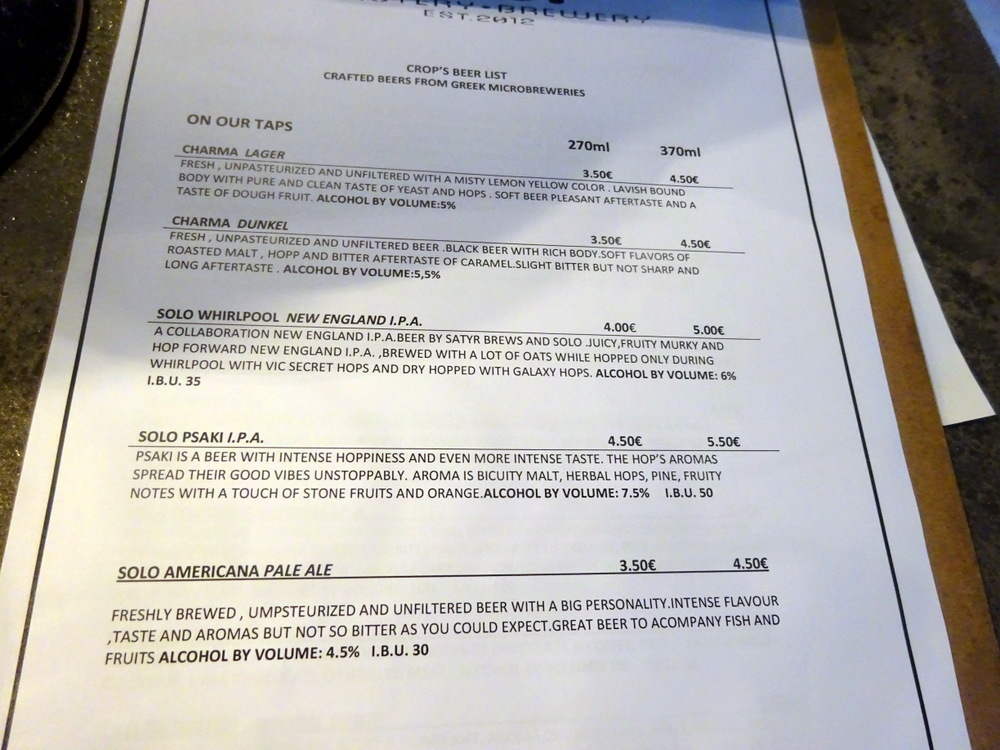 Bier? I said to a young chap, he handed me a clipboard. He pointed to the first page and clued me in to the fact that these were the Draught Biers. The far end of the Bar looked like the optimum place to sit, at the Bar, out of the way. A Couple sat at a window table immediately behind the last Barstool, to sit there would have been, uncomfortable, nosey. I took the stool at the corner nearest.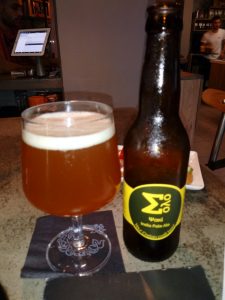 Psaki IPA (Solo, Heraklion, Crete) at 7.5% with an IBU of 50, looked like a good starting point. Instead of pouring the Bier from the Tap, the Barman produced a Bottle. A Disappointing Curry, You can sit anywhere, and now Bottle instead of Draught. I think the Barman sensed my angst. The Bier at least gave off a decent quantity of Hops, there was a sharp taste with a hint of Orange.
Behind me to my left a voice suggested to the Barman that I should sample a Solo / Whirlpool Collaboration. A decent sample of New England IPA came my way. At 6.0% this IPA was surprisingly – Thin – the Hops were not intense. A Light coloured Bier, but Cloudy, it was Fine, – The Voice – assured me that it is rated.
I decided to return to familiar ground, it has been two days since I last enjoyed a Bottle of Septem (Eoboea, Hellas) 8th Day (Mera), in doing so I had demonstrated my knowledge of the Greek Craft Beer Scene. The Voice approved my choice.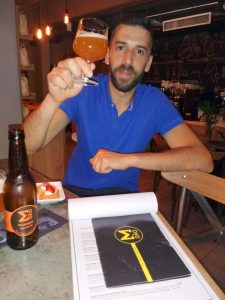 The girlfriend departed, meet Dimitris, one of three owners of Crop Roastery-Brewery. In the short time I had been there, my interest in Bier had become apparent. Dimitris took up a stool around the corner, half blocking the Bar entrance, his prerogative. The Calling Card was given albeit the Bier-Traveller on the reverse side is in a much smaller font. Curry-Heute is me.
It was agreed that I must try more of the locally produced Cretan Bier. I had to ask about the name of the premises, I saw no Brewing Plant, but a huge Coffee Grinder where this could have been. Perhaps there had been brewing done here, perhaps there will be Bier produced at a new plant on their behalf in the near future.
The Barman produced a Bottle of Solo Imperial IPA for Dimitris and Hector to share. At 10.00% and with an IBU of 100, I may have gotten around to this, later. This was now, still early. This was a – party in a bottle – full on Hop Flavours and no astringency at the back of the throat. So Dry, one could do damage with this.
For reasons unknown, some Hops and Wheat – The Crop? – were produced for my amusement, a glass of something – clear – too, I would keep this until my departure. Time to share another Bier.
Next up was a Bottle of Night Vision (Noctua, Athena, Hellas) a Black IPA that tasted of Chocolate, oh yes! The 7.2% hardly mattered after what came before.
I had to get two things off my chest. Why do the Greeks have – no smoking – signs and ignore them? Even at Crop Roastery-Brewery, a Chap sat a few metres away on the Bar side of the room smoking indoors, which of course is illegal. Dimitris said they have to tolerate this on the Bar side of the room but not the Coffee side. As a servant to nicotine since his youth, Dimitris has now seen the error of his ways and vapes, as a stepping stone to quitting altogether. Good man, spread the word amongst your fellow countrymen. The price of Greek Craft Beer had to be mentioned, I related the farce that is the pricing at Bermondsey and also told the story of Kernel who no longer open their Bar to the public. I was informed that in Greece, Bier tax is based on original gravity – Plato – not the final alcohol by volume (abv). This suits Mythos-Heineken who produce weaker Bier.
The one Scottish Craft Beer stocked at Crop Roastery-Brewery was dismissed quickly.  We do not like how – they – do their business.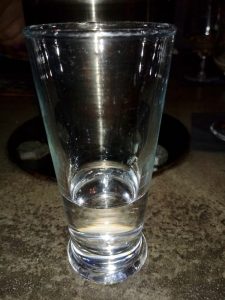 The untouched Raki was replaced with a Larger, Colder one. The Barman was now fully part of – The Company. Prokopis related that prior to working here, he had no awareness or knowledge of Bier beyond the mass produced. Both he and Dimitris are counting on more locals discovering what is happening on the Bier Scene. It is their livelihood.
The Raki was called – Fouriaris – she who is in a hurry. (I hope these notes are accurate, at the time of writing I discover that the Solo Imperial IPA is also called this.)
It was time for Hector to stand Dimitris a Bier. He recommended another Solo, this time the Porter. With an IBU of 30, this 7.0%-er was very Smooth, Dry-ish, another pleasant taste experience.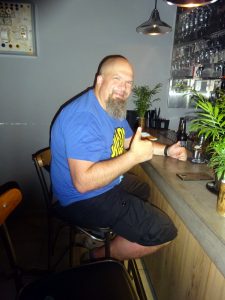 Hector was shown behind the Bar, the fridges and the storage area where the Key Kegs are stored. By this time there was three of us at the Bar, a Russian Chap joined in as and when.
A Liquer was produced – Diplomatico – A Venezuelan Golden Rum, Wonderful! Having checked the price of a bottle, this was thoroughly appreciated. This had become one of those – most memorable nights.
*
A Bottle of House Coffee and a t-shirt that will never fit me were put in a bag, Hector's Takeaway. To say I had been well treated would be the classic understatement. I had already considered that Marg should see Chania next year and discover what she missed. Heraklion is now firmly on the radar, Hector has to get back here. February 2018? What are winter flight prices like to Crete?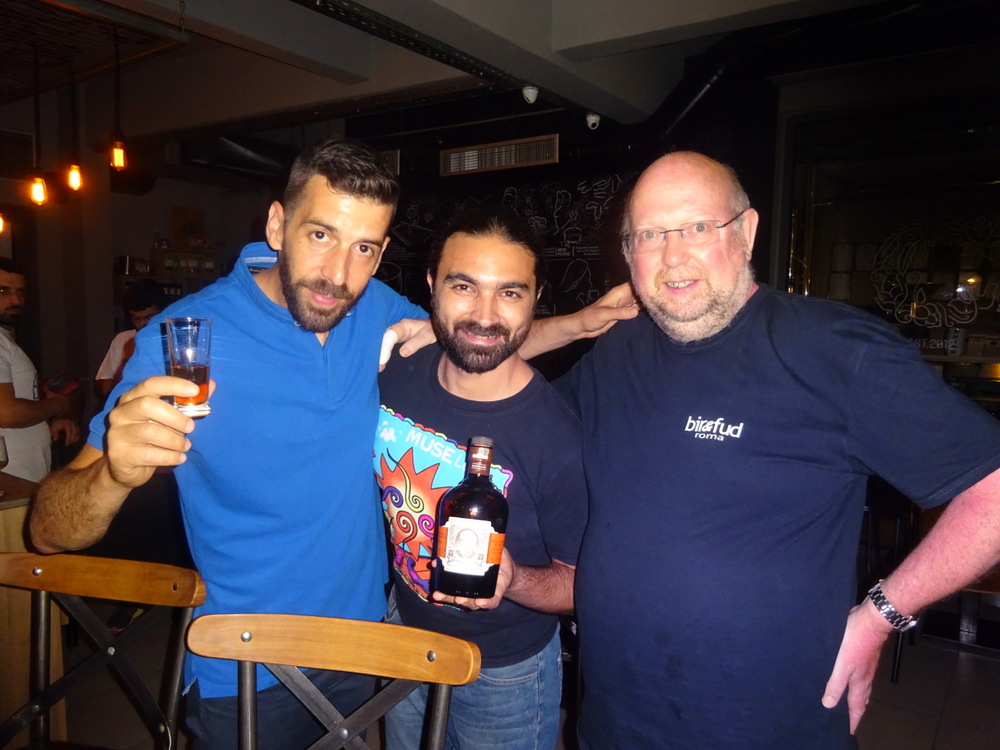 Any sensible person would have tottered off home, Hector had another venue to check out.
Bier O'clock was downhill in the direction of my Hotel. Located in a busy side lane, this was in the hub of it all. I found a space at the Bar.
A charming Lady served my Affligem (Affligem / De Smedt – Heineken) and also gave me a generous portion of Tortilla Chips and the tastiest Chilli Dip I have ever experienced. Not Spicy, when is Spanish-Mexican ever Spicy? No Kebap for Hector tonight, in fact, there have been no late night noshes this trip. This 6.8% Blond was sipped, it had to be the last Bier of the day, I was enjoying it here, Uriah Heep, you don't hear them often in a Bar.
And so to Santorini.
The venues visited today:
Crop Roastery-Brewery – 4 Aretousas st., Iraklio, Crete
Beer O'clock – Par. Minotavrou, Iraklio 712 02
Utopia Cafe/Beer – Chandakos 51, Iraklio 712 02