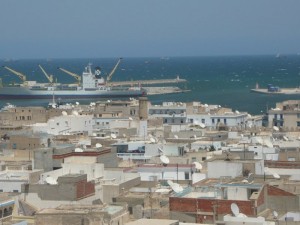 The Flight from Glasgow took Three Hours Fifteen Minutes. Immigration, Baggage Collection, a wait in the Transfer Bus and the Transfer to Sousse took exactly the same time. Thomas Cook charge for everything on their flights, having pre-paid our In-flight Meals, it took Three Asks to secure them. Leg-room was no better than RyanAir and easyJet, so why was this Flight so expensive? The Glasgow Supplement, no doubt.
 There is a modern city surrounding the Medina and a long Promenade with adjacent Sandy Beach.
The majority of the Eating Places are Glorified Snack-Bars.
The Medina
There is no truth to the rumour that Hector is in Tunisia to visit the Locations where The Life of Brian was filmed. But while I'm here… The Walls of the Sousse Medina stood in for Jerusalem in The Movie. They are substantial, indeed the Medina in Sousse may even be larger than the Old City of Jerusalem, the Souk lying within, must be. Hector's mind drifts back to 1995 and two very long weeks spent in Tangier. The famous Casbah was Well-Disappointing. We wandered through it on our first evening and realised that was it. Sousse's Souk is Seriously large and features a lot of Tortoises.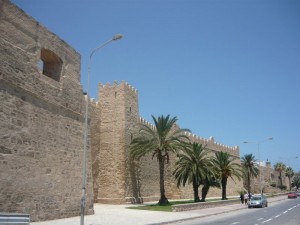 tbc