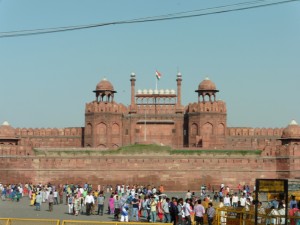 The journey from Glasgow to New Delhi cannot be completed with one flight. Having refused to pay the rip-off fee the Travel Company wanted for the Glasgow to London Heathrow leg, little did I know that this meant Travel Insurance to cover the connecting flight was pretty much out the window. In future we stay over in the South East, or better still, avoid London airports altogether.
The Landside of Heathrow Terminal 4 is not acceptable. Two cafes to cater for all, three ATMs, only one which worked. One positive was that we were greeted by an Agent from our Travel Company and after we had checked in, we were introduced to the Lady who would be our Guide for the entire trip. Indian Visas are expensive, imagine the horror when the Jet Airways person checking us in found errors in both Visas. Whatever was wrong, she was able to fix online, just as well.
When an eight and a half hour flight is delayed by an hour, one just has to grin and bear it. If the situation is worse on the return, we miss our connecting flight, no come back. At least the In-flight Movies kept The Hector amused, the In-flight Meal did even more. Curry on a 'plane, a first.
On arrival at New Delhi's Indira Gandhi Airport, one cannot help but be impressed, it is Big and Shiny, officially The World's #1. The Chaps on the 'plane had given us all a Customs Declaration Form to complete before Landing, but not a Landing Card. Go to the back of the queue. Finally,the Visas were checked all was well, but –
What do you think of our airport?
Wonderful, way better than Heathrow Terminal 4.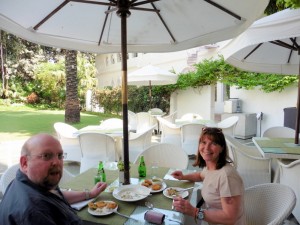 And so we were in, almost, collect the bags, meet Rep Rosemary, try and find an ATM… no chance before clearing customs, then no time. We arrived at the Maidens Hotel ninety odd minutes later, having been driven from the south-west of New Delhi, past Delhi to places north. Time to check in, have something to eat on the Terrace then assemble for our first outing. Not everyone made it… sleep, later.
Bhupi, our Local Guide was introduced to us, Two Guides. Retracing ground we had covered en route to the Hotel, we were taken to the edge of Delhi, the original core, to visit Jama Masjid, one of the largest Mosques in India. We had been warned about having to part with our shoes and cover up. Ladies were given enough cloth to cover themselves, Chaps had to wear makeshift skirts. A Young Girl joined me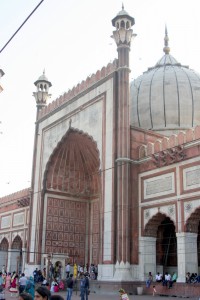 whilst Marg set up the ritual photo, she was disappointed, Hector has a heart of stone. We were warned not to give to Children money; it distracts them from going to school, and the Mafia as featured in Slumdog Millionaire continue. On a Sunday the place was full of kids. The uneven ground, the hot flagstones, even birdseed made for discomfort underfoot. Hector was glad to find his sandals waiting at the gate.
As we assembled outside the gate, a security Chap asked Marg if a young girl could have her photograph taken with her. Assuming a scam, this was declined. However, Bhupi informed us that this would be a feature of our Trip. People from the Villages do not see Tourists, especially Whites, Young Women and Girls love to have their photos taken with the Ladies.
Raj Ghat is public park in northern New Delhi,  here is the Samadhi, or Gandhi's cremation site,  the final part of today's excursion. Gandhi's House had been postponed until our Delhi return due to our late arrival. As ever, Marg was as interested, perhaps more, in the wildlife. Kites and Chipmunks made her day.

There was little time to spare before Dinner. What could The Hector possibly expect for Dinner in India. The Buffet was Satisfactory rather than – Wow. The Couple we had dined with, Allan and Allison,  joined us for Drinks in the Bar. The small Bar was busy, over-spill into the corridor. The Twenty Twenty Cricket was on TV, live from just down the road, literally. European Enthusiasts sat with The Locals, the latter were rowdy then joyful when India beat Australia.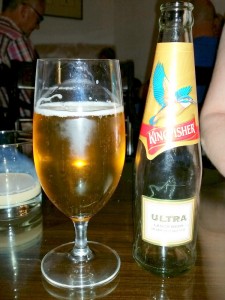 Wine was over £25.00 both in the Garden Terrace Restaurant and in the Bar, no thank you. Kingfisher was the only Bier Hector could contemplate. Kingfisher Ultra was new, so had to be sampled. It's  a 5% Kingfisher, Cold, Yellow and Fizzy. Marg had Baileys, no Ice, one cannot trust the Water. Two Rounds, over £20.00. This is what happens when one is on a Tour, the Tour Company make a killing on the Hotel Rate with their Block Bookings. The Hotels are able to offer Food such that Economies of Scale guarantee their investment, meanwhile the Customer is taken prisoner. There must be somewhere else Hector can go for a Bier. Taxi? Knackered, bedtime.
The Hotel visited today:
India Trip 2016 – Day 2 –Hector's India Trip – A Day in New Delhi