With the day to ourselves, Hector was able to plan accordingly. We headed down the hill from Ibis Mitte to Alexanderplatz passing the Berlin Hofbräuhaus, the plan was to rendezvous here with Steve and Louise later. Firstly Marg had to be kept happy. I suggested the Hackescher Markt where there are a variety of suitable venues. Marg declared that if she didn't visit the Brandenburg Gate then she would not consider herself as having been to Berlin. We walked along Unter den Linden from Friedrichstrasse, as ever there there was a congregation. What puzzles is how often the access through the Arches is blocked off, 10k runs, concerts, today something Turkish. Still, we walked across to – The West – because one can.
The Berlin Airlift
The U6 was boarded south to Platz der Luftbrücke, other U Bahn Lines are available. This Square was considered to be the ideal starting place to explore Flughafen Berlin-Tempelhof. Still unsure about what to expect, we were at the side of the massive terminal before it was realised that all of this construction was so. Boldly we walked in towards the Terminal, a Cafe was signposted, a dead end, Umleiting. A ramp disappeared into the bowels of the complex, it may be from here that the assembled Fighters emerged and went straight into battle in the latter months of WW2.
Airside is now a Park, nefarious activities were underway. For a Saturday the area was quiet, the winter gloom couldn't have helped. Standing in the middle of the main runway was another Historic Moment. The Berlin Population had a referendum in 2014 in order to decide what to do with this extensive open space on the south of the City Centre, the result, to leave it as is.
The U6 was re-boarded at Alt-Tempelhof and taken to Alt-Mariendorf, the end of the line. From here it was a fifteen minute walk westwards along the Ring Road to the Old Gasworks. Stone Brewing is located in what is now an Industrial Estate. The building is a conversion, the Interior Designer had a field day, this is Bier Disneyland.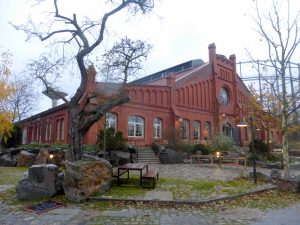 The venue is huge and has diverse seating with rooms off. We selected a table which was booked at 19.00, a couple of hours for a couple of Biers should be sufficient. The IPA (6.9%) was first sampled at Open Baldin in Roma earlier this year, this was a must. To start with 6.9% felt daunting, Stone Go To IPA (4.7%) was therefore the first choice. With an IBU of 65, this was Absolutely Stunning. The Light Body, Dark Gold Unfiltered Bier hit the Hector Palate with a Vengeance. If one was here for a session, then this would be a worthy recommendation. However, time was at a premium, the IPA had to be had At Source. With an outrageous IBU of 77 this was more Bitter than the Go To IPA, but lacked the depth of flavour. This had the Body.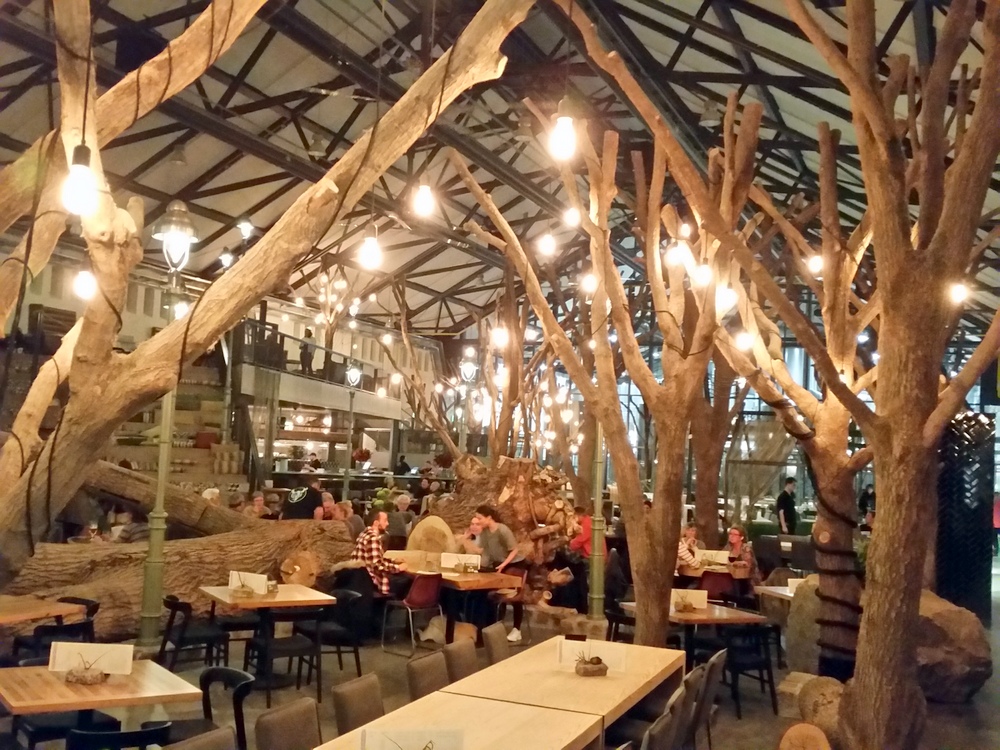 Meanwhile Marg, drinking wine, had ordered a couple of Starters to keep us otherwise amused. The Hot Olives were a new experience, the Dips worked well. The portions were Small, the prices were High. Indeed The Bill was on a par with what we paid for dinner soon afterwards at Swera, a Curry Haus. €6.90 a half litre is Pricey, and here we were At Source. Why can House Breweries not follow the example set by Cantillon (Brussel, Belgium) where prices at the Brewery are Discounted, Significantly?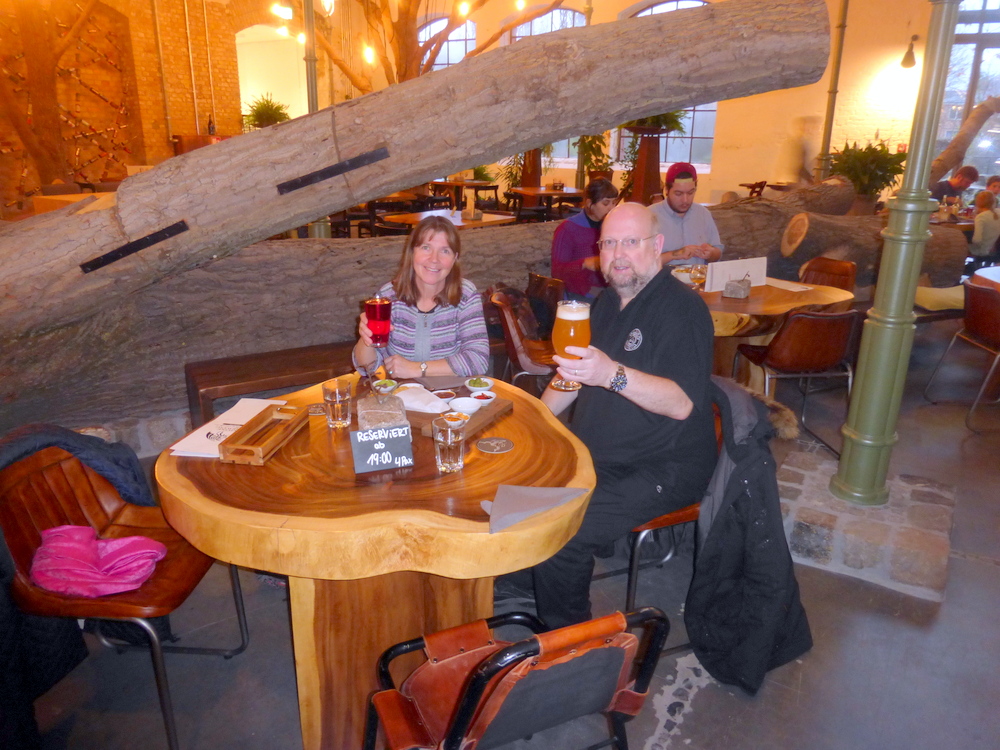 We could have exited to the north and taken a faster S Bahn back to Mitte, however, releasing that Kreuzberg had a Cluster of Curry Houses, we returned on the U6 once more to Platz der Luftbrücke which was nearest to Swera from the South. Afterwards we headed North to Mehringdamm. We did pass a potentially other good outlet – Craft Bier – on this stretch, one for another trip. Kreuzberg may be a good place to reside, there's plenty happening here.
And so back to Alexanderplatz and the Berlin Hofbräuhaus. Those with the habit were draussen, Bouncers were also outside on this damp, chilly night. Hector used his Deutsch to convince the Chaps we had friends already inside. The Greeters at Reception let us go no further. Without a Reservation things are difficult, and this is November, what must it be like in the Summer? Go online and book! After a few minutes we convinced a Doris that a table for four should be allocated, we were marched to the rear of the Large Bierhalle, past the Band, to a table occupied by a couple from Newcastle. Ein Mass Helles (5.1%) was ordered, Marg stuck with wine. Deutsche Bier is Sweeter than Craft, but at €8.40 per litre, quaffable, a Session Bier.
The layout of this Hofbräuhaus impressed. The raised and divided seating areas resembled the Festzelt at Wiesen. With an allocated Waitress, there was never a problem getting served, a worthy setup. The Newcastle Two departed once they had finished their meal. A Waiter rested a tray of Bayerische Cuisine on the end of our table, no way. Who could eat that?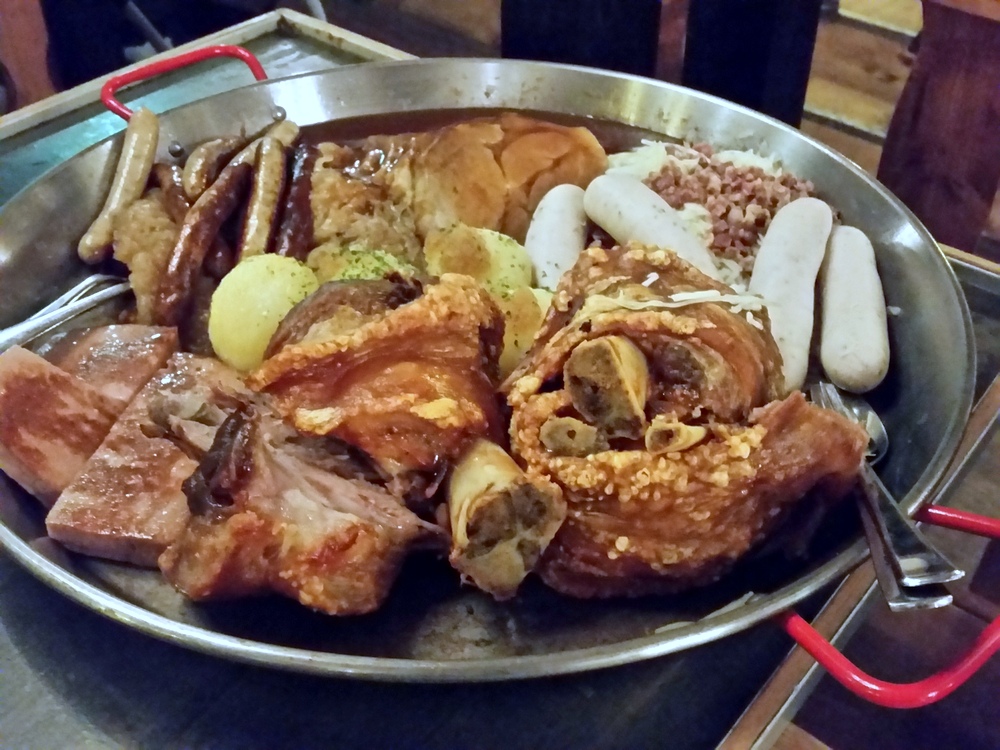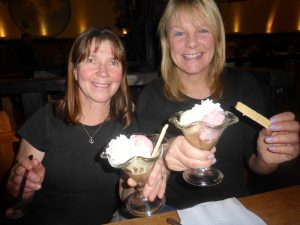 Steve and Louise did not get past the Bouncers. Eventually I felt vibration in my pocket, Marg went out to fetch them. And so The Party began. We were permitted two, enough, especially given the plan for the next few days.  The Ladies had Ice Cream, and why not?
*
Marg led the singing, people danced in front of the Band, the whole room of hundreds having a good time. Why is the UK mentality such that this would never work in Blighty without mayhem every shift?
Footnote: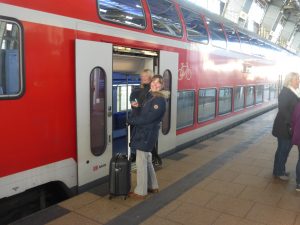 On Sunday morning, Steve and Hector waved goodbye to Marg and Louise at Alexanderplatz, they headed to Schönefeld for their flight home. Steve and Hector? A train from Berlin Hauptbahnhof to Poznan (€19.00). How did we get away with this?
The outlets visited today:
Stone Brewing World Bistro & Gardens – Im Marienpark 23, 12107 Berlin
Hofbräu Berlin – Karl-Liebknecht-Str. 30, 10178 Berlin