Worms is a town with a famous history, The Reformation and all that. St. Peter's is a somewhat ironic church to visit in the main square. I'll pretend I care about these things just to set the scene as others might expect. The reason for Hector's visit to Worms, accompanied by the ever faithful Marg was to surprise a friend who shares his name with that of this fine settlement.
I met Alan Worms on January 7th 1980 on Kibbutz Ashdot Ya'akov (Me'uchad) which is a few kilometres south of Tiberias – uncanny. This was the start of my Kibbutz experience that would continue most summers through the 1980s, and less so in the 1990s when other things came into play. The only constant throughout my visits to Israel was Alan Worms.
Alan was a Texan born Jew who migrated back to the Homeland after the 1967 Six Day War. He had worked on oil rigs in the Red Sea when Israel controlled these waters. He had sampled kibbutz life and stumbled upon Ashdot Ya'akov. This was a very special place.
Alan became a very good friend and spent a fair proportion of his meagre spending money keeping in touch in the days when long distance calls were expensive. My two visits to Ashdot Ya'akov in the 1990s were as his guest.
In 2004 when I realised that it was possible to go by bus from Flughafen Hahn directly to Worms I booked Marg and I there with Heidelberg as the next stop and a night at Frank and Rosi's in Traben-Trarbach on the way back. This was the latter part of our Easter Vacation having flown up from Roma, Italia. Sometimes it is cheaper not to fly directly back to Scotland.
I never told Alan of my plans. He never found out. Sadly, Alan took ill some weeks before the trip and died in a matter of days. To commemorate the name I sent a batch of postcards to the Kibbutz with the Worms town logo to Orit, the intention being that she could distribute these to those who cared. When I last visited the Kibuutz in 2010 I never did get around to asking. A visit to the grave was sufficient. It was Marg who painstakingly read the birth date and death date on every headstone until we had eliminated all graves but Alan's.
Worms lies on the West Bank of the Rhein, south of Mainz. The uncanny feature is that the bridge across the river is not dissimilar from that which crosses the Mosel at Traben-Trarbach. Maybe there are more like this across Deutschland, these are what I have encountered.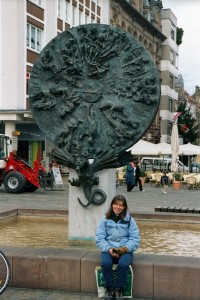 There is of course a Hausbrauerei on the banks of the Rhein, Hagenbrau. A five litre Tin still adorns the social space at our place of work.