Brewery  –    Anspach and Hobday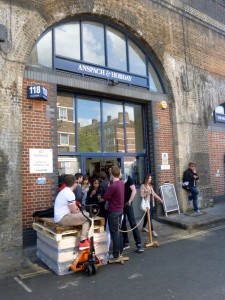 House   – The Brewery

Address  –  118 Druid Street, London SE1 2HH

Date of first visit  –  March 9th, 2015

Most recent visit  –

Ruhetag  –  Monday – Thursday

URL http://anspachandhobday.com/

Open Friday 17.00 until 21.30, Saturdays 11.00 until 18.00, Sundays 12.00 until 17.00

IPA 6.0%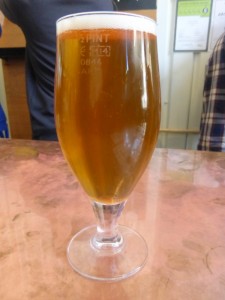 From the first sip, this was a winner, with full blown Flavours, and a not outrageous abv.
Containing Simcoe, Centennial & Columbus to Galaxy, Citra & Summit Hops, so their website says, this has all the American Hops that make Ale of this style a winner.
Sour Dry Hop 4.?%
It was not possible to determine the abv, the Brewery Website does not have this Ale, perhaps it is one of the Experimentals.
This Ale was a version of the classic Lambic, the Flavours were full on in the Geuze style.  Thinner in body than the Belgian equivalent hence the guess at less than 5.0%.
With limited bench seating inside and no seats outside, this venue was never over-busy.  Perhaps being at the northern end of The Bermondsey Mile the majority work their way south and so by mid afternoon there is less pressure here.  With a single queue for the separate toilet for males and females, the was a friendly place to stand.
The Chap collecting the glasses was excellent, tolerant, great humour and most helpful
The Two Beers sampled were so impressive we had to alternate.  This Venue was a highlight of the first trip.