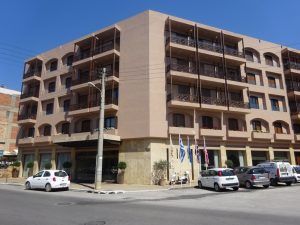 Akali Hotel – Kissamou 55, Chania 731 36
How does one judge a hotel?
It's primarily about – price – and – location. The Best Deal for a locus which is accessible to the action, but not on top of it. Akali Hotel is located on an arterial road in Chania with plenty of nearby shops to cater for most needs. Akali Hotel is a ten minute walk to the Venetian Port in Chania which is the hub of the Old Town. Nea Chora, the Beach is a similar walk at a tangent.
The check-in was smooth, I was in my room moments after arriving. I used the elevator on arrival and departure only, a first floor room negated the need. Reception is twenty four hours. If you are last in you will know it, your key may well be sitting on the counter, not a good idea.
Room 104 was spacious, indeed I moved the chairs around to suit. The bed was comfortable, however, it had the annoying built-in headboard with controls, including radio. A bit gauche. The en suite was enormous, a bath too, and everything was either changed or replenished as required, daily.
One of the sliding doors to the balcony did not lock, this was reported, twice. I was advised that with the on-site security, there was nothing to fear.
Overlooking the sizeable swimming pool to the rear of the hotel meant there was no street noise. There was only one accessible power socket in the room which was frustrating, especially since the electricity goes off when one is out, as does the air conditioning. The key mechanism to switch on the power is archaic, over-fussy, needs replaced. The mini bar/fridge was a decent size and worked well. This, as expected, was on a different circuit.  The TV was only suitable for Greek speakers.

Breakfast is served on the ground floor from 08.00 until 10.00, a Buffet, a sizeable one at that. The Juicer to squeeze the stack of oranges was a welcome treat each morning I actually went to breakfast.
There is a Bar and two sitting areas, one inside, one leading to the pool.