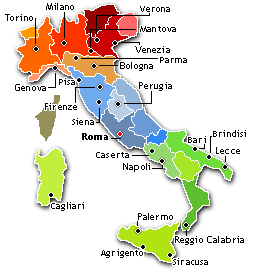 Hector first set foot on Italian soil back in 1969. Three days in Roma put the place down as a destination that would certainly be returned to in adulthood.  In 1976 during the first of many Inter-Rails I had my first Italian Bier.  Peroni is crap.  It is somewhat ironic that this Eurofizz is now so widely available across the continent.
By the time three more visits had passed it was 2004.  By then Hector was in full Bier exploration mode.  Marg and I flew with Mr O'Leary to Milano, or nearly Milano.
We learned on later trips to actually head east towards Lake Garda, Sirmione, Decenszano et al.  However, this was our first Italian Sojourn together and so the big highlights had to be experienced.
From Milano we headed south on the cost efficient Ferrovia to Firenze and on to Roma.  To arrive finally as an adult and not on a student budget permitted new experiences that I could naively perhaps not have predicted.  I had never experienced Roma at night, we used to hang around the Termini waiting for our train to wherever.  Walking up the left bank of the Tiber one warm Easter afternoon I strayed inland by one block on instinct.  A village within the city started to reveal itself.  Café after café, restaurant after restaurant, bar after bar, I had discovered Trastevere.
How I had failed to even know of the existence of this wonderful locale makes me wonder about all those who had been before me.  People usually give pointers, this was an undiscovered country.  Dear reader I challenge you to find the Andechs Lantern outside a wonderful bar which just happens to have a micro-brewery across the narrow street.  When you discover this, you have found Roma a Noche.