In recent years, those who have been fortunate enough to work at a certain Independent School in the West of Scotland have enjoyed an ad hoc Holiday in the middle of November. In November there are no Bank or Other Holidays, it's a long drag from October until the Festive Season. And so it shall be again next year. This was apparently Marg's last Opperchancity for a November City Break until she too retires.
Marg, Hector, Steve and Louise embarked on the 07.25 flight to Berlin, an early rise but better than having to travel through to Edinburgh which happens too often for sensible destinations in Central Scotland. Edinburgh Airport, don't start me.
We checked in to the Ibis Mitte just after noon, we would have two full days. Bier!
Not yet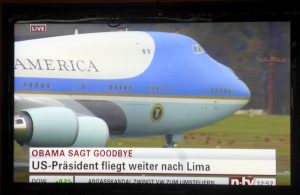 President Obama was in Berlin today, however he made a fast exit as we entered our Lunchtime Venue. Lunch at Alexanderplatz was a Modest Affair, Pasta for Louise and Hector, Marg had Soup (only?), Steve had Curry Wurst, really. If we were away with The Company there would have been a Cry for Bier thereafter. Not today. It was Wet, Unpleasant, a good day to go Underground.
In 1992, Kenneth and Hector stood on what was once No Man's Land near the Brandenburg Gate, speculating on a mound as to where the Bunker of a distant relative may have been. Not here – the Locals said. Such things have been sensitive. Now there is Unterwelten, an organised Bunker tour under Gesundbrunnen Bahnhof. We arrived just after 14.30 in time to buy the last four tickets for the English Speaking Tour at 15.00. This gave us enough time to cross the road and go into the park where the remains of the Humboldthain Flak Tower still stand. We climbed to the top, did the necessary and were back in time for what became an amazing afternoon.
The Guide was English with a Mysterious Lilt, Aussie? He knew his stuff, spoke quickly, moved the group of some twenty five from room to room, always with a commentary for each locus which always surprised.
It is uncanny that in the week I saw the excellent movie – Arrival – I should find myself in a German Air Raid Shelter, the connection? Slaughterhouse 5.
No Photos were permitted, Copyright, the exhibits in the cases do not belong to the Tour Company. In one showcase was what looked like a beaten up typewriter. When asked if anyone knew what this was, there was a moments silence before the Voice of Authority spoke up.
Enigma!
Marg was proud of Hector. I had never seen this coding device in the flesh, as it were.
The end of the Tour showed photos of Berlin's underground reservoirs, Breweries were re-located here too, this put us in the mood, as if…     For a Chap who said he did not drink Bier, the Guide put the Craft Scene in perspective. Put Bier in Fancy (Small) Bottles, call it – Craft – and charge more.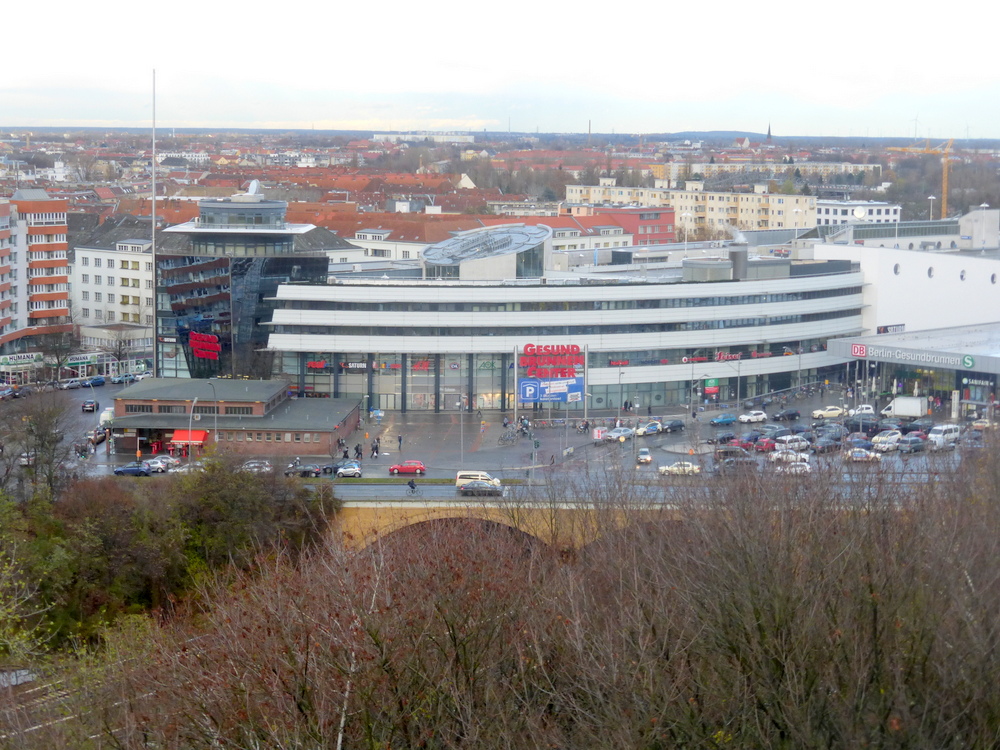 Bier O'Clock
It just so happens that Gesundbrunnen is one stop on the S Bahn from Wedding, an area The Company have stayed in often, Eschenbräu being the local attraction. Wedding has a new and welcomed addition to make this – Garden Suburb – all the more worth visiting – Vagabund.
Bellevue, which disappeared years ago, was the only Hausbräuerei in Berlin where I have found the Bier to be Palatable. The rest serve Bier which tastes Home-made, the clue was in the name I suppose. Vagabund is one of the new Regime of Deutsches Bräuerei which use New World Hops. Rheinheitsgebot?
Located in a Shop halfway along a street of tenements, Vagabund is little more than a Shop. Somebody has been to Polska. The Board had four Tap Biers on offer, and a decent selection of Biers from around the World in a well-stocked fridge. The prices of the Imported Bottled Bier were Astronomical, even allowing for Brexit.
The American Pale Ale was listed as being 5.2%, not the 4.7% reported elsewhere. Still, the American Pale Ale was a sensible strength to kick off what is going to be an intense few days, just wait until Monday. This Amber Ale had a Citrus flavour and belied the reported IBU of 30. It was far from Sweet, and so totally unlike Mainstream Deutsche Bier. It hit the spot.
The Double IPA at 7.5% was a completely different affair with Cascade, Columbus, Centennial, and Summit Hops, an IBU of 60.  A Dark Gold, Hazy and Full Bodied Bier, this could be dangerous. It did not drink at 7.5%, so beware. The Bier impressed, the t-shirts were a sensible price, the Ladies were hungry, we had to leave. Hector had been to Wedding and had not visited Eschenbräu, times they are a changing.
The U6 goes straight from Seestrasse to Kochstrasse, which is metres from Berlin's Augustiner outlet. It's as if somebody had planned this day out. We had to queue for a table for no more than five minutes then a Chap took the entire queue through to a back room.

See what the Boys in the Backroom will have
Edelstoff (Augustiner, München, Bayern) was why we were here, one of the finest (5.9%) Helles there is. To eat? Steve mentioned Schweinhaxe. Why did Hector think even for a moment that a Schweinhaxe was the food of Choice? Perhaps because it is years since I tackled one, maybe to see if the appetite has truly returned. I did my best.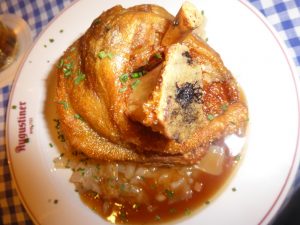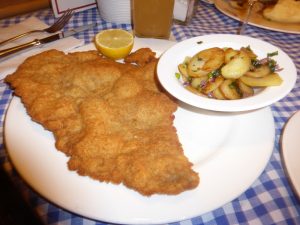 There was still a lot of Meat left on my plate when I waved the White Flag. Marg asked for a single Wiener Schnitzel her wish was granted.  More Edelstoff, and some more just to make sure. All that Pork had to be washed down.
*
*
The outlets visited today:
Bräuerei Vagabund – Antwerpener Str. 3, 13353, Berlin
Augustiner am Gendarmenmarkt – Charlottenstraße 55, 10117 Berlin