Lying a few kilometres North of Sousse on the Bay of Hammamet is Port El Kantaoui. Passing through it on the drop-off from Endfidha Airport, all Hector observed was the customary Hotels and lines of shops along what appeared to be the man street. Nothing Historical and no obvious Town Centre was apparent.
On the penultimate day of our stay in Sousse it was decided to take the Wally Trolley to the end of the line. At The Terminus there was still no apparent reason to alight, but the Driver pointed to a sign – Marina. I will admit to having spotted the Golf Bräu Microbrewery moments before the Terminus, so I knew what the agenda would be.
The Beach
A surprise awaited, A WWII Coastal Defence Emplacement, presumably Rommel inspired.
Well, as much a Botanical Garden as a Zoo. Don't touch the plants – is written everywhere. One can abuse the animals as much as one pleases, or is it the other way around? Marg was in her element. Hand—feeding a Camel, Goats, Ostrich and Emu, just a typical day in Marg's Life. Sheep, in a Zoo, and no Curry House, maybe that's why. Marg was horrified to find a caged Chihuahua as we passed on our second visit to Port El Kantaoui.
The Wally Trolley from Sousse to Port El Kantaoui Avoid!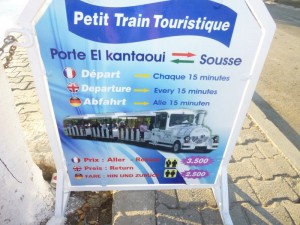 Having purchased return tickets at £1.50 each from Sousse to Port El Kantaoui, we waited for the Cho-choo.. The service is advertised as Every Fifteen Minutes. After half an hour the Choo-Choo came. Our tickets were not valid, a different organisation. Wait Five Minutes we were told. Fifteen Minutes later, same company. We took a Taxi back, way cheaper than the Trolley.
Microbrewery visited:  – Golf Bräu – Opposite Aqualand