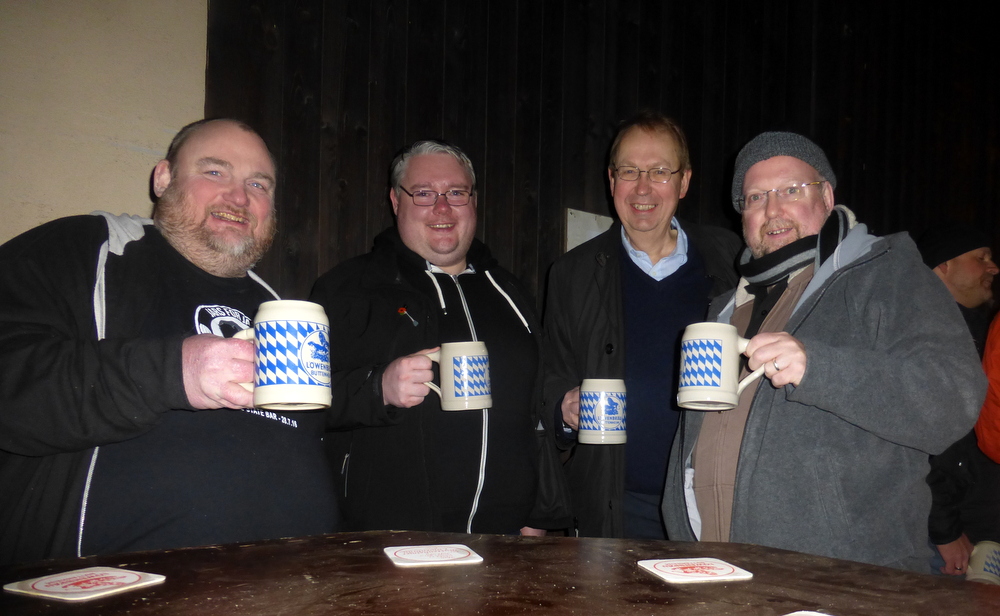 It's a long way from Glasgow to Bamberg no matter which mode of transport one uses in terms of time taken. Last year Dr. Stan and I did the Marathon Trek with Eurostar, nights in Brussel and Düsseldorf. Mr. O'Leary provided a new route which was too tempting and actually only commenced this week. The price was right.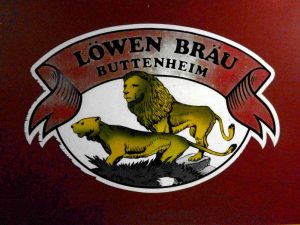 The Tapping of Löwenbräu-Buttenheim Bockbier  is the first Friday in November at 18.00, this necessitated flying out yesterday from Manchester to Nürnberg, spending the night at the latter. It was known that Alan and I would arrive in Buttenheim first today, nobody told us we were both in Nürnberg last night. Not much happened.
*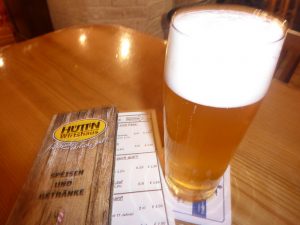 Hütt'n did not have the wonderful IPA that was on offer last year. Nor did they have the advertised Hopfenphlucker (Pyraser, Pyras, Bayern) which I have only ever had in bottles at Glasgow's Allison Arms. The Hausbier had to do. Hütt'n Hausbrauerei Hell at 5.2% is unfiltered and shocked the palate. One is used to Bier/Piwo full of Hops, the Sweetness was inevitable on the Hector Palate, but not worryingly so. Somewhere else was called for.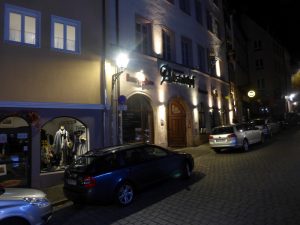 Across the street lies Hausbrauerei Altstadthof whose Biers I have sampled over the years, none have impressed. The Hell (4.8%) was served in a 0.4l glass, this is still Bayern, why the smaller glass? As with Hütt'n, the Bier was remarkably Warm for a November evening. It was also close to freezing outside. Again unfiltered, the Sweetness here was less, or was the palate adjusting?
Anyway, this was not the Bar I was looking for. I recalled a Bar around here which sold Bier from a range of local breweries. Dr. Stan was contacted, I wanted the Original Hütt'n. This was located in a parallel street and is now called Nürnberger Alm.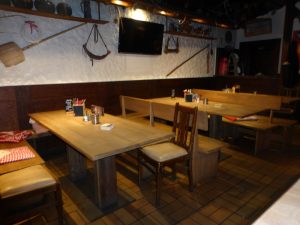 The half dozen or so customers were crowded near the Bar, I asked for the Bier Karte, Doris provided. A Kellerbier looked the best option, once again a Hausbier. A Dark Gold this was fine, I was still not finding it as Dry on the palate as I would expect a Kellerbier to be.
Doris seemed determined that I stay for more, in three Bars I had seen around a dozen people in total, it was a quiet night in Nürnberg, time to go home, Big Day coming.
This morning I heard from Alan whom I believed was already in Buttenheim. He was near enough was having left Nürnberg early and managed to check in early too. I predicted I would arrive around 15.00, technically I could not check-in until 17.00. Hector had other Business en route. There was no way I was passing through Erlangen and not stopping off for Curry-Heute. I was pleased to find an empty large locker on Platform 1, how efficient and economical lockers are.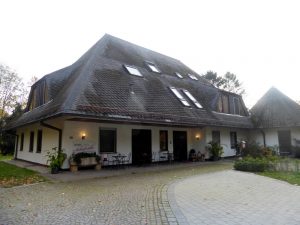 At 15.00 I entered Hotel Schuberths am Schloss. There was nobody there, no Reception. 17.00? Aye right. I saw a key, was it for me? I noticed the Breakfast times posted, below was a phone-number. Moments later I was in my room, if I hadn't called…
*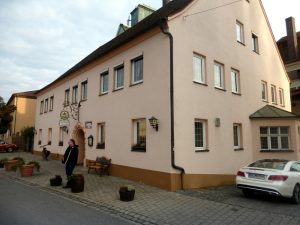 At 15.30, Alan was standing outside the Löwenbräu Ausschank as arranged. On entering the usual group of Locals were occupying most of the tables. I had been programmed to arrange a table for four people at 18.30. We had to eat before our night of Mayhem, sorry, Merry-making. Acknowledging All, Hansi, Mein Host, turned around from his game of cards. The corner table was empty but Reserved. He gestured towards it.
By the time we had our first Lagerbier (4.8%), we had this table booked also. It was then that two of the Locals whose Stammtisch this was sat with us. We interacted briefly.
I have been drinking this Lagerbier at this venue since 1997, it remains Dry despite the changes in Bier styles enjoyed in the interim. Alan and I were taking it very easily. We still had our second when Dr. Stan arrived exactly at the time we had worked out best on optimum train from Brussel. He had made his connections with moments to spare. Jonathan phoned to say he was on schedule for Dinner but then ran into traffic.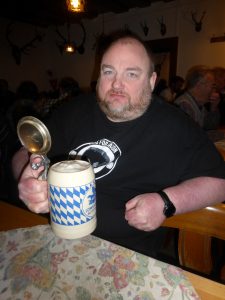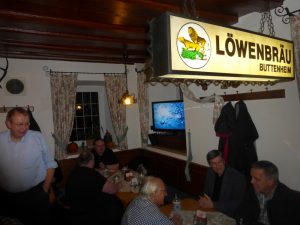 Just after 18.30 we were assembled, Deutsche Essen. How can they eat this?
We vacated our table and took up position outside. The Bockbier (6.3%) is served in a room which may only be used once a year. No way was this Bockbier – Sweet. Perhaps a Slight Sweetness in the After-taste. Some of us worry seriously if the day will come when we have to stop drinking Deutsche Bier. Not yet.
Last year, Jonathan and Hector stood outside in t-shirts, not tonight. Hector had to return to the hotel for all the layers. It was then we managed to get a table inside. The same Musician was performing again tonight. His guitar playing, foot switches, and other boxes of Goodies mean that he can play any style of Musik, even Good Stuff. We were treated to Traditional Bier Haus songs, Pop, Schlager. Last year he played requests, later.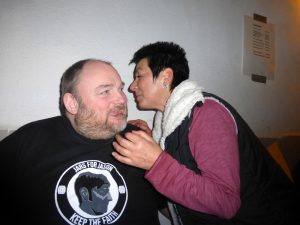 More Bockbier was had, it was going down too easily. Suddenly a Woman is beside Jonathan hugging him, kisses too, wtf? She knew Jonathan and Dr. Stan from having attended over the years. The level of madness had taken new steps upwards. Time for some Hector requests. I put a list of possible numbers that could be played. This year no Sierra Madre, I'm sure we had Smoke on the Water last year. Another Shameless Opperchancity to mention – Bittigheim-Bissingen.
Smoke on the water
Country Roads
Lola
Vitamin C
Rosamunde
Country Roads was played, time to phone Clive, who is still alive. He was not amused. Rosamunde was next, much swaying at tables. Success.
It was 02.43 when Hector called it a night last year. Jonathan was determined to get to bed ealier. Dr. Stan and Alan departed soon after midnight. A group of of Chaps sat at the adjacent table, before we knew it, two had joined us – Hello again, Tobias and Timo!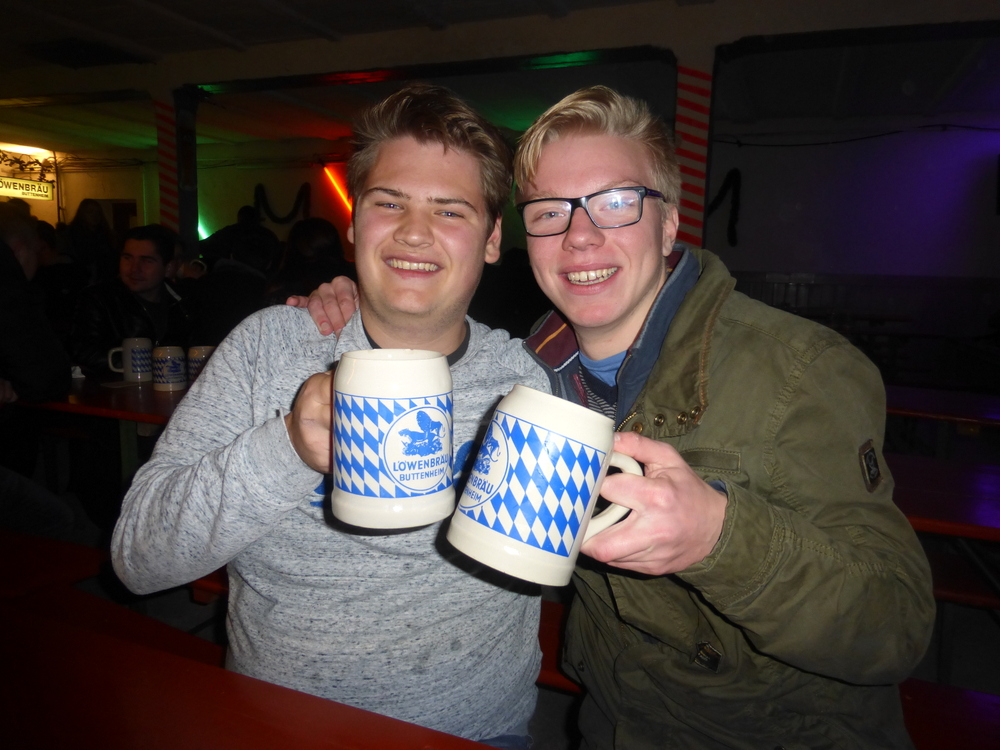 We had chatted to them late last year. They had had another year to improve their English, whilst my Deutsch has declined through lack of usage. Two Students who appreciate what they have in their region. So much for an early night. Hector was nearly last out.
The Breweries and Bars visited Thursday-Friday:
Hütt'n  –  Bergstraße 20, 90403 Nürnberg, Deutschland
Hausbrauerei Altstadthof  –  Bergstraße 19, 90403 Nürnberg
Nürnberger Alm  –  Burgstraße 19, 90403 Nürnberg
Löwenbräu-Buttenheim  –  Marktstrasse 8, Buttenheim, D-96155