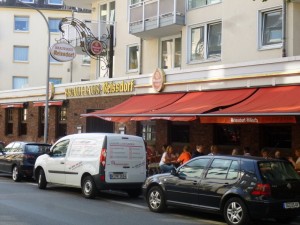 Brewery  –  Heinrich Reissdorf
House  –   Gastätte –  The Source
Address  –   Kleiner Griechenmarkt 40, 50676 Köln
Date of first visit
Most recent visit  –   July 25th – 2014

Ruhetag  –   Nil (Does not generally open before 16.00)
URL  –   http://www.brauhaus-reissdorf.de/
Bier Notes:
Reissdorf Kölsch 0.2l Direkt
We were fans of Reissdorf long before we managed to track down the Brewery Tap. Now the U Bahn stop at Poststrasse seems superfluous, one can walk from Neumarkt in ten minutes. Reissdorf stands out amongst the many similar Biers brewed in Köln because it is slightly darker, very slightly. One assumes that this means the Malt content is marginally more. The differences are subtle but Hector would still like to think that on a blindfold test, I would pick our Reissdorf every time.
When Germanwings started their Edinburgh – Köln route, the prices very attractive. When Ryanair started the Weeze route, we felt as if we were in Köln every other week.
These were the halcyon days back in the mid Noughties, when Krystal worked behind the bar, and Hector was invited round to pour his own Bier. By this time the staff knew us well, and as the group organiser I was always greeted by name on entering.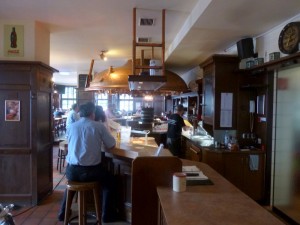 Lord Clive became known as much for his presence in the bar as his exploits in the Kegelbahn in the basement.
Krystal left. The smoking ban came in and the bar area was kept as the smokers' area. The staff also changed. Us healthy Chaps were relegated to the back room, we were no longer involved.
There was talk of another Reissdorf outlet. Eventually Marg and Hector made the effort in 2011 to visit the Altes Brauhaus on Severinstrasse, the rest as they say…
In 2014,  Day 1 of Hector Bounces Back saw the return.  As was hoped for, the smokers have been sent outside, the House is now how  it should have been all along.