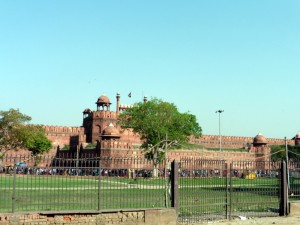 New Delhi, the Capital of India,  surrounds the original settlement – Delhi – which grew on the west bank of the Yamuna River.  The Yamuna flows eastwards towards Agra before joining the Ganges. What looks walkable on a street map is not to be contemplated. This is a vast city of some seventeen million people.  New Delhi is clearly a Planned City with Boulevards galore and much greenery. Indeed, one frequently cannot tell what activities are occurring behind the continuous trees and walls.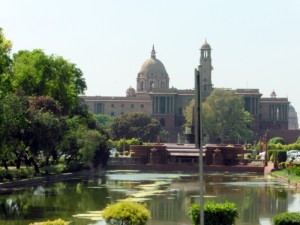 Where the ordinary people live is sometimes lost from view, though the raised roadways can provide views into the neighborhoods.  Around the government buildings are impressive bungalows for the elite of Indian society.
Shanty Settlements are generally hidden, and no cows roam the streets of New Delhi.  The air is remarkably clean and breathable.
Delhi, the original core, looks like mayhem. We did not have time to enter the Old City, a pity, though the  Jamia Masjid – Mosque   is at the edge. The photos immediately below offer a comparison of the Old and New City.
The Metro may be the most efficient means of getting around  the city, Nehru Place near the Lotus Temple has a Downtown feel which is not a common feature of this city.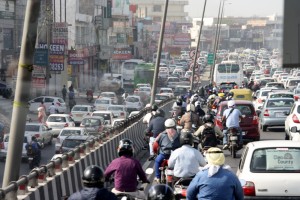 The roads can appear wide and purposeful one minute then totally jammed the next.  Where there are three lanes provided, expect five lanes of traffic with everyone dodging in and out, endless tooting of horns, there is a code.  The radial roads leading southwest towards the Airport and Gurgaon are the only ones encountered with a sense of ribbon development.  Should I ever return, I will take a hotel around here where Nightlife may exist.
The Places of Interest:
Raj Ghat – The site of Gandhi's cremation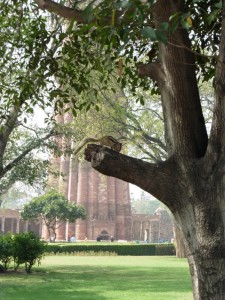 Bangla Sahib Gurudwara – Sikh Temple
The following Hotels have been visited: