+4°C !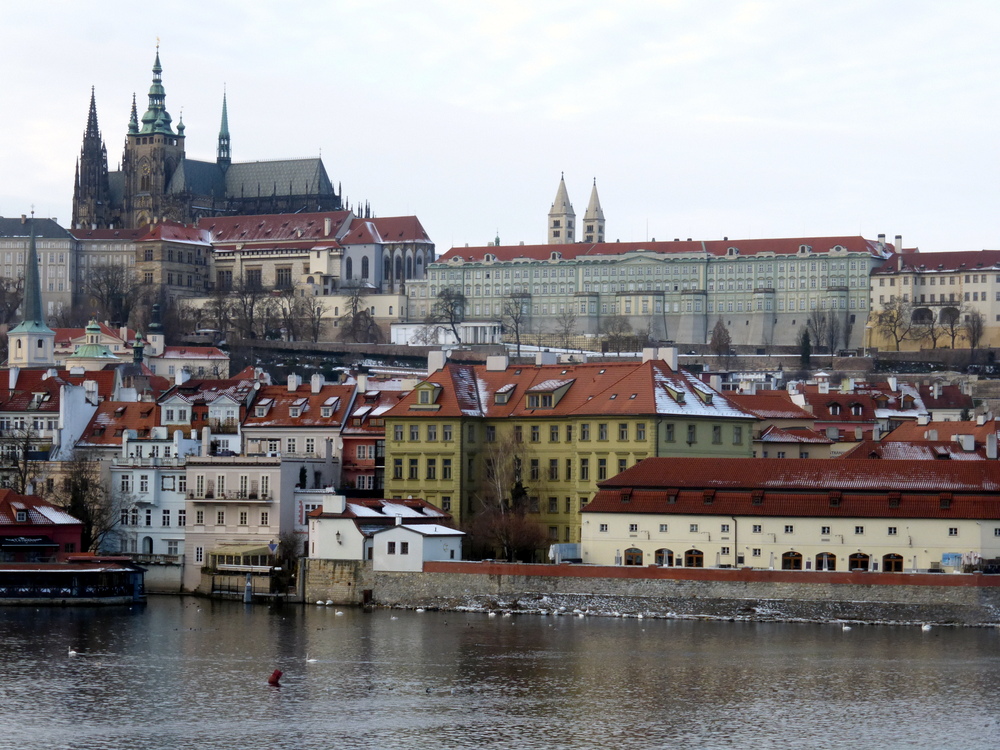 After an hour or so doing – the sights – around Stare Mesto, The Bier-Traveller had to return to the hotel room at U Medvidku to remove a layer, a rise of 18°C, very noticeable. I had a quick look into the main Bierhalle just in case Steve was having a sneaky pint. In the end I texted him, he was a few doors along the corridor. Neither of us had any interest in Pivo before 14.00.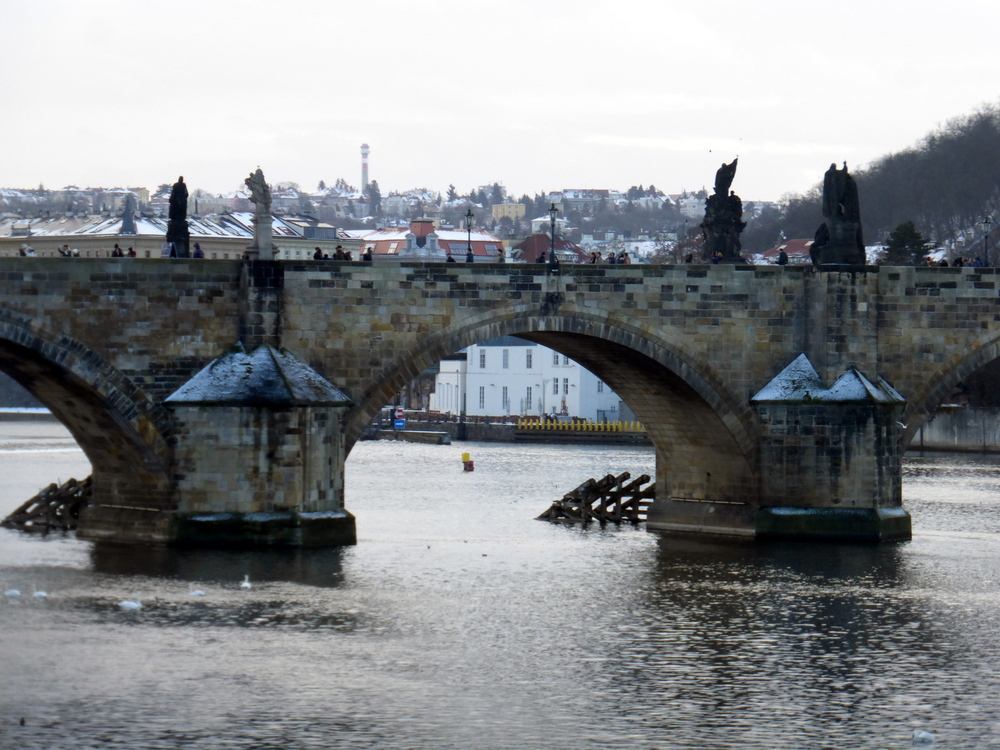 We took the Metro to Jiriho z Podebrad, no BeerGeek today, the destination was a venue which Hector holds close to his heart – the Birthplace. Pivnice U Sadu is where a certain story was told back in 2007 which resulted in the moniker – Hector – being applied to yours truly, ten years. We did have a Birthday Cake back in 2012, I had to at least visit sometime on this Trip.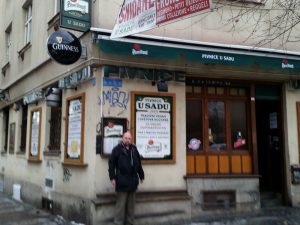 Hello can I help you? – was the greeting from the staff member nearest the Bar as we entered. Ten years ago we all enjoyed our visit. Last time we left due to the incompetence of the staff. The tone of today's greeting was not right. The smell of tobacco hit one in the face, half a dozen customers, every one was smoking, wtf.
You have no non-smoking area! – I asked rhetorically. Had it not been for the – special occasion – we would have left immediately.
That was the last intercourse with him, a Waitress would serve us, eventually. Again, walking would have been a consideration, there are plenty of other venues nearby. Sadek (Nefiltr) (11°) would be our solitary Pivo here. It turned out to be most pleasant, and despite the excesses of the past two days, went down very well. The Sadek was suitably dry, and cloudy as one would expect from an Unfiltered Bier.
It was Steve who borrowed from – Breaking Bad – to compose the celebratory photo.
Lipanska is a well known Tram stop to Hector. We headed over the Square towards it to find the Tram which would take us to Bulovka and hence Pivovar U Bulovky – Richter Pub. Having established we were going in the wrong direction, I decided to return to my strength and employ the Metro. Up to Palmovka and Tram 10, tried and tested.
My memory of Pivovar U Bulovky is of being a bright, modern, very Germanic Bierhaus, set in an open area. Imagine my surprise when we stumbled upon this modest establishment. Yes, I had been here before, so where is the venue in my head?
Most tables were reserved from 17.30 0nwards. An hour or so for a couple of Biers would be sufficient. We had a choice of four.
The IPA (15° / 6.5%) was the obvious starter. Ten years ago I would no doubt have gone for the Svetly Lezak, even then my Weissbier Obsession was waning.
The description of the IPA mentioned – Citrus – I could taste the Hops were from the US, but not necessarily the Hops I wanted, could be better, if a Bier can be overdone, this was.
The Vanocni Special (15° / 5.9%) truly was – Spezial. Smoky berries, a unique combination of flavours, I would return just to have this again.
Another Bier was an option, but there are other places to visit this evening. More importantly, there had been no Curry-Heute! Yesterday we passed Indian Happy Tandoor, research suggested it was well worth a visit. It was! With Quality Curry and a Unique Bier within minutes of each other, it looks as though Pivovar U Bulovky will be a – must visit – venue on future trips.
There was no messing about after the Curry. The Metro from Koblisy took us back to the City Centre in minutes. Our Holden Tours of the last two days had not included Restaurace Kulovy Blesk, this impressed back in 2015.
Kulovy Blesk was stowed. The heated/enclosed – outdoor – area was fully occupied. We went downstairs, no joy, but at least we managed a glimpse of the Main Bar. There was nothing for it… Excuse me, mind if we join you?
No more hand holding at our table tonight.
Bad Flash – Hop Wings – APA (12°) appeared to have the required pedigree. Sadly, it was relatively thin, even watery. The Pivo was decidedly dry, but had no distinctive flavour. It is possible the taste buds had been overloaded with Smoky berries and Marinated Lamb.
Steve took a different path, I returned to the familiar. Matuska – Raptor – (15°) had a much fuller body, the hops were evident rather than pronounced. This was a step in the right direction.
Now where?
Illegal Beer had not been visited, Jama I am led to believe is closed. Wherever we chose next had to be excellent, it would be the last venue of The Trip. The walk along and up to Dno Pytle was as done in 2015. The main room at the front was half full. As I approached the end of a large table, Mein Host pointed to the far table where we had sat two nights ago. He moved his Lady so that Steve and I could take our places. Excellent, and so was the Bier. Lissa – Huera IPA – once again kept us going until we decided it was time.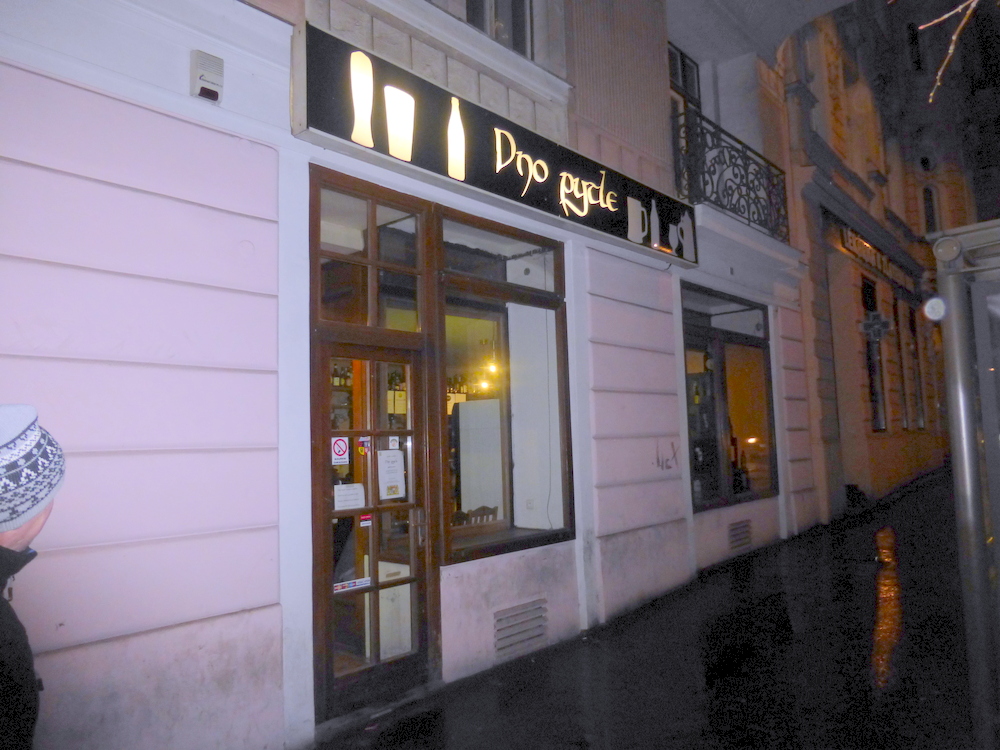 As we left I shook Mein Host's hand. This is a my favourite Pub in Praha. I spotted Kraus – Bock – (Hirschaid, Bayern) in the fridge for tomorrow, Friday. Steve and Hector were there the day after – The Tapping – back in November. Dno Pytle has the best of Czech and Deutsche Bier.
If the Tram heads towards the river, we'll get off this time. As long as it does not turn south.
When the Tram turned south, so we baled. It was a fair hike in the pouring rain to IP Pavlova, the Metro was off, Taxi!
We were too late for the Pivni Bar, there is always Reception!
And so ended three excellent days in Praha. In 2007 I was there three times. I need to go back again this year.
The Breweries and Bars visited today:
Pivnice U Sadu – Škroupovo nám. 1282/5, 130 00 Praha 3-Žižkov
Pivovar U Bulovky Richter Pub – Bulovka 373/17, 180 00 Praha 8-Liben
Restaurace Kulovy Blesk – Sokolska 13, Nove Mesto Praha – 2
Dno Pytle – Vinohradská 1485/63, Praha 2 – Vinohrady