This saga has nothing to do with Bier and everything to do with Rockets. It was here that the infamous V1 and V2 Vengeance Weapons were first tested, within weeks of each other in 1942. It was mid 1944 before they made their first appearances over London, too late to make a difference. Hector does not hide his attraction to hardware connected with this period, especially that manufactured under the auspices of the Third Reich.
That Verner von Braun was whisked away to the USA in 1945 and was responsible for the Americans winning the Space Race is all traced back to what took place here in the 1930s and early 1940s. There is now a Museum.
On entering the grounds one immediately spots the V1, V2 and a Ramp for the V1, well most of a Ramp. That is it. The V2 is a Replica made from real parts. I suppose this is bearable. The lack of hardware is a major disappointment. One is not expecting Disneyland, however, there is nothing really to see after this.
The Museum tells the story by the usual collection of mounted photos and the occasional newsreel loop. There were plans for a special rocket designed to reach the Scottish Shipyards, ouch.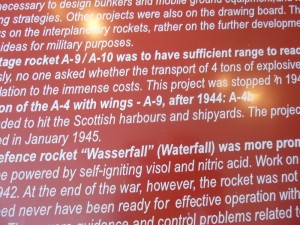 The sound of a V1 being launched is unmistakeable, at no time in the visit did I hear this. A schedule was advertised showing the history of the place (70 minutes) and a slightly shorter film about Hannah Reich the Test-pilot too, one could not make the company sit through this. Bits of machine parts are stored in cages on the wall and under the floor. Only an engineer could explain their purpose.
The large Power Station (Kraftwerk) and its Crane for bringing in the coal remains. The RAF did some damage in 1943, enough to have the whole set-up moved underground south of Berlin.
A U Boot museum is advertised, one ends up at a Rocket Boat in the harbour. There is no U Boot, but I did recognise an engine and prop shaft.
Maps of the entire site reveal an Airport and the places where the Rocket Stands were built. The entire place is over-grown and so even if one took the time to walk round the end of the peninsula I am not convinced that one would see much more. A Concentration Camp was housed at the gates to the Testing Site, there is little made of this.
As with Colditz, the DDR made nothing of the history of this period that did not involve Russian Victories. Even the dates of WW2 are different from a Russian perspective. In the 20+ years since the end of The Wall there have been other priorities. Turning Peenemünde into a worthwhile attraction has not been one of them. Yet I wouldn't have missed it for anything.