Pirna lies halfway between Dresden and Rathen, it is the downstream terminus of the Elbe Steamboats. I counted at least three Paddle-Steamers serving this route.
It felt strange being back in a Proper Town after Rathen, with shops selling goods other than Tourist Crap. Marg was straight into the Clothes Shops, a Lady can never have enough Clothes.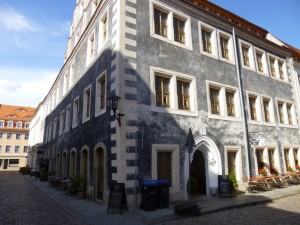 The Altstadt was not vast and was overlooked by a Schloss-type construction. Instinct took Hector into the Wirtshaus Refugium. Walking through the cavernous room to the Courtyard, Hector spotted a familiar Glass lying empty on a table – Augustiner! The Menu raised the bar further – Edelstoff vom Fass. At last, a reason to come back to Sächsen.
One could spend many hours here
Pirna looked like a pleasant place to stay if Rathen is full.
The only place visited:
Wirtshaus Refugium – Kirchplatz 1. 01796, Pirna