Brewery  –   Fourpure Brewing Company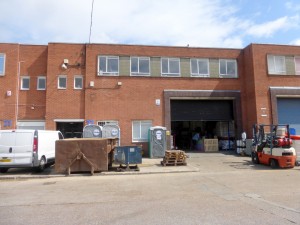 House   – The Brewery

Address  –  Bermondsey Trading Estate, Rotherhithe New Road, London SE16 3LL

Date of first visit  –  March 9th, 2015

Most recent visit  –

Ruhetag  –  Sunday – Friday

URL http://www.fourpure.com/
Open Saturdays Only 11.00 until 17.00
The only Ale sampled:
The IPA at 6.6% is served in keg.  With Cascade, Citra and Columbus Hops, this is certainly a Contemporary Beer to savour.  American Hops (& New Zealand) lead the way in the revolution towards Strong, Pale, Hoppy Ale, or Craft Beer as this would be called.
Other Beers are available including in the Pils style featured in the red stack.
Bottles are on sale to Takeaway.
Beware, this is the most expensive Beer Hector has ever purchased at a Brewery.
Until they change their pricing policy, Hector will not be back, despite the availability of Indian Food.